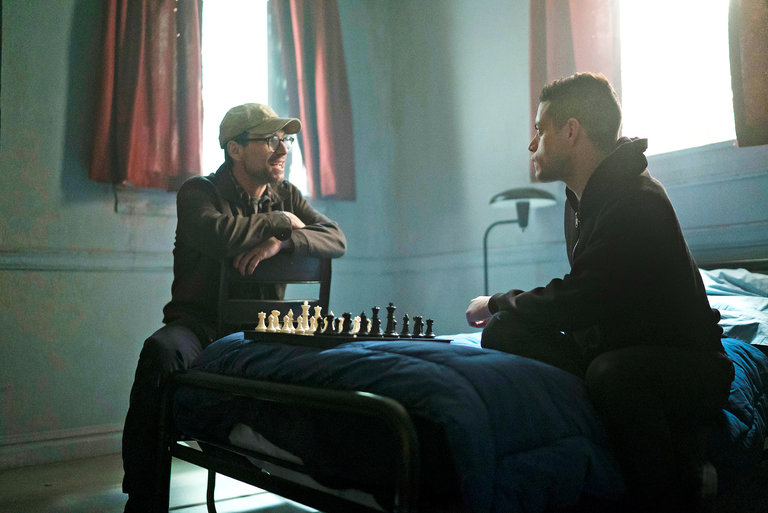 We begin the latest episode of Mr. Robot with Elliot in his cramped apartment. Darlene shows up at his door without a heads up, and it has the vibe of a flashback. They smoke up and watch a strange/violent video that appears to be a B-movie. Elliot then tells his sister about recently getting fired and having to go to anger management courses because he destructed some servers. Things take a more serious turn when the siblings begin to discuss their late father. This is a rare Mr. Robot look into the Mr. Robot character without it being a yelling match involving Elliot.
A step further, this scene signifies the spawn of f-society. In his drug inducted mindset with a mask on, Elliot dives into how much hacking work he could accomplish if he takes a job with a new company. "Dude, you're freaking me out," Darlene says, but we know now that she was eventually persuaded. Flashbacks are only successful in a TV show if they tell us something we previously weren't aware of, and this case certainly provides valuable background info. We witness the onset of an early idea which later became a world changing event.
Gideon's death has increased paranoia for various people. Mr. Robot has grown into more of a life and death consequence show during Season 2. Individuals with valuable information are dangerous in this sort of setting, and elusive. We still haven't seen Tyrell even though he's regularly referenced. His wife is having difficulty keeping those around her quiet. When Tyrell finally makes an appearance remains one of the biggest plot points of the show.
Elliot and Ray have become chess buddies. This has distanced the level of space Elliot keeps between those and others around him. It's not a given that he'll help Ray during Season 2, however, increased time spent together means it's a strong possibility. Elliot isn't the type to surround himself with people he doesn't need. Looking for a release, Elliot is finding Ray to be somewhat helpful.
Mr. Robot, on the other hand, isn't exactly a helpful force these days. Elliot expands on this point during a therapy session. He acknowledges that he talks to his deceased father, once didn't recognize Darlene, sometimes has gaps in space/time, and beyond.
Meanwhile, Darlene is being followed. With Romero dead and the whole group seemingly under surveillance, a giant point of curiosity is who knows about f-society and what precisely they know. A past love interest of Darlene's tells her that the FBI is involved and there's a concern that somebody gave up information. This has also made the Dark Army nervous. Like her brother, Darlene's mental state is shrinking. The consequences of f-society's actions might be around the corner, although sniffing around and convicting of crimes are two entirely different results.
Some of the strongest moments of Mr. Robot during Season 2 have been between Elliot and Leon. Elliot is finally starting to participate in the dialogue, and the two often touch on profound/philosophical topics. It doesn't hurt that Leon discusses Seinfeld all the time. He also cracks into Elliot's psyche for arguably the first time, telling his friend that he needs to dream and figure out what's worth fighting for in his existence. This leads to a prolonged scene of Elliot reconnecting with past friends, atoning for sins, and coming to peace with his demons. Of course, like always, Elliot's ability to translate productive developments into reality will be a difficult journey. But that journey is what he'll be fighting for. Props, Leon.
Elliot and Mr. Robot battle in a game of chess. They consistently stalemate, the irony being that the pair are incapable of reaching anything but a stalemate. Elliot states how chess is about being ahead of your opponent. What happens when that opponent is you? Such is the life battle for Mr. Robot's protagonist.
Ray receives the answer he's been waiting for. Elliot agrees to help him with his computer problem, prompting Ray to call a friend and throw on his glasses. "Did you know that Moses heard voices too?" Ray asks this question to Elliot, stating that his power can be "divinity" as he believes it was for various prophets. Whether this is a wise decision for Elliot or not can be debated, but there's no denying that Mr. Robot ascends to a higher level when Elliot is typing away on his computer.
Something about the vibe feels unnatural. Like the opening scene of Mr. Robot during Season 1, Elliot is experience that "something is wrong" sensation. Nevertheless, he treks forward, prompting a question from Mr. Robot and an answer from Elliot.
"What exactly are you doing?"
"I'm hacking the FBI."
With that, the episode ends. It's good to have hacking Elliot back.