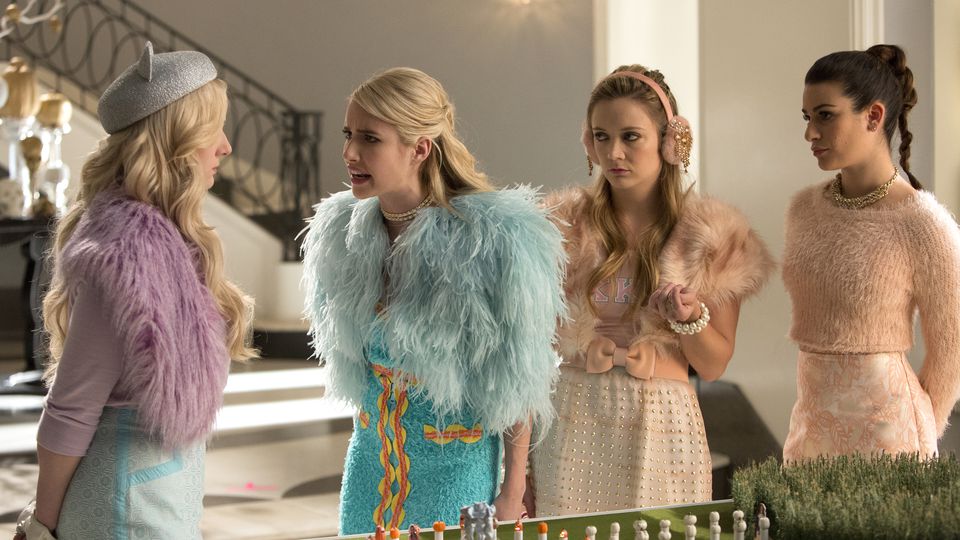 We're celebrating Halloween every day in October by looking back at some of our favorite Halloween episodes. Today we're taking a look at "Pumpkin Patch" from Scream Queens.
Basic Info
Directed by: Brad Falchuck
Written by: Brad Falchuck
Episode Number: Season 1, Episode 5
Where to Watch It: Hulu
Why It's Awesome
Scream Queens subscribes to the "throwing in a lot of stuff" school of entertainment and sometimes the results can be really fun. Highlights from this episode include Chad Radwell's speech about Halloween, Roger and Doger forcing Chanel #5 to choose between them when they ought to be running from the Red Devil killer, and Denise Hemphil listing off daytime TV shows that this situation definitely isn't.
This episode gave us the confusing non-payoff of the Zayday Williams kidnapping story,  which already feels strange in this episode, even before the reveal that her kidnapper was the allegedly gay, allegedly dead Boone. Then there's the incredibly unnecessarily confusing Sorority President plotline. Chanel Oberlin is the one with the power to call for an election and does so instead of just holding onto the presidency she already has or something? Oh and Chanel being arrested for a murder that she very much committed is, like, a minor second act setback.
But, Scream Queens is all about focusing on the great outfits and banging soundtrack. Everyone in this cast looks great wearing big sunglasses and walking in slow motion to covers of '80s classics.
Why It's Full of Halloween Spirit
This episode is a model for Halloween episodes because it goes all the way with everything that makes Halloween what it is– scariness, cheesiness, sexiness, silliness. It has a great horror set piece, care of Chanel Oberlin's insistence that her Halloween party have a full replica of the corn maze in The Shining. When Chanel #5, Roger and Doger are chased through the corn maze by the killer, comedy and scares come together nicely. RIP Dodger.
Costume Count
Chanel Oberlin dresses as Jacqueline Kennedy. Chanel #5 also dresses as Jacqueline Kennedy.