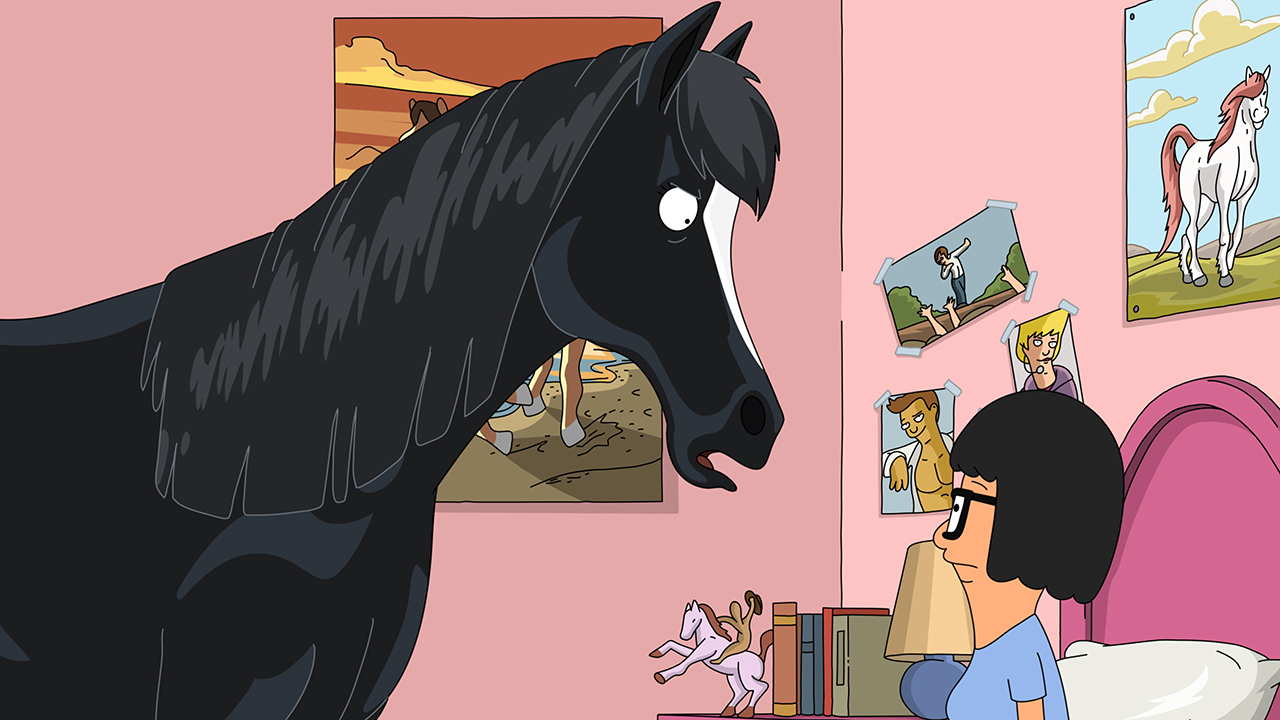 This year had a variety of excellent animated TV from adult sitcoms to children's fantasy shows to anime. Here are my choices for the best animated TV episodes of 2016. Also check out my choices for the best animated TV episodes of 2015.
16. "Gem Harvest" (Steven Universe) 
In this episode, Steven met his cousin Andy. He was an old-fashioned man who had trouble getting used to the gems. It was a resonant episode for anyone with family who doesn't understand them.
15. "Animan" (Miraculous: Tales of Ladybug & Cat Noir)
This episode contained perfectly executed, Frasier-esque hijinx. The relationships between all the main characters were sweet. The resolution in which Nino decides he really likes Alya felt organic.
14. "That Went Well" (BoJack Horseman) 
The finale of BoJack Horseman had an absurd turn with Mr. Peanutbutter saving the day using hundreds of spaghetti strainers. But, the scenes of BoJack's quiet sadness provided a nice balance with the zany set piece.
13. "Brrap Brrap Pew Pew" (BoJack Horseman) 
In this episode, Diane got pregnant and decided to get an abortion. Of course, things got absurd when starlet Sextina Aquafina made an over-the-top song about abortion. But the best moments in the episode were quiet. In particular, Diane's conversation with a scared young woman at the clinic and the moment when Princess Carolyn told her, "You don't have to explain yourself to me or anyone else."
12. "Nom Nom's Entourage" (We Bare Bears) 
In this episode, the bears experienced how the other half lives when they become Nom Nom's new entourage. It had some fun sight gags that parody the show Entourage. Meanwhile, the emotional side of the episode explored Nom Nom's side lack of knowledge about friendship.
11. "Flashing Before My Eyes" (Erased)
The first episode of Erased pulled viewers into the show's world incredibly effectively. Satoru Fujinuma, a lost aspiring manga writer, was an immediately resonant protagonist. The pilot introduced the rules of Satoru's powers and the story's backstory with efficiency and clarity.
10. "Beach City Drift" (Steven Universe)
This episode saw the return of Kevin, the man who was inappropriate and invasive with Steven and Connie while they were fused as Stevonnie. They both felt triggered and angry. They each expressed their emotions in different ways. It was amazing to watch a children's show explore the emotional territory with this much depth.
9. "The Button" (Regular Show) 
Benson is the most tightly wound character on Regular Show. This means episode's centering on him feel the most tense. This episode psychologically tormented the poor guy in a thrilling metaphor for the stresses of work.
8. "Normal Man" (Adventure Time)
This episode is funny and weird and has a great message about family. In particular, it puts forward the idea that you're not obligated to forgive family and that you can remind them of what they've done wrong to the bitter end.
7. "Mr. Greg" (Steven Universe)
In this episode, Steven suggested that Greg bring Pearl with them on a trip to Empire City. This brought the tension between Pearl and Greg, which they'd been dancing around for years, to the forefront. In a beautiful musical number, Pearl realized that she needs to move on despite her jealousy.
6. "Double Indecency" (Archer)
This episode took a simple premise in which all the characters bet on who's most capable of seducing someone. What made "Double Indecency" great was the joke density. Even by Archer's standards, this episode packed in an incredible amount of laughs.
5. "That's Too Much, Man" (BoJack Horseman) 
This weirdly structured episode showed BoJack and Sarah-Lynn on a long drug trip. The episode was full of dark comedy, culminating in a tragic ending.
4. "Glued, Where's My Bob" (Bob's Burgers)
The musical 100th episode of Bob's Burgers celebrated the spirit of the show. It showed Bob as an underdog whose only extraordinary quality is how kind he is to the people around him. Plus, it focused on the relationship between Bob and Louise, which might be the strongest of many incredible family relationships on the show.
3. "The Answer" (Steven Universe) 
This episode focused on a simple, inspiring story of love and self-acceptance. Sapphire and Ruby were both caught off guard by their feelings for each other, but they learned to love their new identity.
2. "Fish Out of Water" (BoJack Horseman)
This episode stood out with a largely dialogue-free, beautiful animated sequence when BoJack went out on an odd adventure to return a baby seahorse to his family. But, the emotional subplot in which BoJack tried to reach out to Kelsey Jannings was the strongest part of this episode. The final reveal that BoJack had the means to communicate with other people the entire time and just didn't realize how was perfect for this show.
1. "The Horse Rider-er" (Bob's Burgers)
After all these seasons, there's still nothing better than an old-fashioned episode focusing on Tina's awkwardness. In this episode, she finally got to live her dream of going to horse camp but couldn't get along with the horse she was assigned. Instead, she decided to ride her imaginary horse in the big show and it was beautiful.