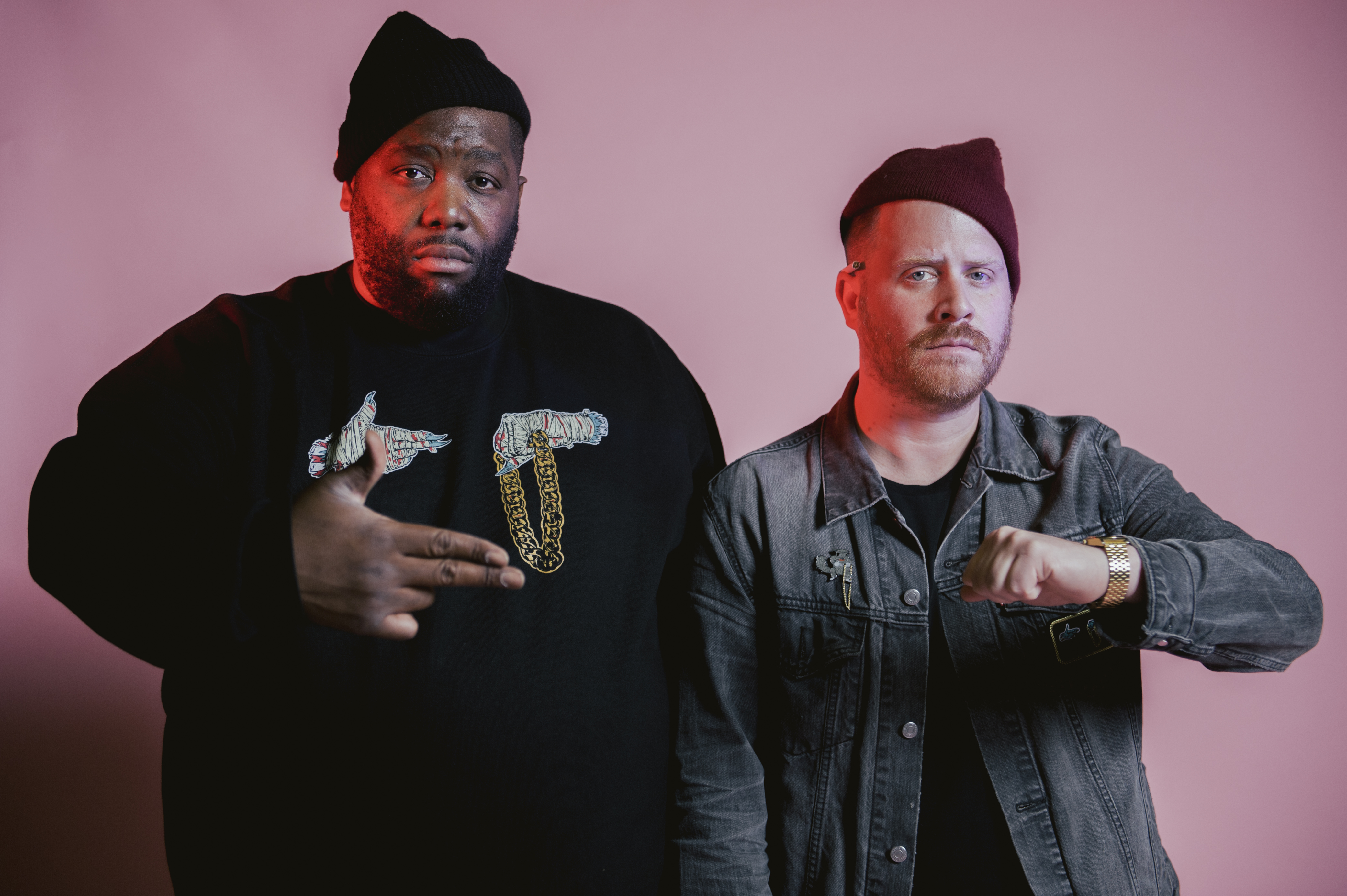 When one encounters something palatable, the hope is to return to the experience for a second or third time and enjoy the same sensory satisfaction felt initially. Essentially reliving the pleasures of the first acquaintance. Run The Jewels has crafted a remarkable flavor that's delighted consistently through not one or two but now three hard-hitting releases. Run The Jewels 3 brings once again top shelf production with focused, intelligent lyrics that showcase important political messages without emitting the gloom that's often coupled with social, conscious rap. Their third release is something like a raw, vegan, gourmet desert in that it's chalked with ingredients that are good for the body and mind yet still manage to bring joy and excitement to the pallet. If you will, a full serving of delicious food for thought.
One of the primary factors in shaping RTJ's distinct sound is the consistency in production. EI-P, Little Shalimar and Wilder Zoby have come together on all three albums to fortify tracklists that listen as new and fresh yet possess a timeless energy that makes Jewel's music enjoyable for just about anyone who so happens to turn it on. Run The Jewels 3 may be the most vibrant example of this balance, a dance performed by the current and classic, harmoniously executed through hard-hitting and masterfully crafted beats.
RTJ3 has managed to achieve something that socially conscious rap has a hard time of doing: making politically charged music fun to listen to. Often times the super lyrical artist with agendas of activism cloud their records with unenergetic beats and depressing lyrics that inspire sadness and anger. And while I understand completely that a majority of socially conscious rap is addressing facets of life that are in fact unbelievably depressive and dark, and are paying homage to that reality in the energy of their music, I still believe it to be a remarkable thing how RTJ delivers these pertinent messages in a different way. Combating oppressive systems with strength, wit, high energy, and power.
Amongst a cornucopia of colorful production and spicy lyrics, Run The Jewels 3, boasts some heavy hitting features that intensify the already savory sauce. "Hey Kids (Bumaye)" is blessed with the energy of Danny Brown, one of the most potent energies in the music industry today. It's amazing to hear the shrill sound of Danny Brown's voice paired with Killer Mike's industrial-strength performance in where he smashes the absurdity of the state of our nation: white supremacy festering in the White House assembled by a piece of orange trash. The world needs powerful presence in light of this lunacy, and the collaboration of these two embodies that power quite well.
The sultry voice of Joi is featured on the opening track, "Down". She adds a chilling dimension to the chorus that compliments RTJ's style beautifully. Joi seems to have had a stamp on some of the most iconic projects in Hip-Hop history so it's no surprise to see her name and feel her presence on Run The Jewels' latest release.
"Thieves", one of my favorite tracks on the album, features not only the vocals of TV On The Radio's lead singer, Tunde Adebimpe, but the voice of Martin Luther King Jr. reciting an excerpt from one of his critical and hyper relevant speeches regarding the riots taking place in the 1960s. Tunde's vocals introduce King's voice in a chilling and highly unique fashion. This outro to one of the most satisfying tracks on the album is so pertinent to what's happening in our nation currently; calling on everyone to understand that demonizing the protest is a distraction and a lie. That the true harbingers of evil are the dastardly and destructive pillars of oppression that leave the oppressed with no option but to speak out in the only way that's heard amongst those that refuse to listen. Helping everyone to understand that a few pieces of damaged property is nothing when compared to the monstrous hate that demands the fight against it. "I contend that the cry of "black power" is, at bottom, a reaction to the reluctance of white power to make the kind of changes necessary to make justice a reality for the Negro. I think that we've got to see that a riot is the language of the unheard."
Boots, Trina, Kamasi Washington and Zach De La Rocha are some of the other unbelievable guest appearances featured on Run The Jewels 3. We're talking Beyonce's super producer, female rap legend, Jazz Icon, and Rage Against The Machine's lead vocalist and prominent activist. If this doesn't present you with enough credential to trust RTJ's process, you're numb. Trust the process.
Run The Jewels 3 is a gift. A politically potent album filled with substance and swagger. It knocks, it bangs, educates and excites. You can move to it, grow with it, learn from it… hell, you can even get your flex on with it at the gym. It's multifaceted with purpose and power and is one of those rare gems that makes you want to party and change the world at the same time. Hat tipped, gentleman. Absolutely brilliant.