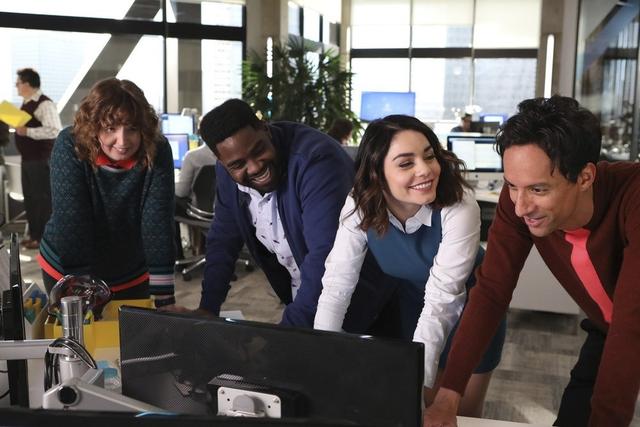 It's discouraging that the second episode of Powerless had two plotlines that could be in any generic office sitcom. Not every plot should revolve around the superhero aspect. The fact that it's about mundane lives is a big part of the premise's appeal. But, there was nothing unique about the plots in this week's episode.
In the main plot, Emily Locke worried about her team not liking her. What was frustrating about this plot was that the team had incredibly legitimate reasons not to like her. She gave them an unreasonable deadline, seemingly for no reason, then asked them to work late because of it. The plot wasn't about Emily realizing this was unreasonable. Right now Powerless has a serious likability issue by having the protagonist be an unreasonable boss.
In an even more confusing subplot, Van Wayne railed against the fact that he wasn't featured in a portrait of company employees. Obviously, a sitcom– especially one where superheroes are flying around– requires a certain about of suspension of disbelief. But, I have no idea why the head of a company would not be in a company commissioned photo at all, yet the head of HR would somehow be front and center. How exactly is this a problem that Van can't easily solve?
The cast of this show is great but Ron Funches is really the only one who was able to rise above the lackluster writing enough to land a couple jokes. Similarly, Funches and Danny Pudi are the only people with real chemistry between their characters. All other interactions feel oddly stilted. Powerless really needs to figure out Emily's relationship to the team. I'm hoping after this episode, they'll have a genuine camaraderie even if they give her a hard time, much like Jonah's relationship to his co-workers on Superstore. Trying to walk the line of her being a boss they have contempt for just doesn't work.
Also check out my review of the Powerless premiere.