It's peak trade deadline season in the NBA. So far the Pelicans have finessed their way into the scariest front court in recent memory, the Raptors solidified their starting lineup and there is no shortage of rumors surrounding other stars. The rumor mill has been churning in the Big Apple all season, mostly about Carmelo Anthony, but most recently about Derrick Rose.
Chances are not much will actually go down on deadline day. There already has been way too much movement with big names as it is. Still, with the league's middle class so big it could force teams to make trades that would not usually make. It only takes one more injury in Cleveland or major injury in Golden State to open the flood gates for a finals berth. Given the unpredictable climate the Knicks are in position to make headlines whether they're good or bad.
The criteria for these trades are pretty simple. They have to be remotely possible (i.e. Kevin Durant or Stephen Curry being traded is never going to happen) in theory and financially. ESPN's Trade Machine helped us cover the financial stuff, leaving the theory stuff to us.
Derrick Rose for Ricky Rubio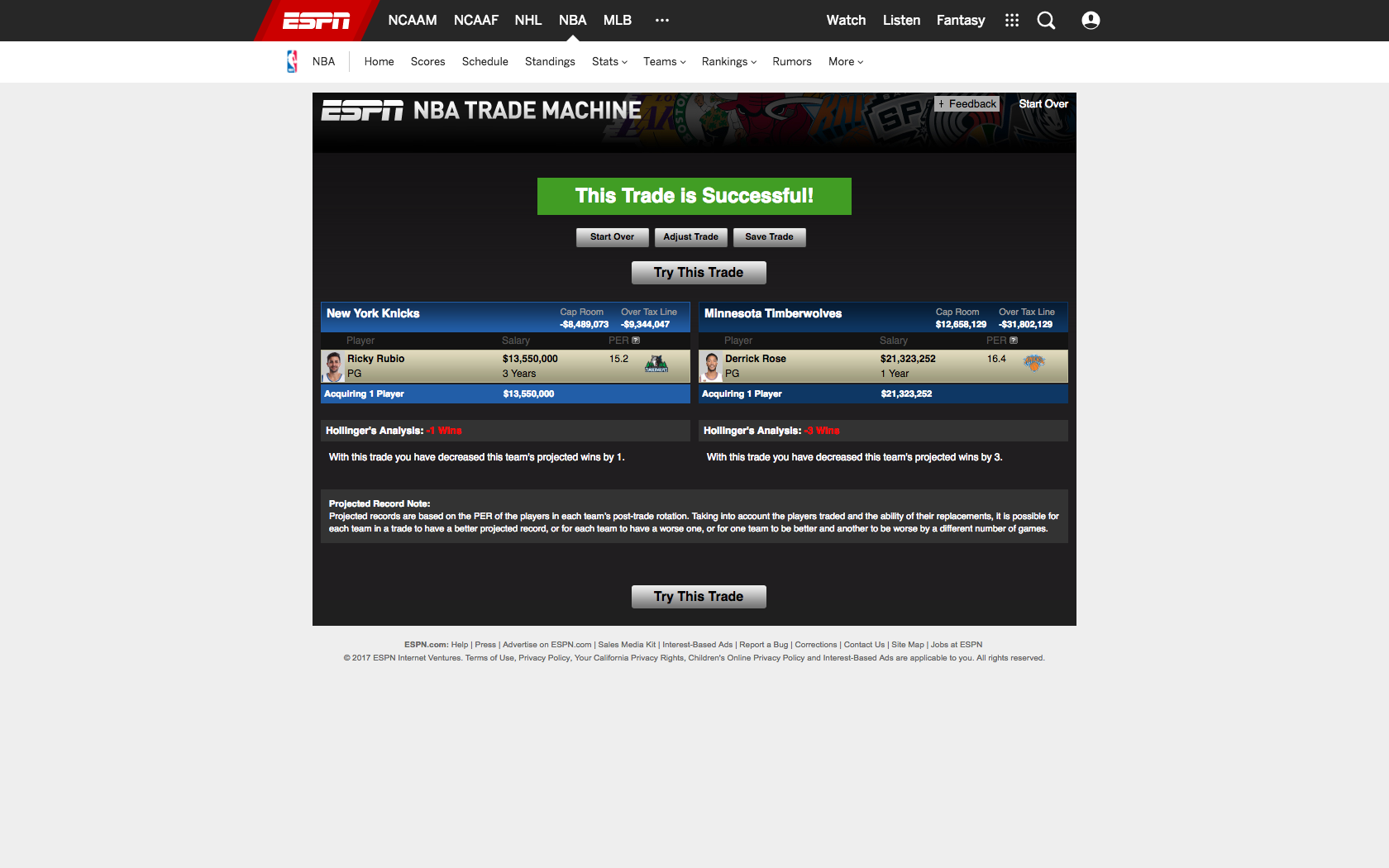 This trade was funny because there was no way the Timberwolves would be stupid enough to flip Ricky Rubio into the shell of D. Rose. Then ESPN's Ian Begley dropped this pearl across my timeline. Marc Stein followed that by saying Rose to Minnesota in some capacity is happening on The Lowe Post podcast. The reaction from Knicks Twitter went something like this.
Rose overstayed his welcome in New York quickly. From going AWOL to freezing out our prized son Kristaps Porzingis in crunch time, it has been obvious what Rose has been doing. He's simply trying to get his next contract. In addition to being a non-factor after the first month of the season (62nd ranked point guard in real plus/minus at -2.92) he has openly questioned the coaching staff about preaching defense while getting sautéed on defense himself.
It was obvious he missed Tom Thibodeau and now it's obvious Thibs misses Rose. I'd trade Rose for a pack of dutches let alone a pass-first point guard like Rubio. This is the type of point guard you want to around to optimize the limitless potential of Porzingis. If the Wolves or any other team for that matter want Rose it would behoove the Knicks to make any deal.
The one caveat here is Rubio will shrink the cap space Rose creates at season's end. His contract runs through 2019. While an annual cap hit of $14 million is not crippling it should only be taken on under the assumption the Knicks have zero hopes of landing a guard in the draft or through free agency.
Derrick Rose for Dwyane Wade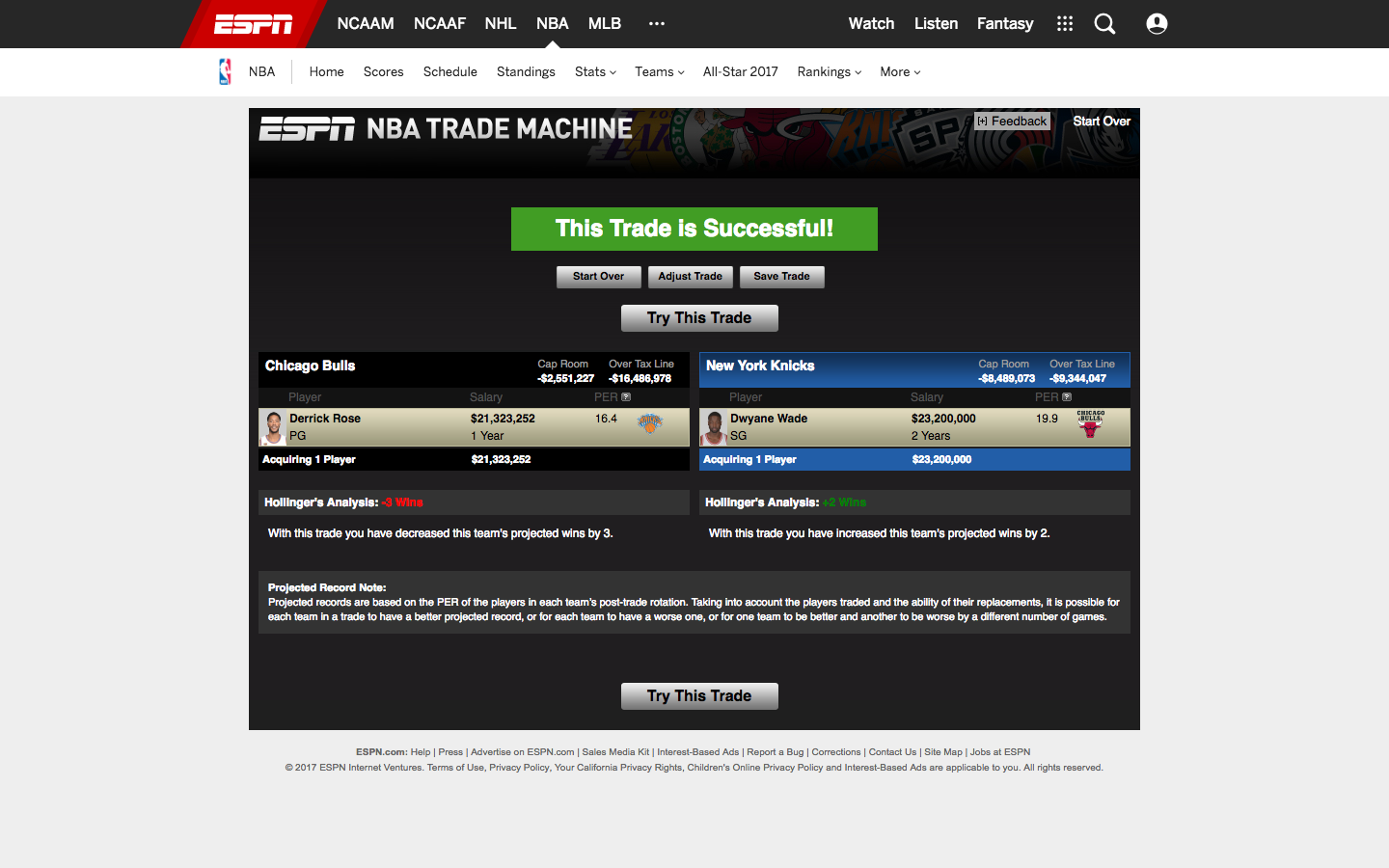 Buyer's remorse anyone? The Knicks have to regret dealing Robin Lopez and Jerian Grant. The sole reason Jackson cannot be crucified for this trade is because Justin Holiday has played so well and deserves to be a staple of the bench unit for years to come. Holiday fits that same lunch pail mentality that Lance Thomas brings and it's those type of guys that help win ball games.
The Bulls do not have any positives to look for in their Dwyane Wade signing. Wade looked phenomenal in the opening month, but has since nosedived. Of the players that attempt more than 15 shots per night Wade ranks 36th in true shooting percentage. Rose ranks right ahead of him at 35th.
Bringing Rose back does not fix the Bulls' problems, but it does get the grumpy Wade out of town. For the Knicks it brings them that much closer to uniting the Entourage (anyone else think Banana Boat gang is corny as sus?). Wade was close to signing with the Knicks in the offseason and can become a free agent this summer again. But why wait? Get Wade in New York now and set your sights on Chris Paul in July. The dream of all four friends playing together is still very much alive.
"I don't know where that would be able to happen. It's always a dream,"  Carmelo told the New York Daily News. "They're all in the same boat I'm in. It's hard to think about something else when Chris is going through his surgery and (Wade) is going through what they're going through in Chicago. I think it's hard to start thinking about that at this point right now. I think everybody just needs a break, everybody is waiting for the break to decompress and re-evaluate."
The Debbie Downers at the Daily News are quick to point out the actions of Phil Jackson and James Dolan this year as reasons free agents won't come to New York. Jackson's pathetic smear campaign against Carmelo has failed miserably, but it's not a given that the Zen Master will even be around much longer.
As for Dolan's behavior in regards to the treatment of Knick legend Charles Oakley (ironically enough Paul, Wade and LeBron all chimed in on the situation via Instagram) that should not affect much. Carmelo already has Dolan's ear and LeBron has shown that when he joins an organization it is his organization.
His relationship with Cavs owner Dan Gilbert looked like it would never mend, but after LeBron came back and sonned Gilbert all has been good in The Land. There is no question Dolan would willingly submit himself to LeBron's every demand, it's just a matter of convincing him to come.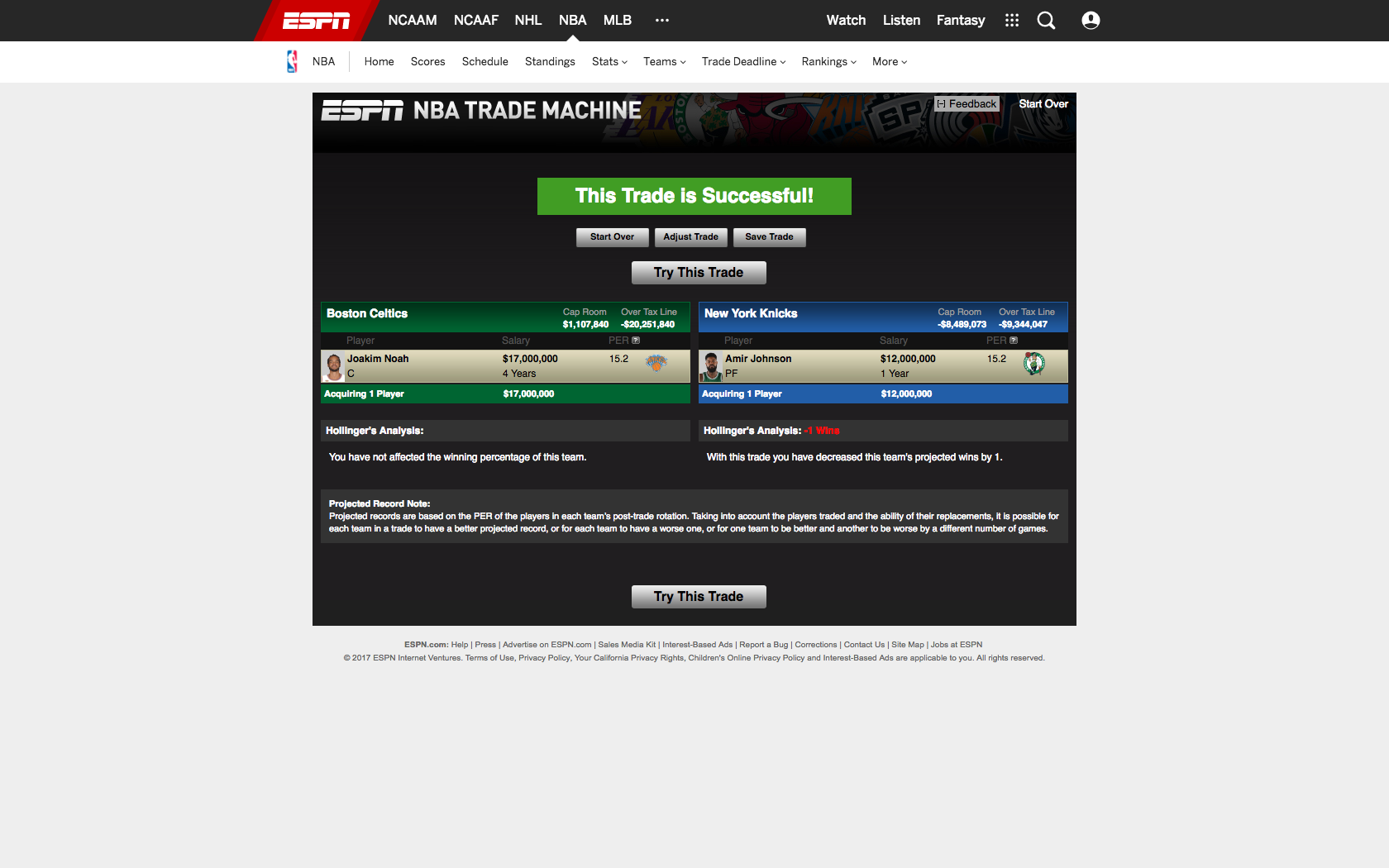 Unlike his longtime buddy Rose, Joakim Noah has been a good addition for the most part. He is certainly past his prime, but that has not prevented him from going all out whenever he is on the court. He is averaging 19.6 rebounds per 100 possessions according to Basketball-Reference which is the second highest average of his career. It is a main reason the Knicks rank fourth in total rebounds per game.
The Celtics live on the opposite side of the spectrum. Despite sporting the second best record in the Eastern Conference the Celtics have one Achilles heel–rebounding. They rank 28th in total rebounds per game. Andrew Bogut would be the optimal play for Celtics GM Danny Ainge, but Noah can be Plan B if the Celtics can live with the remaining $55 million left on his contract or strike out in landing either Jimmy Butler. If the cap keeps increasing his cap hits of $17.8 million, $18.5 million and $19.3 million do not hurt as much.
For the Knicks they get Noah's contract off the books which is already a massive win. If the Celtics insist on the Knicks covering a part of the salary then so be it. The extra cap space generated from Amir Johnson's expiring deal is well worth the price of freedom. Willy Hernangomez and Kyle O'Quinn have proven they can hold down the five spot and Porzingis needs more reps there as well.
Magic-Knicks-Clippers-Pistons Blockbuster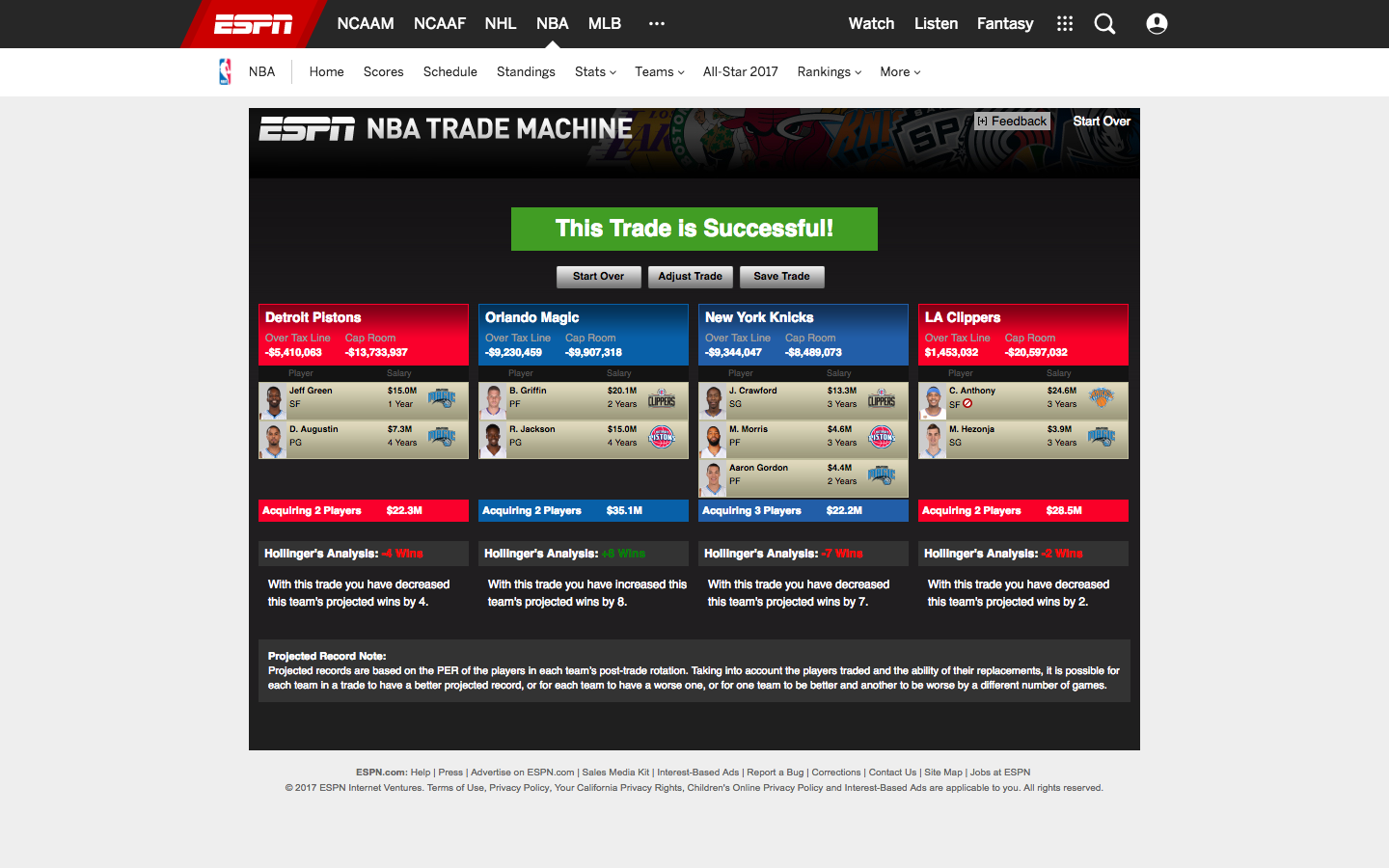 There are a lot of moving parts here. This idea stemmed from The Ringer's MVP, Kevin O'Connor, piece on a Carmelo-Blake Griffin trade mixed with the report that the Magic were interested in adding Reggie Jackson for D.J. Augustin and Jeff Green. It is true that Magic GM Rob Hennigan is on the hot seat and it is also true the Magic and Pistons kicked the tires on Jackson.
This is where the Knicks can facilitate a nice haul for the Magic while maximizing their return on Carmelo. They would have to eat Jamal Crawford and Marcus Morris' contracts, but turning Carmelo into Aaron Gordon would be well worth the price. Gordon would finally be at his rightful place at power forward, fulfilling his Shawn Marion/Blake Griffin hybrid destiny, alongside Porzingis who can now be the stretch five the Hoops Gods intended him to be.
As for the Magic they take a huge leap of faith in Blake re-signing this summer, but Jackson will be under contract for three more seasons. This duo fits the win-now initiative the franchise is so desperate to reach. Individually Jackson and Griffin are better than any player that has worn a Magic jersey in the past five years. How they would possibly mesh on the floor is anyone's guess. When a team's desperate crazier shit has happened.
The biggest winner in this trade is obviously the Clippers. They turn Blake into Carmelo and take a flier on Mario Hezonja. Carmelo might be past his prime, but he is still more of an offensive force than Blake in the half court. Hezonja–taken fifth overall in the loaded 2015 Draft–has failed to live up to expectations in Orlando, but that has more to do with the Magic than Hezonja.
During his pre-draft he drew comparisons to J.R. Smith due to his athleticism and microwave scoring ability. If he can discover the talent and bravado he had in Europe in Los Angeles the Clippers come away with their sixth man of the future as well as Carmelo.
Entourage Reunited in The Land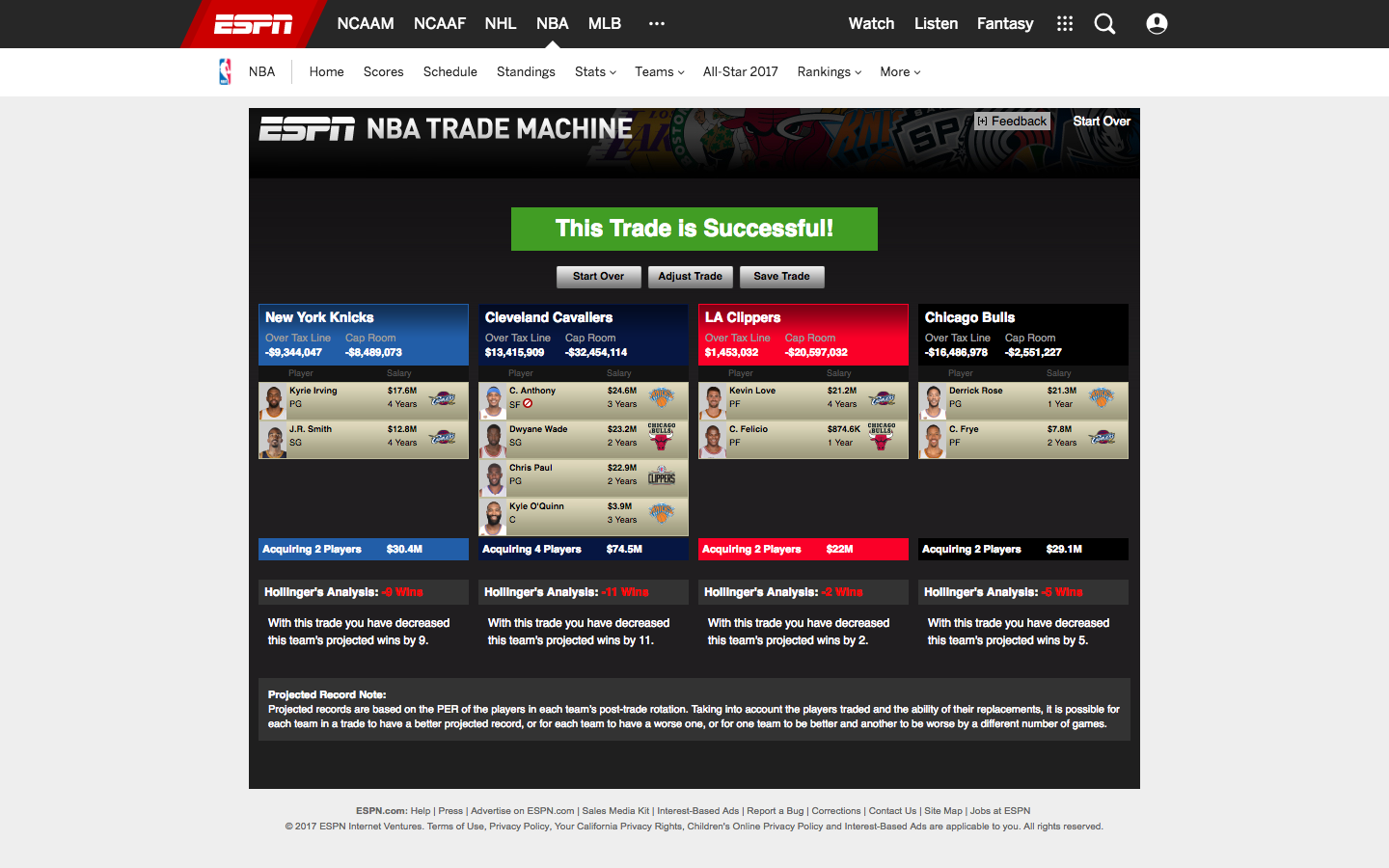 It wouldn't be a proper Knicks trade scenario piece without some chaos. This would be San Andreas: The NBA, causing a ripple effect never before seen in American sports.
If Carmelo or Paul cannot convince LeBron to join them in LA or NYC why not just go to him? The .0000000000001-percent chance of this going down is if Kyrie gets hurt between now and Thursday, but hey anything is possible right? The Cavs reunite LeBron's Entourage and add Kyle O'Quinn to help soften the blow of losing Kevin Love's rebounding.
In this blasphemous trade the Clippers would receive Love who they would immediately flip to the Trail Blazers for Damian Lillard. Cristiano Felicio will join the bench unit and fill the role of "who the fuck is that guy?" in the Blockbuster deal. The new Clippers nucleus of Dame, Blake and DeAndre Jordan gives them an infusion of youth at point guard and buys them more time to wait out the Warriors' reign.
Any and all draft picks would go to the Bulls who get the short end of the talent stick in this deal. They can always flip Jimmy Butler to the Celtics for a golden rebuilding bundle. Adding Rose's expiring contract plus Channing Frye (who they can choose to buyout) do not affect those plans.
Somewhere in an alternate timeline this trade happens and Madison Square Garden is jumping for joy. The Knicks would turn the best Knick since Patrick Ewing and welcome home two of the best high school players from the Metro area. Kyrie Irving is a bonafide star who now gets the keys to the kingdom alongside PorzinGOD. Smith still wants nothing to do with the Knicks, but he would have no choice in this scenario. He had success here before and he could have it again if he chooses too.