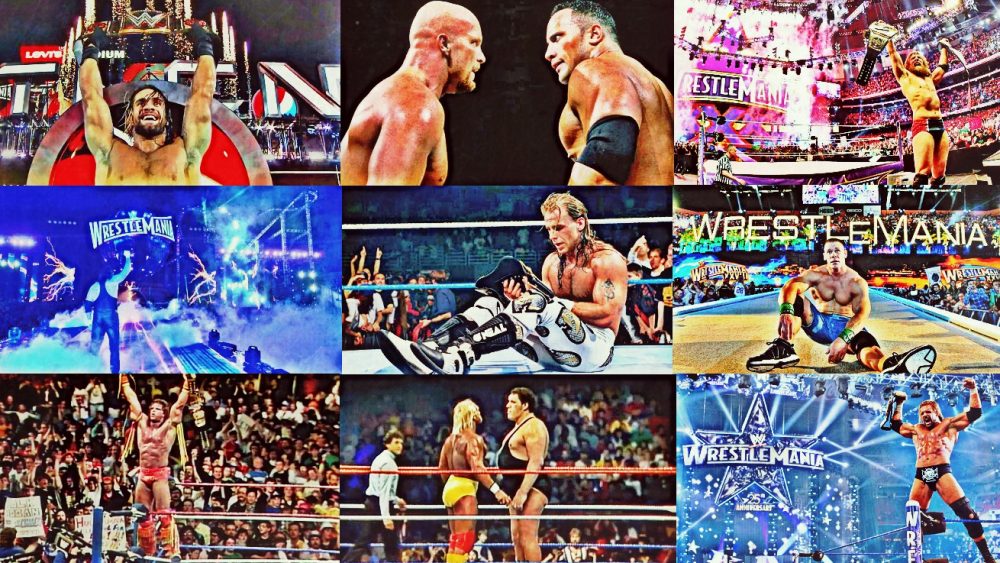 There was once a time when the WrestleMania Main Event was announced months in advance. It was a coveted spot that was reserved for the winner of the Royal Rumble match and whoever the reigning Heavyweight champion was. But as additional Championships were introduced, marquee title matches were devalued, and the main event slot was occasionally reserved for whatever "Dream Match" the fans were clamoring for at the time.
WrestleMania 34 is just two days away now, and it still isn't clear what the Main Event match of the night will be. Would WWE be so bold to try out Roman Reigns and Brock Lesnar in the Main Event again? Will they find a way to turn this John Cena/Undertaker situation into the final match of the night? Will Ronda Rousey go last in her WrestleMania debut, or could Daniel Bryan's return to the ring get that prime spot? There are still 48 hours until we get our answer.
Rather than speculate what match will go on last on Sunday night, I'd much rather spend some time talking about some of the Main Events of past WrestleMania's. This is A Mostly Complete History of WrestleMania Main Events … a handful of pseudo awards and distinctions given to some of the previous 33 WrestleMania Main Event matches.

Best Main Event 'What If'  
WrestleMania VIII – What if Hulk Hogan vs. Ric Flair was booked for the main event?
From the time Ric Flair made his WWF debut in the fall of 1991, it was rumored that a Dream Match between Flair and Hulk Hogan was on the horizon. Flair and Hogan faced each other in a number of house show matches in the months leading up to WrestleMania VIII, and a Hogan/Flair Main Event match for the WWF Championship was announced before plans were changed last minute.
Rather than stick with the highly-anticipated Flair/Hogan championship showdown, Flair defended his WWF Title against Macho Man Randy Savage. In the Main Event, Hogan faced Sid Justice in a clunky match with an unclean finish that was just as big of a letdown as it sounds.
Worst Main Event 
WrestleMania XI – Lawrence Taylor vs. Bam Bam Bigelow
In defense of this match, it was actually one-thousand times better than it should have been. Still, the fact that a retired L.T. and Bam Bam Bigelow (an underrated in-ring competitor, but a mid-card talent for the duration of his career) went on last at WrestleMania XI speaks volumes about where WWF was in 1995.
Worst Main Event compared to expectations 
WrestleMania XXV – Triple H vs. Randy Orton
The WrestleMania XXV Main Event between Triple H and Randy Orton should have been one of the all-time best. The Game and The Viper were involved in a violent and personal rivalry that was built with increasingly serious felonies. Orton physically assaulted Vince McMahon, borderline sexually assaulted Triple H's wife Stephanie, and Triple H broke into Randy Orton's home with a sledgehammer in hand and eventually threw him out of a window. This must all sound nuts, but I'm not even exaggerating when I say that this match had one of the most intriguing build-up's ever.
Somehow, WWE found a way to ruin the match. A pre-match stipulation stated that Triple H (the WWE Champion) had lost his Champion's advantage, meaning that if he were counted out or disqualified, he would lose the WWE Championship to Orton. Orton and Triple H should've beaten and bloodied each other in a classic Main Event, but instead they spent nearly 25 minutes ignoring the bad blood that carried the feud for the two months leading up to the match, and instead attempting to have a conventional and technical contest that couldn't compare to The Undertaker/Shawn Michaels clinic that had went on about an hour earlier.
Best Main Event at a forgettable WrestleMania 
WrestleMania XXVI – Shawn Michaels vs. The Undertaker
Though it wasn't as prolific as their WrestleMania XXV encounter, the WrestleMania XXVI rematch between Shawn Michaels and The Undertaker was as solid as you could expect a contest between two forty year old's. The two year Michaels/Taker WrestleMania feud was the bright spot in an era where WWE was struggling to establish new young stars. Fans were already beginning to turn on John Cena, and they had long ago turned on Dave Batista. Randy Orton was the best heel in the company in that stretch, but the egg he and Triple H laid in their WrestleMania XXV Main Event did a bit to kill that momentum. By WrestleMania XXVI, Orton was badly miscast as a babyface.
If it weren't for Shawn Michaels and The Undertaker, WrestleMania XXVI would be remembered for Cena's victory over Batista in an unofficial "We Were Right To Push One of These Two" tilt, Jack Swagger's Money In The Bank Ladder Match victory (LOL) and for the painful-to-watch Bret Hart/Vince McMahon No Holds Barred Match that never, ever, ever, ever, ever, never should have happened.
Non Main Event that we knew should've been the Main Event at the time 
WrestleMania X8 – Hulk Hogan vs. The Rock
With all due respect to Triple H and Chris Jericho, who participated in a perfectly fine Main Event, all it took was the opening 20 seconds of The Rock vs. Hulk Hogan to realize that the wrong match was going on last.
Most underrated Main Event 
WrestleMania XIX – Brock Lesnar vs. Kurt Angle
Before Brock Lesnar returned to WWE in 2012 and started steamrolling past his opponents in mostly one-sided beatdowns that almost always took place in Suplex City, the young "Next Big Thing" had his share of quality professional wrestling bouts. The most notable one was his Undisputed Title victory over The Rock at SummerSlam in 2002, but the best pay-per-view match Lesnar had in his first year in WWE was in the Main Event of WrestleMania XIX, challenging Kurt Angle for the WWE Championship. Angle's accomplishments and in-ring ability are well-documented, so it should be no surprise that he was able to coax out the best match of Lesnar's career to date in Seattle at WrestleMania XIX. Angle could work a five-star match with anybody, and this match was proof that with the right sort of opponent, Lesnar could too.
WrestleMania XIX was a strong card with multiple matches that were worthy of Match of the Night consideration, but Angle and Lesnar was the best in my opinion. It felt like a big moment that had a passing of the torch sort of vibe, and the match itself didn't disappoint. There was consistent back and forth action throughout, and after three F-5's and an almost all-the-way botched Shooting Star Press, Lesnar was able to put Angle away. On the Smackdown after WrestleMania, it was revealed that Lesnar was concussed during the match, and Angle pulled a hamstring and suffered a neck injury that would require surgery that sidelined him for three months.
Best passing of the torch Main Event moment 
WrestleMania VI – Hulk Hogan vs. The Ultimate Warrior
Following a delicate, half-added attempt to pass the torch from Hogan to Randy Savage at WrestleMania IV, WWF reversed course, turned Savage into a paranoid egomaniac heel and Hogan was booked to defeat the more talented Savage in the Main Event at WrestleMania V. A year later a spastic newcomer had emerged, one who was sprinting down the aisle on his way to challenging for Hogan's throne. Hailing from "Parts Unknown" and decorating himself in the most fantastic face paint imaginable, it was The Ultimate Warrior.
I would make a "The Ultimate Warrior was like Hulk Hogan on steroids" joke, but that's less funny now because we know that Hogan and Warrior were actually both on steroids. The Ultimate Warrior was however an over the top version of Hogan, and the first guy to ever steal cheers away from the Hulkster. Warrior was the trendy alternative to the fan who enjoyed bright color combinations or thought to themselves, "Ya know, Hulk Hogan just isn't animated enough for my liking." You can't definitively say that Warrior was a better in-ring performer than Hogan, so there goes that theory. But it's indisputable that at WrestleMania VI, if crowd reaction means anything, that The Ultimate Warrior was the next guy in line once Hogan was out of the picture.
Hogan lost clean to The Ultimate Warrior, the first time since the birth of Hulkamania that Hogan had lost clean to anybody, and for a brief period Warrior was both the WWF Heavyweight Champion and the Intercontinental Champion. It's pretty amazing that this would be Warrior's one and only title reign, and it didn't even last one year.
Best "Nah, the torch is actually still mine" Main Event moment 
WrestleMania IX – Hulk Hogan vs. Yokozuna
After leaving WWF for nearly a year because of allegations of steroid use, Hulk Hogan returned to the WWF for WrestleMania IX. Hogan wasn't slated to occupy the Main Event slot as he had at seven of the first eight WrestleMania's; instead, Hogan teamed with Brutus "The Barber" Beefcake to face the team of Ted Dibiase and I.R.S. Hogan and Beefcake lost the match by DQ but were the de facto victors of the match since Hogan's music played at the conclusion of it all.
Conventional wisdom would suggest that Hogan's night was seemingly over now that he and Beefcake had settled their feud with Money Inc. But rather than watching the rest of the pay-per-view from backstage like a normal person, Hogan made his way down to the ring after Yokozuna had defeated Bret Hart for the WWF Heavyweight Championship, and challenged the unstoppable sumo star to a match for the Title on the spot. Yokozuna agreed, and in 22 seconds Hogan was the new WWF Heavyweight Champion. At the June 1993 King of the Ring pay-per-view Hogan dropped the title to Yokozuna. Rumors later circulated that he refused to take a loss to Bret Hart.
By mid-1994 Hogan was wrestling for WWF's biggest rival, WCW. Though it's unclear if WWF felt this was a mistake, at WrestleMania X Bret Hart was booked to defeat Yokozuna in the Main Event for the WWF Championship.
Main Event that was better when it was "Once in a Lifetime" and not "Twice in a Lifetime" 
WrestleMania 28 – The Rock vs. John Cena
For the record, I liked both of these matches quite a bit, but there were two things that bothered me about the WrestleMania 29 match.
1. It bothered me, perhaps irrationally, that we were just supposed to forget that all throughout 2011 this Cena/Rock encounter at WrestleMania 28 was billed as "Once in a Lifetime." Once in a Lifetime doesn't mean the first time it happens is Once in a Lifetime, and then it's just open to happening all over again. No, it means that those two were supposed to face each other one on one in a WWE ring one time in my lifetime. That was a major hang-up for me.
2. It bothered me, more rationally this time, that CM Punk carried the WWE Championship for 434 days, which included all of the year 2012, only to be bumped out of a deserved WrestleMania Main Event spot at the Royal Rumble when he lost his title to The Rock. It just wasn't right. Since CM Punk walked out on WWE, he mentioned in a podcast that he suggested to WWE creative that the title match at WrestleMania be a Triple Threat elimination match between Cena, The Rock and himself, and that he would've gladly taken the first pinfall. Why not roll with that? Why not let Punk work microphone magic and demand that he be included in the Main Event after he carried the WWE Title for a whole effing year? Why not let him have that Main Event entrance? Why the hell do I still care about this bullshit five years later?
Best post Main Event celebration 
WrestleMania XXX – Daniel Bryan
It wasn't just that almost every single one of the 75,000 fans in attendance were pulling for Daniel Bryan that night, or that after Bryan made Batista tap out all 75,000 of those fans were on their feet, extending their arms into the air and chanting "Yes!" along with Bryan … although that was pretty damn cool:
It's that this was the most authentic underdog story that the WWE had ever managed to tell. It's that this match wasn't originally booked to happen until Daniel Bryan and the WWE Universe forced WWE to call an audible. It's that Daniel Bryan had been wrestling all around the world for over a decade, and he was in the ring for nearly an hour that night busting his ass to put on the best show he possibly could. Daniel Bryan deserved this moment; a moment that may have saved professional wrestling (this sounds drastic, but think about how poorly a Randy Orton vs. Dave Batista Main Event would have went over). A moment that was organic and truly powerful. A rare wrestling moment that felt real. More on this on Monday.

Most surprising Main Event finish 
WrestleMania 31 – Seth Rollins cashes in the Money in the Bank briefcase
WrestleMania 31 looked like this was going to be the arrival of Roman Reigns as the heir apparent to John Cena as the WWE appointed face of the company, but in a legitimately rare surprising ending to WrestleMania, Seth Rollins ran down the long WrestleMania 31 ramp, cashed in his Money In The Bank briefcase and pinned Roman Reigns right in the middle of the ring to win the WWE Championship.
What made this moment even more surprising was, to his credit, the look of uncertainty that was on Rollins' face as he was sprinting down to the ring, handing the Official the briefcase, and as you could clearly see him screaming, "I'm cashing in … Right now!" It's like he genuinely didn't know if the cash-in was going to work, when of course he knew it would.
Best individual performance in a Main Event 
WrestleMania XII – Shawn Michaels and Bret Hart (Tie)
Shawn Michaels and Bret Hart wrestled for 61 minutes and 52 seconds at WrestleMania XII before Michaels finally put Hart away in the sudden death overtime period of their 60-Minute Iron Man Match. I have a hard enough time staying focused while watching wrestling for over one hour. How they performed in a high quality, high pressure match like that for nearly 62 minutes is beyond me.
Most iconic Main Event 
WrestleMania III – Hulk Hogan vs. Andre The Giant
It's impossible to overstate how momentous the Main Event of WrestleMania III was. The best way to explain what it meant for professional wrestling is as such: Nearly one year later Hulk Hogan and Andre The Giant had their first televised rematch on The Main Event on NBC, and 33 million people watched. That is nearly ten million more people than the average audience of the Boston Celtics/Los Angeles Lakers NBA Finals the previous June. That's utterly ridiculous.
That number remains baffling, but the intrigue over the WrestleMania III Main Event is completely understandable. Hulkamania had gripped wrestling fans like no gimmick or run ever had. Hogan was a legitimate celebrity, starring in movies, making MTV appearances, living up to his larger than life persona. And it goes without saying, but Andre The Giant wasn't just some no-name. It's impossible to stay under the radar when you're an honest-to-God giant (7'4″ and over 500 lbs.) and you own an undefeated record in the ring.
The build to Hogan and Andre's WrestleMania III bout was fantastic and the match was about as good as you could expect from a deteriorating Andre and a limited-in-the-ring Hogan. It didn't approach the Randy Savage/Ricky Steamboat match from earlier in the night in terms of technical mastery — this is the most obvious statement I'll be making all week, I promise — but it had the flashbulb heavy staredown and the bodyslam heard round the world to close the show. That's all it really needed.
Best Main Event Match 
WrestleMania X-Seven – The Rock vs. Steve Austin
This match should also be celebrated for being the Best Called Main Event Match by an Announce Team (props to Jim Ross and Paul Heyman for fucking bringing it), for having the Most Shocking Heel Turn at the end of a WrestleMania Main Event, and for having the Best Pre-Match Video Package any wrestling match has ever had:
In my opinion, there is no such thing as too much gushing for this match. There have been matches that have had a higher degree of difficulty, or matches that were better executed, but from a build-up and in-ring psychology standpoint, The Rock vs. Steve Austin at WrestleMania X-7 is one of the best worked wrestling matches ever. To boot, the end result, Stone Cold Steve Austin and Vince McMahon toasting a beer over a beaten down Rock (who had just been victimized by sixteen chair shots) is arguably the most significant moment in professional wrestling history. This match marked the end of the WWF's most beloved era of programming and briefly closed the book on pro wrestling's greatest rivalry.
And that's what has historically made the WrestleMania Main Event so important. In theory, this is the one of the year time when every possible industry-altering plot twist should be on the table. It's when legacies are made, legends are born, and when lifelong dreams become reality. It's the one match that should be talked about for years to come, or at least until the next WrestleMania Main Event raises the bar yet again.