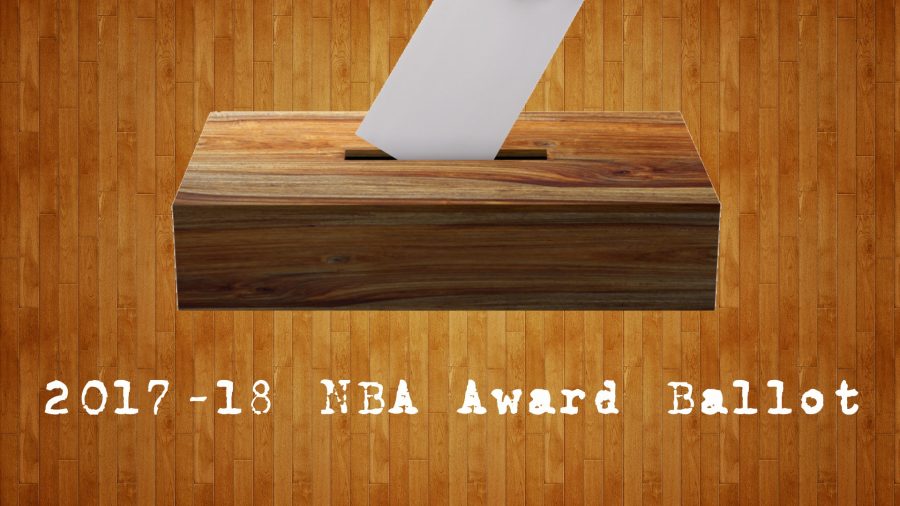 Most Valuable Player 
1. James Harden
2. LeBron James
James Harden as the 2017-18 MVP pick shouldn't come as much of a surprise here. The Beard jumped ahead of the field by the time the season was a month old, and he hasn't relinquished that lead one time in the five months that followed. In an ordinary season, strong cases could be made for any of the other four stars on the ballot, but this has hardly been an ordinary year for Harden, or his Houston Rockets.
James Harden's basic stats were arguably better last year, when he finished as the runner-up to Triple-Double crazed Russell Westbrook in the 2016-17 MVP vote. I wrote last year that if I had a vote, I would've cast it for Westbrook; I was not only seduced by the numbers, but by the narrative. The 2016-17 season was Westbrook's revenge tour. A marathon run of Eff You Performances hurled in the direction everyone who suggested that the Oklahoma City Thunder would go in the tank without Kevin Durant. Westbrook dazzled with relentless energy and reckless abandon; he dictated the action and dominated the ball in OKC like no single player ever had. And in the moments when Westbrook went to the bench, the Thunder wilted.
Meanwhile, Harden iso-balled his way to one of the most efficient offensive seasons ever last season and it somehow flew under the radar. Harden's game has been nitpicked to no end since he was traded to Houston back in 2012. We knew his defensive effort has been garbage. We knew his offensive game has been redundant. Still, the Rockets were eight games better than the Thunder, and if Harden had averaged ten rebounds instead of eight, he likely would be on his way to his second consecutive MVP Award this season.
Harden's numbers were mind-boggling yet again this year (31-5-9, 45-37-85 shooting splits) and his game didn't change in any major way, but this time around the Houston Rockets were indisputably the best team of the regular season. Houston led the league in wins and point differential, both by a considerable margin, and they posted one of the ten best offensive ratings (points per 100 possessions) in NBA history. Of course, Harden was the catalyst who made it all work. He might as well be a lab-created leading man for the Moreyball ideology and Mike D'Antoni's system. Harden lives in the paint, at the free throw line and behind the arc; his entire existence as a basketball player can be defined by his willingness to live in these areas — for the second consecutive season, Harden joins the 700-700 Club (700 free throw attempts and 700 three point attempts) and needless to say, he's the only member of this club — and his ability to score efficiently in each of them (Harden is one of only 19 players this season who attempted at least 12 field goals per game and has a 54% Effective Field Goal percentage or better).
Harden's defense has improved enough where it's worth mentioning. Being surrounded by net-positive defenders has helped Harden's cause at that end, but Harden's increased effort and his surprising competency at battling bigger covers in the post deserves recognition. Factor in his expert-level passing, which is a substantial ingredient that needs consideration when evaluating Harden's impact in creating the culture in Houston, and it's pretty clear … James Harden is the 2017-18 NBA MVP.
LeBron James, in year fif-fucking-teen mind you, gave Harden a run for his money late in the season. I imagine if Harden weren't owed an MVP this year, LeBron's narrative coupled with the season he's had would be enough to push the King toward his fifth MVP Award. LeBron's defensive effort has been inconsistent at best.He's, um, mostly disinterested? I think that's the best way to put it. He treats most defensive possessions like he's playing in an All-Star Game, but the numbers and the eye-test suggest that he's very aware of the offensive burden he carries, and of all of the negative defenders around him. It's almost as if he made the conscious decision to conserve energy at that end, and not even hide it.
Still, since the NBA Trade Deadline in early February, LeBron has had one of the best prolonged offensive stretches of his entire career. Over the final third of the season LeBron James has averaged 30 points, 10 rebounds and 10 assists per game with the sort of efficiency Russell Westbrook dreamed of having when he was tossing up 30-10-10's every night. A decent chunk of this stretch was played without Kevin Love, meaning that LeBron James was going to war with the likes of Jeff Green, J.R. Smith, Jose Calderon, Cedi Osman, Kyle Korver, and the fresh young faces acquired at the Trade Deadline (Larry Nance Jr., Rodney Hood, Jordan Clarkson, and the hologram projection of George Hill that Sacramento sent to Cleveland).
Even for the impossible standards that LeBron James is held to, this season has been otherworldly. Don't let it go unappreciated.
I felt comfortable slating Anthony Davis, Damian Lillard and Giannis Antetokounmpo in the 3rd, 4th and 5th spots on the ballot respectively. Davis went bananas ever since his bully-ball running mate DeMarcus Cousins ruptured his achilles tendon in late January. He's averaged 30 points, 12 rebounds, and 5 combined blocks and steals over a 30 game stretch, and over the course of a ten game winning streak in February and March that kept the Pelicans afloat, Davis had five games of 40 points or more, including one 53 points, 18 rebounds, 5 blocks gem against the lowly Suns.
Damian Lillard has spent the back half of the season putting up numbers superior to Stephen Curry's first MVP season, and his Portland Trail Blazers have been the third best team in the brutal Western Conference ever since he returned from injury in mid-January. Remember the Damian Lillard/CJ McCollum vs. John Wall/Brad Beal debate we were having before the season? Well, Lillard and McCollum won.
Giannis Antetokounmpo was the early-season MVP choice du jour, but as the Milwaukee Bucks skid turned into a season-long malaise, the Greek Freak's MVP candidacy suffered. With that said, the Bucks are an oddly constructed roster in need of both an identity and a coaching change. Giannis has been pigeonholed as your basic lanky, athletic forward. An inventive coach would get more out of Giannis, who by the way, is averaging 27-10-5 on the year. With a couple more complimentary pieces and a competent NBA Head Coach, Giannis will take home the hardware soon enough.
The toughest cuts from the top five were LaMarcus Aldridge (who quietly had a wonderful season for the surprisingly rocky San Antonio Spurs), Russell Westbrook (thanks to some truly comical effort at grabbing rebounds in the final few games of the season, Russ averaged a Triple Double for the second consecutive season), and Kevin Durant, who only gets the honorable mention spot over Stephen Curry because Curry didn't play enough games to qualify (Curry played 51 games this year, which falls seven short of the 58 games Bill Walton played in his 1978 MVP Season, the fewest games played by an NBA MVP in an 82 game season). Durant was spectacular on both ends of the floor, but in Stephen Curry's absence, it's become increasingly clear that the greatest shooter ever is the MVW (Most Valuable Warrior).
All-NBA Teams 
1st Team – Damian Lillard, James Harden, LeBron James, Giannis Antetokounmpo, Anthony Davis
2nd Team – Russell Westbrook, Victor Oladipo, Kevin Durant, LaMarcus Aldridge, Joel Embiid
3rd Team – Ben Simmons, DeMar DeRozan, Jimmy Butler, Al Horford, Karl-Anthony Towns
Defensive Player of the Year  
1. Rudy Gobert
2. Joel Embiid
3. Al Horford
5. Anthony Davis
Rudy Gobert was a trendy and deserving Defensive Player of the Year choice last year (he finished 2nd in the voting), and despite missing 26 games this season it seems unlikely that he could be denied the Defensive Player of the Year Award again. The Utah Jazz have the second best defense in the NBA, and with Gobert on the floor they allow fewer than 100 points per 100 possessions, a mark that is far and away the best in the league.
Gobert is long-armed and heady, a terrific combination for the anchor of your defense and all the more menacing with an appropriate and geographically accurate nickname like "The Stifle Tower." Gobert seldom misses rotations and is always lurking in the paint, providing a road block at the rim for opponents courageous enough to challenge him there. For the duration of his career he's been one of the best deterrents of opponents shots at the rim, and few defenders force opponents into a lower shooting percentage in the paint … the story hasn't changed this year.
It's rare to see such young teams so good defensive. Utah, Philadelphia and Boston are all top five defenses, and it's why four of the five spots on my ballot go to players from those teams. Joel Embiid's presence is the key reason why Philadelphia is 4th in Defensive Rating this year. Like Gobert, Philly's defense reaches another level when Embiid is on the floor; it's middle of the road when he's on the bench or injured. Robert Covington is a long, switchable wing defender who disrupts passing lanes, gets his hands on loose balls, and is often tasked with the most challenging defensive assignment each night. If there were a Most Underappreciated Player of the Year Award, Covington would contend for it. Al Horford would've already won multiple MUPOY's, and he'd be on the ballot again this year. Boston has been ravaged by a swarm of injury bugs this year; Horford has been their only constant on both ends of the floor.
Anthony Davis leads the league in blocks per game and he's a more intimidating presence when challenging shots all over the floor than Gobert, Embiid or Horford are. AD carries a far heavier burden than any of those three, so effort on the defensive end suffers from time to time. It's hard to fault the guy when he's required to put 30 points on the board in order for the Pels to be competitive.
Leaving Draymond Green off of the 1st Team feels odd, but the eye test suggests that his night to night intensity has dropped pretty significantly from previous seasons. It's understandable — it's hard to get up for March games against Atlanta when you've been playing into June for each of the last three postseasons. Even at a B+ effort most nights, Green is still the Warriors most important, most versatile and best defender. Don't be surprised if 2016 Draymond makes a prolonged return during the 2018 Playoffs.
All-Defensive Teams 
1st Team – Victor Oladipo, Robert Covington, Anthony Davis, Al Horford, Rudy Gobert
2nd Team – Jrue Holiday, Jimmy Butler, Giannis Antetokounmpo, Draymond Green, Joel Embiid
Rookie of the Year 
1. Ben Simmons
3. Jayson Tatum
4. Kyle Kuzma
5. John Collins
The simple (i.e. lazy) argument for Ben Simmons over Donovan Mitchell, as it was for Westbrook over Harden last year, is the accumulation of Triple Doubles. Simmons is 3rd in the NBA with 12 Triple Doubles, an impressive nugget for any stat obsessed fan to hang on. But focusing on those numbers minimizes Simmons' night to night impact. When Simmons was drafted in the 2016 NBA Draft we knew he had the potential to be a once in a generation sort of passer, and physically, in time, he could be dominant. He lacked a reliable jump shot, but the popular thought was that he'd eventually tweak the mechanics enough where he could at least step into a mid-range jumper with some confidence.
It turns out that our evaluation of Ben Simmons was only half-right. The one year that Simmons spent with the 76ers organization on the injured reserved looks like it paid off. His feel for the speed and pace of the game and his startling physical prowess are already on the level of a multiple-time All-Star who is at his peak. Simmons didn't need time to become a once in a generation sort of passer … he already is one. The way he sees the floor and anticipates the action is, dare I say, LeBron-esque. Physically, few perimeter players are as imposing as Simmons. He gallops down the floor, attacks the rim with no fear and can defend at an All-NBA caliber level when he's locked in. And Simmons still lacks a reliable jumper. Shit, he doesn't even pretend to have interest in shooting outside of the paint, but he's so ahead of the curve physically and mentally that we've yet to see a team be able to truly exploit his complete disregard for being a shooter. Simmons isn't just my Rookie of the Year, he's earned a spot on my 3rd Team All-NBA roster.
Nobody saw this Donovan Mitchell season coming. Prior to the Draft there were rumors that Mitchell could be a lottery climber, potentially up to the Orlando Magic who had the sixth pick. But Mitchell ended up being picked 13th by the Denver Nuggets, who eventually flipped Mitchell for Trey Lyles and Tyler Lydon (whoops). With the departure of Gordon Hayward, Mitchell assumed lead perimeter scoring duties around mid-November when he was inserted into the starting line-up for good. Keep in mind, this was a Jazz team that desperately needed that void filled, and few Rookies have ever performed as well with the kind of burden Mitchell was tasked with carrying.
Mitchell resembled a Rookie more often than Simmons did. Simmons truly looks like a fourth year star on the verge of making an MVP leap. Mitchell had his share of 7 for 20 shooting games, but the infrastructure that Quin Snyder has installed in Utah carried Mitchell on some of his off nights. With that said, there were just as many nights that Mitchell performed well-above expectations, carrying the Jazz offense down the stretch like he'd been doing it for years. More than once this year, Mitchell reminded me of a young Dwyane Wade, which I'd be willing to bet is his ceiling at this point. Mitchell has a chance to become one of the best non-top-ten picks in recent years.
Simmons and Mitchell rightfully dominated much of the Rookie of the Year dialogue, but in most normal years Jayson Tatum would be considered a serious candidate to take home the hardware. Like Mitchell, Tatum was thrown into the fire early on because of Gordon Hayward's season-ending injury, and he's responded nicely. He was lights out from long-range and carried the Celtics offense through stretches. Truthfully, the biggest knock I'd have on Brad Stevens this year is that Tatum only took 10 shots per game. That number should've been closer to Donovan Mitchell's 17 per game. The Paul Pierce comparisons are easy to make because of the Celtics uniform, but Tatum has that sort of ceiling as an offensive player. He'll finish 3rd in Rookie of the Year voting this year without much doubt.
There's a comfortable distance between him, Kyle Kuzma, John Collins or whoever is on the back half of your Rookie of the Year ballot. Kuzma over-performed as a late 1st Round pick, and out-performed 2nd overall pick Lonzo Ball, who missed 30 games this year. Had Ball been able to stay healthy, he would've been on the ballot. But 30 games were just too many for my liking. I doubt John Collins will finish fifth in Rookie in the Year voting, or that he'll make 1st Team All Rookie. He's springy and active, and when he's averaging 17 points and 10 rebounds per game for a middle of the road Hawks team next year, remember that you heard it here first.
All-Rookie Teams 
1st Team – Ben Simmons, Donovan Mitchell, Kyle Kuzma, Jayson Tatum, John Collins
2nd Team – Lonzo Ball, De'Aaron Fox, Dennis Smith Jr., Josh Jackson, Lauri Markkanen
Sixth Man of the Year 
1. Lou Williams
2. Eric Gordon
3. Terry Rozier
4. Fred Van Vleet
In December and January Lou Williams was putting up 27 points a night and building a compelling All-Star case for himself for a Clippers team that was just weeks away from trading the best player in their franchise history and dangling every other noteworthy player on the roster at the Trade Deadline. After Griffin was traded away Williams regressed toward the mean, scoring only 21 points per game in February, March and April. Still, points shouldn't be docked because Williams' pace slowed. If it weren't for Lou Will, the Clips would've had to find perimeter scoring from Austin Rivers, Tyrone Wallace, Milos Teodosic and Wesley Johnson, and that would've meant that the Clippers would've been eliminated from Playoff contention long before the final Saturday of the regular season.
It's easy to argue that Eric Gordon has actually been better this season than he was last season, when he narrowly edged out Andre Iguodala for the Sixth Man of the Year Award. This shouldn't be a huge surprise … if you watched Houston last year you knew that Gordon was both capable of carrying Houston's offense for stretches, but also the beneficiary of a bunch of wide open looks thanks to the gravitational pull of James Harden. Add Chris Paul to that equation, and it should've been expected that Gordon would stay open and continue to make defenses pay.
After Williams and Gordon there are a bunch of directions one could go with their vote. I favored Terry Rozier and Fred Van Vleet over the field. Rozier and Van Vleet are back-up Point Guard's for the two top teams in the Eastern Conference. These two have been so good that Brad Stevens and Dwayne Casey have both opted to close numerous game with both bench PG's on the floor alongside the All-Star lead guards who occupy the starting spot.
Montrezl Harrell narrowly edged out Will Barton (who started nearly half of Denver's games this year, so I wasn't sure about his Sixth Man of the Year candidacy), Domantas Sabonis (I knew this guy was being underutilized in Oklahoma City last year) and Kelly Olynyk (Olynyk creates a ton of space for bench heavy units in Miami). Harrell obviously won't win — he may not even end up in the top five — but his 17 minutes per game would be the fewest ever by a Sixth Man of the Year winner. Harrell's per 36 minute numbers indicate he's not getting enough run, but it's entirely possible that he's not capable of playing more than 17 minutes per game since he's moving and attacking like he's taking Red Bulls IV's before each game.
Coach of the Year 
1. Quin Snyder
2. Brad Stevens
3. Dwayne Casey
4. Terry Stotts
5. Brett Brown
Coach of the Year is always tricky to figure out since it's unclear what we're supposed to value. The recent history of Coach of the Year winners suggests we should be valuing wins over over-achievement. The last Coach of the Year to coach his team to fewer than 50 wins was Sam Mitchell in the 2006-07 season. That means my choice represents a stance that goes against the grain. Quin Snyder's Utah Jazz didn't win 50, but his ability to salvage this season and lead the Jazz to a Playoff spot, after first losing Gordon Hayward in July and then losing Rudy Gobert for nearly a third of the season, highlights the success he's had in building a winning culture in Salt Lake City in a short amount of time. The Jazz had 28 losses on January 24th and looked like a lottery team. Since that near mid-point of the season, only the Houston Rockets have won more games than the Utah Jazz.
Brad Stevens dealt with more injuries and night to night roster uncertainty than any other coach who wasn't in control of a team actively tanking the season away. The fact that Boston won 55 games, and went on a 16 game winning streak almost immediately after watching Gordon Hayward shatter his lower leg is remarkable. I suspect though that Dwayne Casey will win Coach of the Year over Snyder or Stevens. It's not as if Casey is undeserving. In May it looked like the Raptors were on track to blow things up after being swept out of the Playoffs by LeBron James and the Cavs. Instead, Casey bet on continuity and reworked the Raptors identity, and now Toronto enters the postseason as the top seed in the East for the first time in franchise history. The Raptors are shooting more three's, playing faster, and dishing out way more assists (Toronto was dead last in assists per 100 possessions last year, and this year they are 6th).
After those three top picks, it all comes down to personal preference. Mike D'Antoni has won Coach of the Year twice in his career, and neither time he won as many games as his Rockets did this year. Erik Spoelstra and Gregg Popovich are grandfathered into the conversation every year until they show signs of serious slippage. Nate McMillan will get some much deserved love for overseeing a surprisingly successful Pacers season. I personally prefer the work of Terry Stotts and Brett Brown, but I wouldn't be offended if others had opposing viewpoints from mine.
Most Improved Player of the Year 
1. Victor Oladipo
3. Jamal Murray
5. Kris Dunn
I fundamentally don't enjoy writing about this award because I don't like what it stands for; it's the job of every player to improve each offseason, and often times it's the guy whose minutes increased the most from one season to the next who we deem "Most Improved." Therefore, I'm refusing to do an in-depth analysis of my choices. Perhaps this action — or rather, my inaction — will show the NBA how silly this distinction really is.