The Lion King
Disney is on a mission to remake their classics into live-action films for a new generation, and their latest update is for The Lion King. Many people already know Simba's Hamlet-like journey to become the true king, but there are plenty of young ones out there that have never watched the 1994 film. Directed by the talented Jon Favreau, The Lion King is a retelling of an unforgettable story. To help bring the narrative to life are Donald Glover, Beyonce Knowles, Billy Eichner, Seth Rogen, Chiwetel Ejiofor, John Kani, Alfre Woodard, Keegan-Michael Key, and, reprising his role as the great Mufasa, James Earl Jones.
Groundbreaking Visual Effects
If you want to enjoy the shiny new The Lion King film, don't expect any major changes and don't watch the original before watching this film. The moviegoing experience benefits from plenty of nostalgia, and you'll have a blast for the most part. Having said that, the original 1994 movie still reigns supreme over this photorealistic retelling. Some people want an exact shot-for-shot movie and others yearn for a film that retells the original while fleshing it out even more. This film barely has anything new to offer, so at best, it's a revisit to familiar places with a shiny new coat of paint. Sure, there are a couple of new songs added, but that's about it.
Although this movie doesn't add anything novel to the narrative, the CGI is incredible. The landscape and animals all look photorealistic, and it's jaw-dropping. Hats off to the visual effects department for knocking it out of the park in every scene. Having said that, what we gain in realism, we lose in projecting emotions via facial expression. Animals' faces aren't as expressive as humans, making it difficult to connect with the characters without the help of nostalgia. Luckily, the whole film is a nostalgia buffet.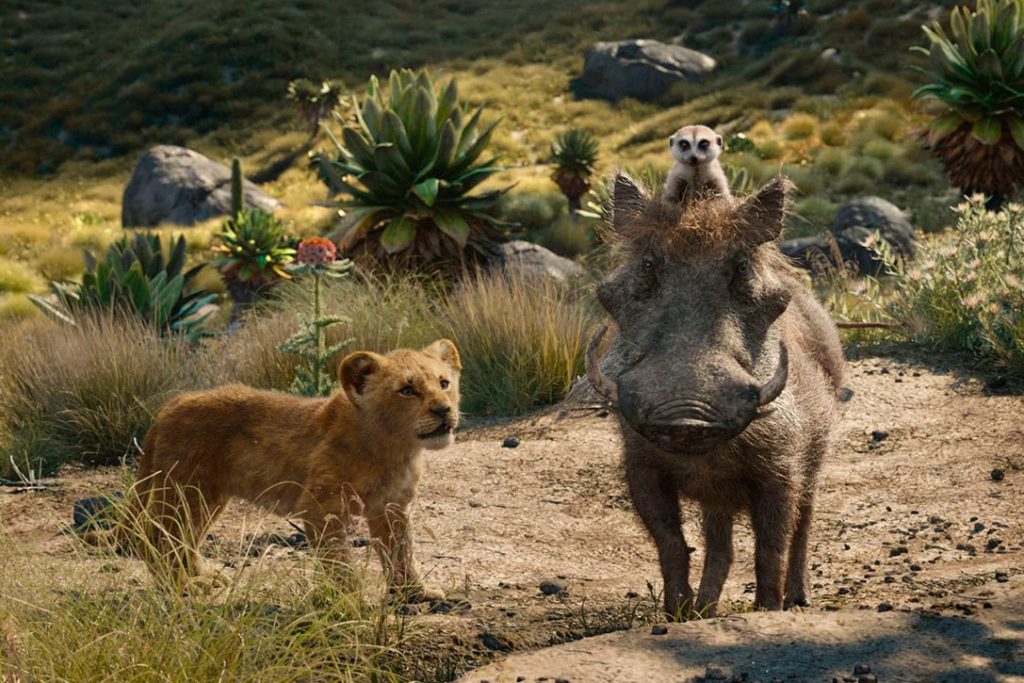 Timon & Pumba Steal the Show
Both JD McCrary and Shahadi Wright Joseph do an amazing job as the younger Simba and Nala. They have solid chemistry and tremendous singing voices. When Simba and Nala grow up, they're voiced by Donald Glover and Beyonce Knowles. Glover does well playing the lost king, tapping into relevant emotions during the dramatic scenes with Mufasa, played to perfection once again by James Earl Jones. However, Knowles' voice-acting leaves much to be desired. Yes, she dominates "Can You Feel the Love Tonight?" but she never seems to be in character whether she's singing or voice-acting.
Billy Eichner as Timon and Seth Rogen as Pumba are hilarious as the oddball pair. Their bickering and side comments are comedy gold, and they work so well together, it's as if they've been buddies for years. They steal every scene they're in easily. As for Scar, Chiwetel Ejiofor brings a darker, more menacing vibe to the villain. Jeremy Irons was fantastic in the original, but you can feel some pain behind Ejiofor's delivery.
Final Thoughts
There's nothing new under the sun in The Lion King remake, but that doesn't mean it's not worth watching. The visual effects combined with the nostalgic ride are worth the price of admission. And the reminder to take your rightful place in the circle of life and play your Hakuna Matata card occasionally, so you won't explode, is much needed no matter how old you are. Having said that, I'd take the animated 90s version over this any day.
Grade: C