The Miami Heat were never the favorite to win any playoff series in the 2020 NBA Playoffs. However, they defied the odds by sweeping the Indiana Pacers, beating the Eastern Conference favorite Milwaukee Bucks in five games, and taking down the Boston Celtics in six. Even in the NBA Finals, when seemingly all hope was lost against the Los Angeles Lakers, the Heat managed to extend the series all the way to six games.
Pat Riley's "win now" mentality has found its place in the "Heat Culture," a term used to describe the franchise's commitment to winning. This mantra helped land All-Star Jimmy Butler last offseason. It also explained the acquisition of some of the key pieces to Miami's playoff run such as Jae Crowder, Andre Iguodala, and Solomon Hill via trade. With Riley's track record and Miami's resurgence, this offseason should see them bear some shiny fruits, right?
Not necessarily. This free agency class isn't too strong, and combine that with Riley's comments saying they would possibly keep this Miami roster the same as last year, this offseason could be spent re-signing players such as Goran Dragić and Crowder. However, never say never, as the Heat could sign someone in the interim before the Giannis Antetokounmpo sweepstakes next year. Here are three players who could land in South Beach for the upcoming season.
Aron Baynes
Aron Baynes was able to post career-best numbers in a season filled with knee injuries, a league suspension, and, of course, COVID-19. In 42 games, Baynes averaged 11.5 points and 5.6 rebounds in 22.2 minutes per game. Baynes' numbers improved while he was a starter, posting 13.6 points and 6.7 rebounds in 28 contests.
Baynes would add some versatility and size to the Heat roster. At 6'10", Baynes made 59 triples on 35.1 percent shooting from beyond the arc last season. In his seven prior seasons, Baynes had only converted on 25 of 89 three-point attempts from deep combined. Miami was one of the top three-point shooting teams last season, coming second in the league with a 37.9 percent clip.
Miami wouldn't have to spend too much to acquire Baynes, as he made $5.5 million this past season with the Phoenix Suns. Baynes would fit in the Miami system whether his role is backing up Bam Adebayo or taking over the center role similar to how Meyers Leonard did at the beginning of last season. Given Baynes' versatility on both ends of the floor, along with being another veteran in the locker room, Baynes would be the best option for Miami to go with.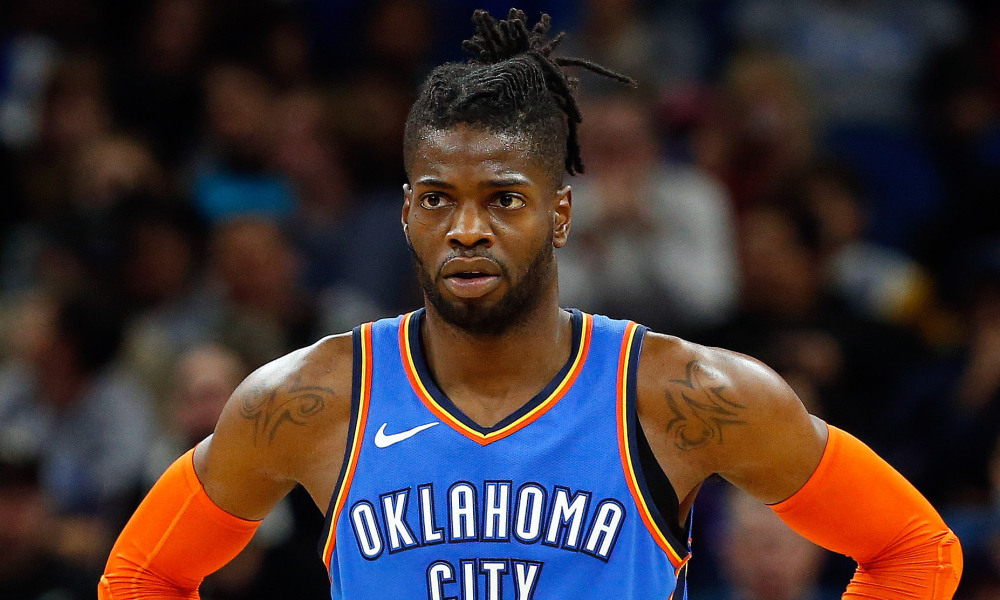 Nerlens Noel
While Baynes had a career-year last year, Nerlens Noel certainly did not have one, but it was still an improvement from his first year with the Oklahoma City Thunder. Noel averaged 7.4 points, 4.9 rebounds, 1.0 steals, and 1.5 blocks in 18.5 minutes per game.
When he was selected with the sixth overall pick in the 2013 NBA Draft, Noel sat out his initial year in the NBA due to still recovering from knee surgery. The following year, his official rookie year, Noel made the NBA All-Rookie First Team. Since then, Noel struggled with injuries, playing time, and was just on his third team of his career in Oklahoma City.
It doesn't sound too good, but Noel is only 26 years-old and made just above $2 million last year. This signing can be a low-risk, high-reward opportunity for the Heat. Miami can sign Noel to a cheap contract and have him come off the bench behind Bam Adebayo. Noel can easily hit his prime within Erik Spoelstra's system and the "Heat Culture."
Jahlil Okafor
Jahlil Okafor is another former Philadelphia 76ers lottery pick (3rd overall pick, actually) who has struggled since his rookie year. The difference between Okafor and Noel is that Okafor is the younger and cheaper option.
Since averaging 17.5 points and seven rebounds en route to earning NBA All-Rookie First Team honors, Okafor has been a bench player due to injuries and falling behind in the depth chart. Like Noel, Okafor has seen better success in the past two seasons with his third team, but definitely not what scouts initially thought he could be. Last season he averaged 8.1 points and 4.2 rebounds in 15.6 minutes per game.
Okafor, just like Noel, can be a low-risk, high-reward investment for Miami. The Heat once signed a young, struggling center with promise back in 2014… some guy named Hassan Whiteside I think it was? All jokes aside, Whiteside has become one of the top big men in the league following his resurgence with the Heat. Okafor can be a cheap option to fill a need, but the Miami Heat would hope it could turn out to be another Whiteside situation.