Check out our other NBA season predictions below.
Top Five NBA Title Contenders for the 2020-21 Season
2020-21 NBA Western Conference X-Factors
2020-21 NBA Eastern Conference X-Factors
2020-21 NBA Breakout Candidates
2020-21 NBA Rookie Breakout Candidates
Five Sleeper Teams for the 2020-21 NBA Season
Can the Los Angeles Clippers Remain Title Contenders?
What to Expect From the Golden State Warriors
Should the Brooklyn Nets Trade For James Harden?
As players gear up for the (second) most unique NBA season we've ever seen, many have been training hard and preparing themselves to take the next step in their career. There are players who are looking to have bounce back years, and players who want to silence the critics because of how much they've been doubted. How will these players rise up in the league and make a big impact for their respective teams? Let's take a look at the top seven NBA breakout candidates ready to take the league by storm this upcoming season.
7. R.J. Barrett, SG/SF, New York Knicks
As the third overall pick in the 2019 NBA Draft, there was a lot of hype surrounding R.J. Barrett and his arrival to New York. Many expected him to be in position to become Rookie of the Year, but after a strong start to last season, his play declined due to a leg injury in mid-December, causing many to forget about his play. Not to mention, the Knicks were pretty forgettable last season. Barrett ended up being snubbed from the NBA All-Rookie team even though he averaged 14.3 points, five rebounds, and 2.6 assists per game. Now that the Knicks seem to be headed in the direction of letting their young players take charge, look for Barrett to really come into his own this season. He's motivated and wants to prove to the world that he can be a high impact player for this team. With more playing time seeming to be coming his way, Barrett will use that opportunity to elevate his game in his sophomore year, which can potentially set up an even bigger year for himself in year three.
6. Michael Porter Jr. SF/PF, Denver Nuggets
It's been an interesting start to Michael Porter Jr.'s young NBA career. He missed all of his rookie season due to a spinal injury before the 2018 NBA Draft, but debuted mid-way through last season, slowly getting a feel for the league. He started a bit slow, but that happens to most players in their first couple of games. However, it was in the NBA restart in Orlando where Porter Jr. really emerged onto the scene for Denver. His game somehow elevated suddenly, as he averaged 22.2 points and 8.6 rebounds per game in Denver's eight seeding games. In the playoffs, he proved to be a suitable third scoring option behind Nikola Jokić and Jamal Murray, playing a key part of their incredible playoff run. Although he can be a liability on the defensive end at times, Porter Jr. is a player who knows he has to be better. With a lot of promising games from him in the bubble, Porter Jr. is ready to finally become a star in this league, so watch out for him this season.
5. Mitchell Robinson, C, New York Knicks
No, I'm not putting both Mitchell Robinson and R.J. Barrett on this list just because I'm a Knicks fan (unfortunately). Both players are looking to have big years this season and just like his teammate Barrett, Robinson will be put in a position to step up in a Knicks system full of young budding players. Head coach Tom Thibodeau believes Robinson can become a versatile rim-protector that can finish well at the basket. Robinson set the record for field goal efficiency in a season last year, shooting 74.2 percent from the field. His lengthy frame and impressive strength can help him take this big leap. Robinson's defense is sure to improve this season, so don't be surprised if he makes one of the All-Defensive teams. True Defensive Player of the Year consideration is a stretch at the moment, but if he goes on a tear this season, then he can put his name in contention.
4. Lonzo Ball, PG, New Orleans Pelicans
Heading into his fourth year, Lonzo Ball is looking to prove the doubters wrong and finally become a star in this league. The second overall pick of the 2017 NBA Draft has had a rough first three years dealing with a number of injuries and complications with his shooting form. However, Ball seems to be fully healthy and his jumpshot has improved significantly, which is why he can truly breakout this season. His shooting percentage from beyond the arc last year was 37.5 percent; a noticeable jump from 32.9 percent the previous year. With Ball becoming an increasingly better shooter, he can really cause trouble for opposing defenses if he continues to be efficient. It also helps having a full year of Zion Williamson and Brandon Ingram alongside him for him to truly show of his playmaking abilities. Ball also has newly acquired veteran guard Eric Bledose to pick his brain on defensive schemes, and the overall nuance of the game.
3. Jamal Murray, PG, Denver Nuggets
For the most part of the regular season last year, Jamal Murray was quietly having the best year of his career, averaging 18.5 points, five assists, four rebounds, and 1.2 steals per game. He proved to critics that he could be a great complementary star to Nikola Jokić in Denver. But, those regular season averages were just a small taste of what he actually can do, as seen in the NBA's Orlando restart. Murray went on an absolute tear in the bubble, having one of the best playoff runs seen by a player in recent memory. He averaged 31 points per game on 52 percent shooting from the field in both the seeding and playoff games he played in. The jump he took in the span of a few months is unseen in the league. His elevated play helped the Nuggets overcome two 3-1 series deficits in the first and second rounds against the Utah Jazz and Los Angeles Clippers. If Murray keeps this energy and efficiency up this upcoming year, the Nuggets will be a real threat to any team in the league.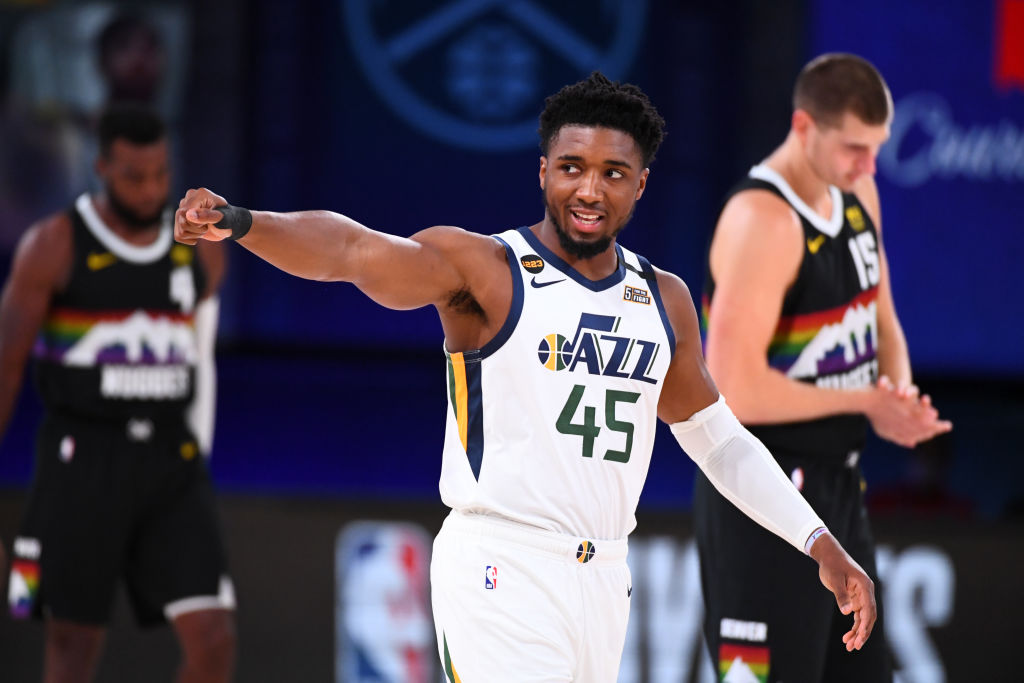 2. Donovan Mitchell, SG, Utah Jazz
Although we already know what he can be capable of, Donovan Mitchell impressed a lot of people in the bubble with his stellar play. Mitchell scored at will and the Denver Nuggets' defense had no answer for him. Mitchell averaged 24.4 points per game prior to the pandemic that lead to the NBA stoppage of play, but during the NBA restart, Mitchell averaged 31 points per game, including two incredible scoring performances of 57 and 51 points. Yes, Utah ultimately lost to Denver in the first round, but Mitchell proved to the world how lethal of a player he can be to play against. In year four, Mitchell will look to take the Jazz to the next level by becoming a more dominant scorer. Maybe he can make a run at the MVP award this season? At this point, anything's possible.
1. Jaylen Brown, SG/SF, Boston Celtics
Jaylen Brown had a career year last season averaging 20.3 points and 6.4 rebounds per game as the third scoring option on the Celtics behind Jayson Tatum and Kemba Walker. However, I think Brown will be in store for an even more successful career year this season due to the departure of forward Gordon Hayward from town. Hayward and Brown usually shared minutes at the small forward spot for most of last season, and with Hayward out, Brown gets more minutes to pile up numbers. Not to mention, Brown has become a more efficient three-point shooter over the past two seasons and if he can continue this shooting rate (38 percent from deep), he'll be one of the best two-way forces in the league. Brown seemed to break out last year, but I feel like Hayward taking a bunch of minutes from him still held him back a bit. Now that he will see the court for longer periods of time in 2021, Brown can really push himself to an All-Star level in Boston. There's a really good chance we'll see three All-Stars from the Celtics this season and Brown will surely be one of them.