Check out our other NBA season predictions below.
Top Five NBA Title Contenders for the 2020-21 Season
2020-21 NBA Western Conference X-Factors
2020-21 NBA Eastern Conference X-Factors
2020-21 NBA Breakout Candidates
2020-21 NBA Rookie Breakout Candidates
Five Sleeper Teams for the 2020-21 NBA Season
Can the Los Angeles Clippers Remain Title Contenders?
What to Expect From the Golden State Warriors
Should the Brooklyn Nets Trade For James Harden?
The obvious answer is yes. You would call me crazy if I even questioned not trading for James Harden, right? He's a former MVP and has been the scoring champion three seasons in a row. He averaged 34.3 points, 6.6 rebounds, and 7.5 assists with 44/36/87 shooting splits last season. The man is a machine. I can't be serious, right? Don't trade for this guy?! It sounds blasphemous, but let me explain both sides of this argument.
It's James Harden. James freaking Harden. You know the numbers from the previous paragraph. Do you want some more? He was second in the league in box plus/minus at 9.6, trailing only Giannis Antetokounmpo who won the MVP award. He was second in offensive box plus/minus with 8.1, 0.2 behind Damian Lillard. He was the league leader in total win shares with 13.1. What about some accolades? 8x All-Star, 6x All-NBA First Team, 1x All-NBA Second Team, and the list goes on. There's no debating his prowess.
When you get the chance to pair up two consensus top-ten basketball players on the planet, you go do that. Add in another All-NBA caliber player and you're golden. When you have Kyrie Irving and Kevin Durant on the same team, you're in "win now" mode, and younger players don't necessarily have as much value as they normally would. Imagine if the Nets had the current Caris LeVert back when Jarrett Jack was their best guard. You wouldn't give LeVert up for anything. Well, things are different now, so if LeVert is a piece that needs to be sent away in order to get Harden, so be it. Adding Harden would give the Nets two players who have won seven of the last 11 NBA scoring titles, as Durant has four of his own.
You would end up having 88 points scored a contest between just three players if every one of them kept up the same numbers from the previous season; Harden (34.3), Irving (27.4), and *2018-19* Durant (26.0). Granted, that pace will not happen, but it's the prospect of having players of that caliber on the same roster. In that sense, this is a no-brainer.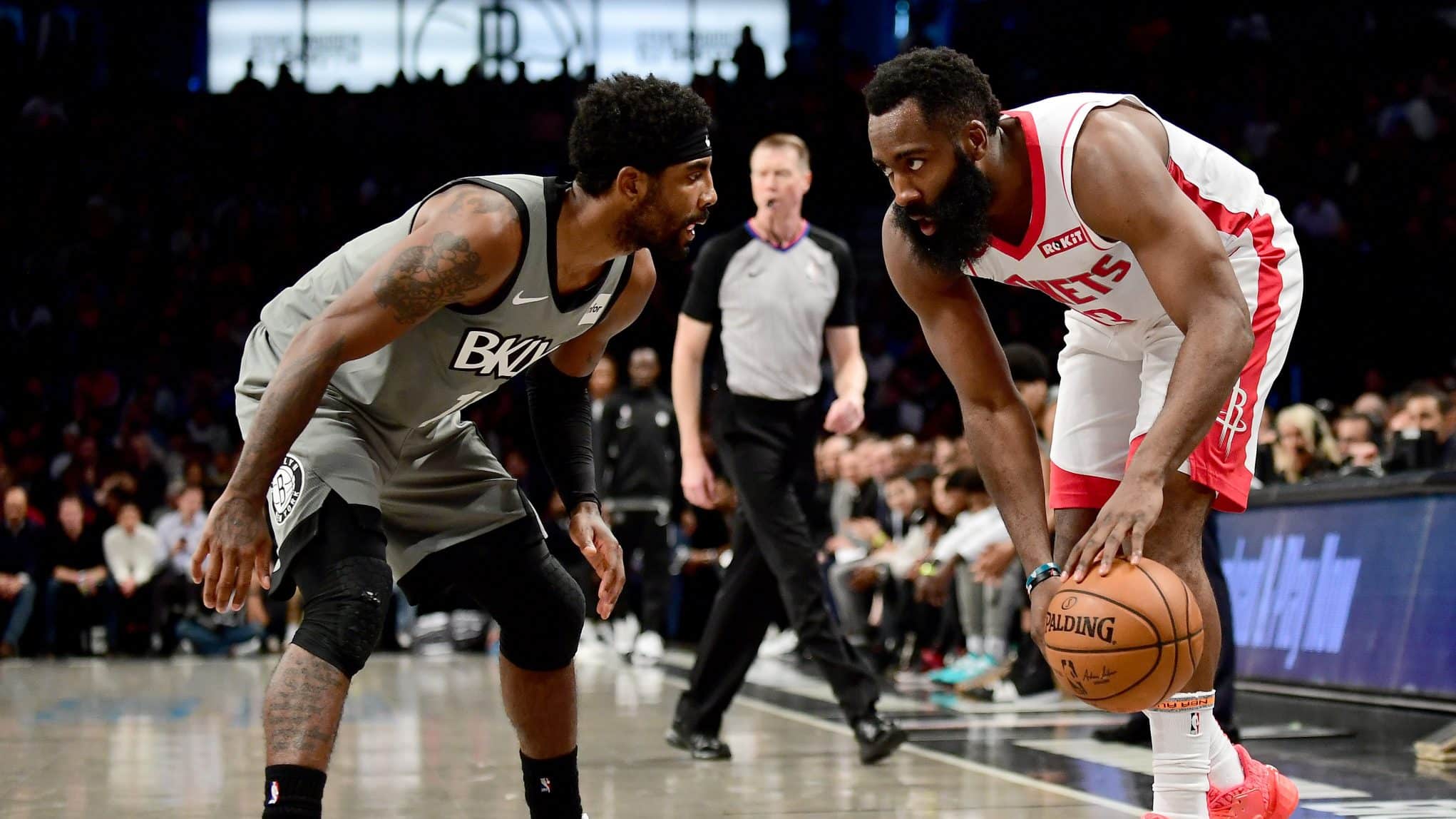 First off, as of writing this, there's no concrete evidence of what the potential cost for Harden would be. But, it would be fair to assume it would include some combination of Spencer Dinwiddie, Caris LeVert, and Jarrett Allen as well as first-round picks. Seeing players like Taurean Prince and Nicolas Claxton wouldn't be surprising either. Like I previously said, youth isn't as important in the situation that Brooklyn is currently in. But, LeVert and Allen aren't just young players, they're really good young players. LeVert is coming off a season that saw him average 18.7 points and an explosive bubble performance where he had four games scoring 22 or more; which includes two games of 34+. Allen is a beast for Brooklyn in the paint that has continued to polish his offensive game.
I could see why you would trade Allen money-wise, as former Nets assistant general manager Bobby Marks expressed on Brian Windhorst & The Hoop Collective podcast that Allen will want "Clint Capela-type money," AKA a deal worth $90 million over five years. Allen isn't worth that much. LeVert, however, just inked a three year $52 million contract; an absolute steal. It would be a shame to lose that promising of a player on such a great contract.
Depth and defense
Let's assume that the package include LeVert, Dinwiddie, Allen, Prince and some first-rounders. In return, the Nets get Harden and some filler players. This would mean their starting lineup (assuming Joe Harris is re-signed), would be this:
Point guard: Kyrie Irving
Shooting guard: James Harden
Small forward: Joe Harris
Power forward: Kevin Durant
Center: DeAndre Jordan
Cool. Very cool, actually. So, what's the problem? Defense. Irving and Harden would contend to be the worst defensive backcourt in the entire league. Joe Harris is okay on defense, but nothing special. Durant is a good defender, but would be exposed against Anthony Davis if they were to meet in the Finals. Jordan will be a traditional center in the paint and is fine defensively. Wanna know what else is not cool? Here's what their bench would look like (in no specific order): Chris Chiozza, Garrett Temple, Rodions Kurucs, Bruce Brown, and Timothé Luwawu-Cabarrot. If you're not a Nets fan you might only know Temple, and maybe Luwawu-Cabarrot if he had a good game against your team. What I'm saying is Brooklyn's depth would be absolutely depleted. If the Nets don't trade for Harden, then the bench would be Dinwiddie, Allen/Jordan, Prince and then all of those guys I mentioned before. Depth would be one of Brooklyn's biggest advantages they would have over other contenders if the Harden trade isn't done.
There's only one basketball
And lastly, let's talk about the obvious. How the hell are James Harden (the person who had the third highest usage rating in the NBA last season at 36.3), Kyrie Irving ( his 32.6 USG% through 20 games would've ranked him ninth if he played the whole season), and Kevin Durant going to share one basketball? Sure, Harden has played with Russell Westbrook and Chris Paul respectively, but look how that turned out. Yes, Irving played with LeBron James, but Kevin Love was nowhere near as ball-dominating as Harden or Durant would be. Durant proved in Golden State he can play off and on the ball, so I'm not as worried about him. But, nobody dominates the ball quite like James Harden with the exception of Giannis and Luka Dončić. Kyrie Irving is most effective with the ball in his hand, and the same goes for Durant. Those two by themselves could probably work together, but add in Harden… I don't think so.
Conclusion
Do I know what's going to happen in either scenario? No, and if anybody tells you that they do they are lying. As I was writing this, Harden officially requested a trade. As a Nets fan am I sweating and excessively nervous? Yes. But I'm also optimistic. Sean Marks has proven time and time again that he is one of the best general managers in the association, so I trust whatever move he makes will be the right one.
But, the lack of depth and defense that would be created by this trade is too much to ignore. Losing multiple first-rounders always sucks, even if it's for such a great player. Just ask Billy King about that. But, like I said, it's not often you can put three All-NBA caliber players on the same roster with two of them being on everyone's top ten players list. Final verdict? No, I wouldn't do the trade. But, I'm not screaming to the mountains not to do so.