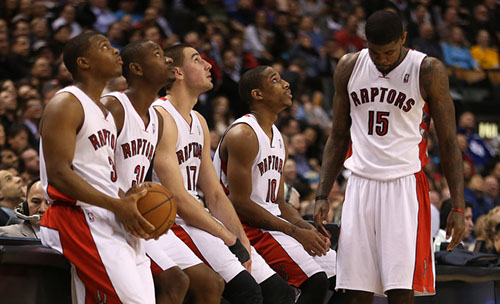 It's certainly been a while since the Toronto Raptors played a meaningful game in April. The last time the Raptors made the playoffs, George Bush was still in office and Chris Bosh was their leading scorer. Toronto's inability to protect the paint and run a fluent offense cost them the 8th seed last year, as they finished just four games out of the last spot with a 34-48 record. Since it only takes about 40 wins to make the playoffs in the Eastern Conference, and that's probably being generous, I am predicting that the Raptors will play well enough next season to earn the honor of getting swept by the Heat. Here are five reasons why the Raptors will advance to the 2013-14 postseason.
1. Amir Johnson will turn into a double-double machine
The Raptor's big men struggled to secure boards last year as the team finished near the bottom of the league in total rebounding with 40.2 rebounds per game. One bright spot in the Raptor's frontcourt was Amir Johnson, who grabbed 7.5 boards per game and averaged 1.4 blocks per game. When Johnson was awarded a starting spot late last season, he averaged 12.2 points and 9.5 rebounds per game while shooting 54 percent from the field. Johnson proved that he could consistently alter shots in the paint and establish a strong post presence. On top of that, plays with an aggressive attitude and makes it a priority to crash the boards on every possession. With limited minutes, Johnson was able to make a significant impact on the defensive end and make efficient decisions on the offensive side of the ball. Toronto should be able to depend on Johnson to grab at least 10 rebounds a game and keep his field goal percentage in the mid-50's.
2. Kyle Lowry will find a way to make the offense gel
Lowry has the potential to become an All-Star point guard, but his erratic style of play tends to get him into trouble at crucial times. While Lowry is a tenacious defender with a tremendous motor, he needs to learn how to run a half-court offense and get the ball to his shooters. Lowry has two prolific scorers in Rudy Gay and DeMar DeRozan at his disposial, not to mention Jonas Valanciunas coming into the starting rotation. The Raptors can greatly benefit from Lowry running pick-n-rolls with Valanciunas or Amir Johnson and kicking it to Gay and DeRozan on the wings. Lowry has the weapons around him to become an elite point guard and lead this team to the playoffs. If Lowry can stay healthy for the entire season, he will definitely have a firm grasp of the offense and learn how to succeed in Dwayne Casey's system.
3. DeMar DeRozan will become a more complete player
DeRozan has proven that he can flat-out put the ball in the basket as he averaged an impressive 18.1 points per game with 44 percent shooting from the field. On the flip side, DeRozan has a six-foot seven-inch athletic frame but only managed to pull down 3.9 rebounds a game last year. DeRozan needs to establish a presence in the paint and get into the habit of crashing the boards after he takes a shot. In addition, DeRozan has a severe case of "tunnel vision" and needs to be aware of his teammates and the opposition's defense scheme when trying to execute on the offensive end. DeRozan can significantly improve his numbers in the rebounding and assists category next year by developing a higher basketball IQ and asserting himself on the defensive end. DeRozan has shown plenty of promise at the young age of 23, and I believe he will take the next step in becoming a more well rounded player in the coming season.
4. Jonas Valanciunas looks like the real deal
Valanciunas was able to earn the Summer League MVP honors by averaging 18.8 points and 10 rebounds in four games of action. The Raptors will rely on Valanciunas to sure up their frontcourt and take on the lion's share of rebounding duties. To add to that, Valanciunas has developed an efficient post game that could open up Toronto's offense and allow them to play inside-out basketball. On the other hand, Valanciunas's sample size is very small and we truly do not know how he will fare against the league's top big men next year. If Valanciunas can stay healthy the entire year, I expect him to put up numbers similar to his Summer League season.
5. The Eastern Conference is relatively weak next year
The East will once again be top-heavy but frequent playoff visitors such as Atlanta and Boston may have a hard time measuring up to their previous season's win total. With Atlanta losing Josh Smith, the Celtics trading what was left of their big three, and the Bucks basically having a fire sale, the Raptors have a legitimate shot at hosting a couple of postseason games. Toronto will be able to overwhelm opponents with their wide array of scoring options and new additions in the frontcourt.