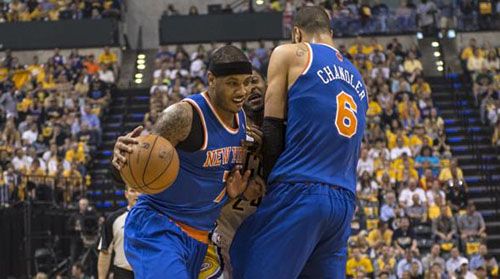 He was the NBA's leading scorer last season, besting two-time reigning champ and scoring phenomenon Kevin Durant. He was an NBA All-Star, All-NBA second team and a gold medal-winner at the Summer Olympics in London. He is the undisputed superstar on one of the most storied franchises in NBA history.
So how could Carmelo Anthony possibly give anything more than he already has to the New York Knicks? Well, he's going to have to if the the team hopes to end its championship drought and bring the Larry O'Brien Trophy home to Madison Square Garden.
Carmelo Anthony has proven himself as an offensive juggernaut. Night in and night out he can douse the competition effortlessly with beautiful jump shot after beautiful jump shot. But Carmelo Anthony is much more than just offense. Carmelo Anthony knows he is more than just offense. And it's time for him to show the rest of the NBA.
Carmelo Anthony is listed at 6'8″ and 235 pounds. When he gets into the lane and throws his weight around, everyone—from the point guard to the center to the fans in the nosebleeds—feels it. He can get anywhere he wants on the court at any given moment, and no one can stop him but himself. It's been documented that even the great LeBron James has his issues with Carmelo. And he's been touted by many as the best one-on-one player that we have in the game today. We know he shoots a lot, but what if he turned four or five of those shots into assists, then what do we have? We have a stat line that looks something like 29 points, 7 rebounds and 6 assists. Look familiar?
On the defensive end is where Carmelo has caught the most flack. Looking at his time in the NBA, he hasn't had a coach that really stressed defense until now. Last season there were still critics, but the negative talk about his defense started to quiet down. Carmelo Anthony will never be a lockdown defender, but with coach Mike Woodson guiding the way, Melo is slowly removing himself from the league's list of defensive liabilities. Next season I'm looking for Carmelo Anthony to be engaged on both ends for every game because that championship window is closing.
Finally, it comes down to leadership. I'm not talking about leadership when the getting is good. I'm talking about leadership when the getting is bad. Carmelo Anthony is the alpha on this team and next season it's vital that he fully embraces that role. Having Jason Kidd on his squad last season gave him a great idea of how to lead a team, and it's shown for the most part. But there were still those WTF moments, like Elbow-Gate in Game 3 of last year's playoff series against the Boston Celtics. It's a team of professionals, but the responsibility ultimately comes down to Melo to make sure nothing like that ever happens. It's up to him to make sure his team is in line and all on the same page, even more so than coach Woodson. He's on the front line with his soldiers, so he has to be the captain that his uniform says he is.
He's shown he is a leader. How many other players have led a team to an NCAA Championship as a freshman? We know he's a complete player because we've seen what he's done in Olympic and international play. Now it's time to take it to that next level. Time to take it to that Michael Jordan, Kobe Bryant, "I'll punch you in the face in practice" type of level (maybe not that extreme). He has all the skills to be complete. He can score, he can handle the ball, he can rebound. This he has shown. His defense will need to continue to improve, and he must be willing to trust his teammates. When he shows that trust, they will return the sentiment and follow his lead into battle and on to the NBA Finals.
What do you think? Leave your comments below.