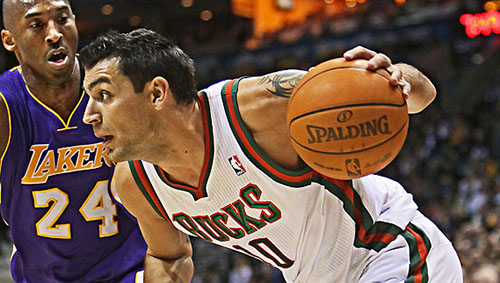 Whereupon an NBA free-agent fan sets about selecting a team to root for during the 2013-14 NBA season.
When we consider the ancient institutions of the NBA, those franchises that have dwelled permanently in their cities of origin and who over the span of decades of importance have come in some ways to represent the holy game of basketball itself, our collective conscious will yield memories prominently featuring the three oldest such franchises: the Boston Celtics, the New York Knicks and the Chicago Bulls (the Lakers, too, but lest we forget, they weren't born of L.A.). Just their respective team colors are enough to elicit waves of nostalgia from any fan of the game.
Among those not as likely to appear in those memories are the next oldest one-town teams: the Milwaukee Bucks and the Phoenix Suns.
To be clear, the absence of the Bucks and the Suns from most matters of NBA historical significance is not an accusation of outright ineptitude. In fact, both franchises have been solidly above average for much of their individual histories: in 45 years the Suns have reached 50 victories an impressive 19 times, and the Bucks 13, strong in its own right. Both have made deep playoff runs. Both have featured Hall of Fame players. Both have appeared in the NBA Finals. And while some NBA franchises flounder in paltry outcomes (the Los Angeles Clippers have a jaw-droppingly awful nine playoff appearances in 43 years), these franchises have been solid, winning more games than they've lost.
But consider this: of all the teams that can say the same, that feature an all-time winning record, the Bucks and the Suns are two of only three teams to have failed to make an NBA Finals appearance in the last 20 years (Portland is the third). For teams of such long-time sustainability and success, NBA institutions in their own respect, both the Bucks and Suns have a glaring lack of high points. Avoiding meaningful success for so long, despite some real viability and genuine opportunities, is in many ways worse than incompetence. It almost seems willful.
So both cannot survive the Fandom Games today. Whereas the Suns experienced a sharp public rebuke following the demoralizing dissolution of their transformational Mike D'Antoni-era squad, the Bucks have largely avoided such blemishes, due perhaps to some degree of savvy but just as much to an apparent inability to ever reach that level of relevance in the first place. The Suns are not for this world, and their day of reckoning in the Fandom Games is coming, but today belongs to the Bucks. They've enjoyed quiet avoidance of merited retribution for much too long.
Pick a player from the 2012-13 Milwaukee Bucks and you'll find a sad story to tell. How about the team's leader in minutes played, Monta Ellis? Ellis came to Milwaukee at the 2012 trade deadline in exchange for franchise great Andrew Bogut (probably the greatest Bucks center ever behind Kareem Abdul-Jabbar) and proceeded to play the worst ball of his career for 15 months before jetting to the Dallas Mavericks, leaving Milwaukee with little to show for it. Hardly what fans envisioned when the Bucks drafted Bogut first overall in 2005.
Try another? Mike Dunleavy, Jr. joined the Bucks post-lockout on a two-year deal and served a crucial reserve role, appearing in 130 games and becoming one of the most effective shooters in the history of the franchise. When his contract ended this summer he couldn't get out of Milwaukee fast enough, becoming one of the very first free agents to agree to a new deal when he bolted to Chicago.
The saddest has to be the J.J. Redick debacle, wherein the Bucks moved 2011 first-round prospect Tobias Harris to Orlando to take a flyer on Redick, who then played in Milwaukee for half a season before being moved to the Clippers this summer for two future second-round draft picks. Harris thrived in Orlando for the second half of the season and figures to be part of that franchise's future, and within a four-month period was transformed by the Bucks into nothing but two non-guaranteed contracts, a miracle of short-sightedness.
To theoretically compensate for these various missteps (and there are more, too, like gifting Luc Richard Mbah a Moute to Sacramento for hard-to-fathom reasons), the team brought Carlos Delfino and Luke Ridnour back to town, in an apparent attempt to recapture the glory days of 2009. They also nabbed Zaza Pachulia, reaching even further back into their own history (2004-05) and disproving the theory that Pachulia's NBA existence hinged entirely on having helped Ted Turner dispose of a body.
Milwaukee at this point is irredeemable, and never stood even a remote chance of surviving the Fandom Games. If the Charlotte Bobcats appear to be building their roster for a different league entirely, the Bucks appear to make moves based on the sheer obligation of having 12 players in uniform, and meeting the minimum salary standard. Good riddance.
NBA Fandom Games Eliminated Teams List:
New York Knicks
Boston Celtics
Washington Wizards
Charlotte Bobcats
Golden State Warriors
Milwaukee Bucks
Utah Jazz
Philadelphia 76ers
Houston Rockets
Portland Trail Blazers
Toronto Raptors
Sacramento Kings
Detroit Pistons
Phoenix Suns
Oklahoma City Thunder