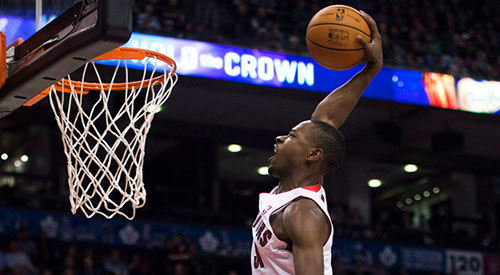 Bust or not a bust? That is the question. Many players have been considered busts far too early in their careers and I am here to speak on one player who at 22 years old, is already starting to hear those types of "bust" rumblings.
Terrence Ross was the 2013 NBA Slam Dunk Contest winner, so he's no stranger to making highlight reels. However, Ross had a pretty lackluster rookie campaign last season, especially coming in as the eighth overall pick in the 2012 NBA Draft.
Ross is known around Toronto Raptor forums as "Coin Toss Ross" because at the end of the 2011-12 NBA season, the Toronto Raptors and Golden State Warriors had a coin toss to determine who picked seventh overall. The Warriors won the coin toss and went on to draft Harrison Barnes with the seventh pick.
There's no denying that if the Raptors drafted Barnes instead of Ross, the Raptors franchise would have taken a completely different path. Bryan Colangelo (then General Manager of the Raptors) wouldn't have made a job-saving Hail Mary trade to acquire Rudy Gay and the Raptors would be a team with some young talent looking at drafting high in the 2014 NBA Draft.
Instead, the Raptors traded away what seemed to be their power forward of the future in Ed Davis, only to get back a borderline All-Star with a massive contract in Gay. I'm not saying I hate the trade and that I don't believe Rudy Gay is a good player. However, the Toronto Raptors could have been in a position where they owned a high pick in the much ballyhooed 2014 NBA Draft to go along with a ton of cap space. The Rudy Gay trade made the Raptors a "treadmill team" instead of a team with a lot of money to spend and a lot of talent to grow.
It seems unfair to put all that blame and pressure on one player to succeed, but I think there's good reason to do so with Ross. It's true that Coin Toss didn't decide to be picked at the spot that he was and it's true that he didn't choose who was picked after him, but that's the kind of thing he has to deal with.
There are two players picked soon after Ross that many fans of Toronto would have rather seen in a Raptors jersey. Jeremy Lamb had a lot of hype when he went to play for the UConn Huskies. In his first year, he took a backseat to Kemba Walker, but in his second year he became more of a focal point along with teammate Andre Drummond. Coming into the 2012 NBA Draft, Jeremy Lamb definitely had a bigger name than Terrence Ross, mainly because of the school he played for and the attention he got from playing in the NCAA Tournament.
Lamb was drafted 12th overall by the Houston Rockets, but was then quickly traded to the Oklahoma City Thunder. Since Lamb was on such a good team, he didn't get a lot of playing time. Despite the few minutes of floor time he would get here and there, Lamb showed that he had quite a bit of talent and was a born scorer; something Ross didn't prove in his 17 minutes per game. Only time will tell who the better shooting guard is, but for right now, I would choose Jeremy Lamb.
The other player who Terrence Ross' potential will be compared to is Andre Drummond. The 6'10" center who plays for the Detroit Pistons had a pretty great rookie season last year and showed everybody the enormous amount of potential he has. Instead of having the Andre Drummond/Jonas Valanciunas frontcourt for years to come, Toronto fans are disappointed to have a sixth man at best instead of the defensive beast in the box. The potential Drummond/Valanciunas pairing is a scary thought, almost as scary as trying to watch Ross handle the ball.
There is another player who Ross will be compared to who isn't in his draft class – his teammate, DeMar DeRozan. There's one problem in comparing these two players. DeRozan was the starting shooting guard for Toronto in his first game, so he got the opportunity to play pretty heavy minutes right away. Ross on the other hand, only started a few games due to injuries and was mainly a role player in his rookie year. So, because of those differences, maybe it's not completely fair to compare these guys to one another. However, DeRozan was nineteen years old when he made his NBA debut while Terrence was twenty-one. That's probably the main reason for Toronto fans getting frustrated with not seeing a lot out of Terrence already. We saw a 19-year-old DeRozan play better than even a 22-year-old Ross.
So is Terrence Ross a bust before he even starts his sophomore season? After a mediocre rookie year and a sub-par Summer League this offseason, I'm still not ready to call him a bust. It's true that most Raptor fans, including myself, are disappointed in not having Andre Drummond, but that is something that we have to try and forget for now. There will be a time where Coin Toss will hit that age where he can be considered a bust or not. For right now, I'll let the coin stay in the air and give him a chance.