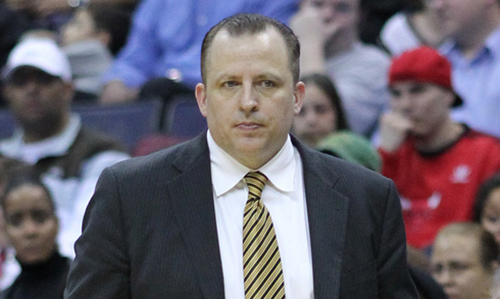 Don't forget to check out our 2013-14 NBA Ultimate Season Preview!
Tom Thibodeau is featured prominently on any list of the top coaches in the NBA. His Chicago Bulls posted gaudy winning percentages of over .750 in his first two seasons on the job, and well over .500 in his third despite playing the entire season without Derrick Rose.
This year, he'll have Rose back in the fold and the deepest, most complete roster he's had in his tenure. Many consider his Bulls to be the biggest threat to the Miami Heat's chance at a three-peat.
But he's not winning a title—not until he makes some pretty significant changes.
The secret to the Bulls' success under coach Thibs is pretty simple. They never take a game off. They never take a play off. They go through the entire season playing with an intensity most teams don't muster until the second round of the postseason.
That's also the problem.
Playing at that level of intensity for 82 games also serves to wear down Chicago's key players. The Bulls' "big three" — Rose, Luol Deng and Joakim Noah — all have extensive injury histories. Noah has been plagued by plantar fasciitis. Rose missed much of the 2011-12 season to foot and ankle problems … then tore his ACL during the first game of the playoffs. And Deng? Honestly, that guy has been overused to the point that I can't believe he's still able to walk.
If the Bulls are going to mount any serious challenge to the Heat—or the Indiana Pacers or Brooklyn Nets — in the playoffs, Thibodeau will have to take his foot off the gas a bit during the regular season. My recommendation? He should embrace his inner Gregg Popovich. Pop treats the regular season with open scorn. Last season he stirred up more than a little bit of controversy by having several of his key players not make the trip for a nationally televised game in Miami.
I'm not suggesting Thibs start leaving Rose home on road trips, or make Deng a 17-minutes-per-game fill-in. But cutting Deng's playing time down into the 30-MPG range—down from the 37.9 or more he has averaged for the last four seasons—and giving Rose or Noah the occasional second game of a back-to-back off would be a good start.
Maybe that means (gasp!) sacrificing a win or two in the regular season. But if that gets him to the playoffs with his key guys rested and ready, so be it.
Photo courtesy of Keith Allison/Flickr