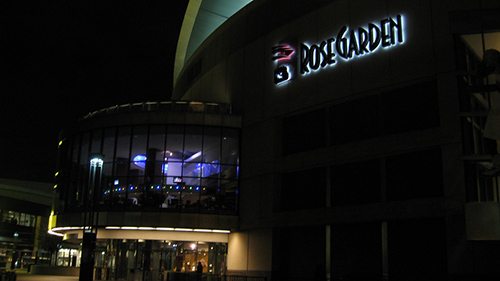 First, a poem.
In Dispraise of Poetry
When the king of Siam disliked a courtier,
he gave him a beautiful white elephant.
The miracle beast deserved such ritual
that to care for him properly meant ruin.
Yet to care for him improperly was worse.
It appears the gift could not be refused.
Poet Jack Gilbert points out the futility of a poet's task. Writing a masterpiece may consume a writer even though no more than a handful of people will appreciate it. The relationships and opportunities one compromises or refuses in pursuit of this silly enterprise ultimately leads to ruin. Nevertheless, the gift cannot be refused. Poetry is the great white elephant, and the poet must continue to write.
This is exactly how I feel as a Portland Trail Blazers fan in 2013. At times, they play ridiculously good basketball, and, given their cast of talented misfits, they're an absolute joy to root for. Who cares if Will Barton's headband is crooked? He just stole the ball and whipped it to the Thomas "The Rebound Machine" Robinson. And if Robinson misses his dunk, he'll get his own rebound and find Nicolas Batum for a corner three. Given their uptempo brand of offense and their seemingly random swarming defense, I cannot help but cheer for these perpetual underdogs.
On the other hand, the Blazers disappoint just as often as they inspire. Some nights (did you see the preseason opener, when the L.A. Clippers absolutely dismantled them?), they can't hit a shot and playing defense seems to overwhelm them to the point of exhaustion. Seriously, Blazers games (especially during the Terry Stotts era) regularly endure so many momentum swings that I fatigue just watching them from the couch. Even when they're down by 25, they're never out of the game. But how many times can you watch your team absorb such deficits without feeling a sense of desperation?
I've been trying to write a Trail Blazers preseason article for the last two weeks. However, each time I see a game, something changes. Meyers Leonard gets a block on one end, then hits a 20-footer shortly thereafter, and suddenly my Grinch heart grows four times its size. Maybe he is the franchise center, I think. Then he spends the rest of the second half staggering through the paint like a man who fell asleep in a tanning bed, collecting fouls like vintage coins. My Trail Blazers heart shrinks, and once again, I'm lost.
Because of my ambivalence, you'll find a list below of what I like and dislike about our current team, for I am a Trail Blazers fan. The 2013-14 Portland Trail Blazers are my white elephants of Siam. It appears the gift cannot be refused; I must continue to root.
Five things I won't buy from the Portland Trail Blazers
$12 meatball sandwich
I don't care if the stainless-steel cart says Bunk on it. Though Bunk sandwiches are delicious, a hot dog-sized snack ain't never nowhere nohow gonna cost this dang much. (Sorry, the redneck in me emerges when I talk fiscal issues.)
$8 draft of lukewarm Coors Light
Especially when they sell tasty microbrews for $9, there's no reason to drink a crappy beer at this outrageous rate. I used to do inventory at a bar. That keg costs $80 dollars at absolute most. Why have all sport fans in America become so complacent regarding concessions? Why do we say a $5 cola is part of the game these days? I'm surprised they don't charge for filling up water bottles at the water fountains…. Uh oh. If this happens, I apologize with profusion.
The fact that Robin Lopez is an upgrade over J.J. Hickson
Lopez rebounds, tries hard, and can't really play defense, so I suppose he shares a lot of similarities with J.J. Hickson. However, J.J. can play offense, and Lopez is lucky if he hits from four feet. Seriously, you can see it as he goes up for his shot. It's clear that some big men, like LaMarcus Aldridge, actually aim. Lopez, on the other hand, throws it on top of the rim and hopes it rattles in.
That Wesley Matthews is still alive
I love Wesley Matthews, but what the hell has happened to him? I hope he's been hustling us all preseason. By not hustling on the floor and shooting less than 30 percent from the field, he's led the division to believe he's washed up. Let's hope he leads the team like the savvy veteran he is when the games matter.
That Meyers Leonard's new tan and thoroughly shampooed hair make him a better defender
This had to be the most startling development of the offseason. Leonard's hair looks like it was washed by Don Johnson and then styled by David Hasselhoff. He's also turned orange. Let's hope it gives him flower power.
5 Things I will buy from the Portland Trailblazers
Robin Lopez and Thomas Robinson are fantastic rebounders
We have officially upgraded on the boards. Add LaMarcus Aldridge and Nicolas Batum into the mix, and the Blazers will win the rebound battle on most nights. The question remains, can they force difficult shots? If so, the Trail Blazers can compete with anybody.
That Nicolas Batum is ready to have a breakout season
Batum has been refreshingly consistent this preseason, and he's continued to hone his all-around game. I bet he goes for five triple-doubles this season. Comment dites-vous All-Star?
A $10.50 killer burger with bacon, cheese and french fries
This is clearly the best deal at the new Yoda* center. While I'd be ashamed of myself if I ever spent 10 dollars on a burger, this deal gives you the most beef for your buck. Also, I commend restaurants that don't allow you to make healthy choices. Chill out and die a little. Greasy french fries are delectable!
Terry Stotts might just be a good coach (not really sure about this, I'm just feeling especially positive today)
My problem with Stotts is that he doesn't appear to be a motivator. Additionally, I think his style of offense will only work with a whole cast of versatile, talented players. However, I can't deny that he's got the Blazers playing exciting basketball. Since the debacle against the Clippers to start the preseason, they've looked organized and capable.
Mo Williams was the smartest pickup of the offseason
As soon as Mo Williams signed with the Blazers, I wrote an article extolling the foresight of Blazers GM Neil Olshey. Just the same, I didn't realize how well Mr. Williams was going to play. Despite a high turnover ratio, he's scoring points, and, given the loss of C.J. McCollum, he will be the go-to guy coming off the bench.
So, my fellow Blazers fans, these are my notes concerning the upcoming season. While it's not exactly an official Blazers season preview (you can find that here), let me know if your observations jive with mine. Regarding the Blazers' chances this year, I'm already sweating with hope and despair.
*This is deliberate. I doth protest.
Photo courtesy of Chris Yunker/Flickr