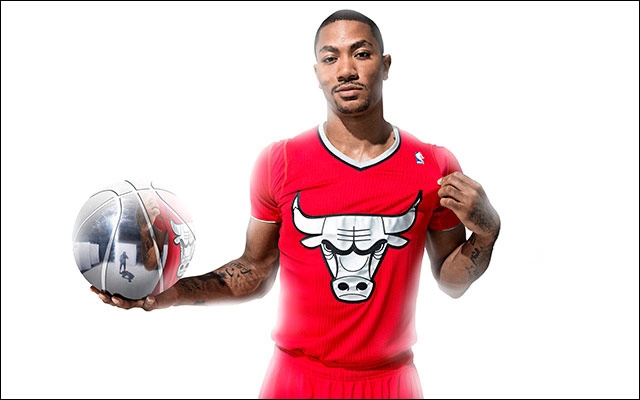 The NBA is going big again this Christmas and 10 whole teams will be showing out in short sleeve large logo jerseys.
Unfortunately, our hero Derrick Rose won't be appearing — get well, D. Rose.
Check out the dets below, courtesy of adidas:
Following the success of the National Basketball Association's (NBA) "BIG Color" holiday campaign in 2012, the league announced the continuation of the BIG holiday tradition by unveiling a new "BIG Logo" platform tied to the marquee Christmas Day matchups. As part of the holiday campaign, adidas will unveil new uniforms featuring team logos that all 10 teams will wear on Wednesday, Dec. 25.
The campaign will include a TV spot titled "Jingle Hoops" to promote the jerseys featuring six players: the Miami Heat's LeBron James, the Oklahoma City Thunder's Kevin Durant, the Chicago Bulls' Derrick Rose, the Houston Rockets' James Harden, the Los Angeles Lakers' Steve Nash and the Golden State Warriors' Stephen Curry. On the heels of last year's award-winning "BIG Color" campaign that garnered more than eight million YouTube views, the featured players recreate the wintertime classic "One-horse Open Sleigh" through a series of choreographed three-point shots – all while dressed in their "BIG Logo" uniforms.
[youtube]http://www.youtube.com/watch?v=EYEHUOpwNvE[/youtube]
"Last season's 'BIG Color' holiday campaign was an overwhelming success that grabbed fans' attention, and we wanted to find a way to top it," said Jamie Gallo, NBA Executive Vice President, Marketing. "This season, we're back with the game's biggest stars to deliver an engaging and festive sequence that creatively showcases our players' skills."
Highlighted in the spot are the new "BIG Logo" uniforms that feature team logos in reflective chrome as the focal point on the short-sleeve jerseys. To complete the uniforms, the jerseys are paired with an ultra-lightweight short with chrome piping. 
"We worked closely with adidas to create an innovative new uniform design for our Christmas Day games," said Sal LaRocca, NBA Executive Vice President, Global Merchandising. "The BIG Logo collection will provide a unique look oncourt and a variety of products for our fans."
The uniforms are part of the adidas NBA "BIG Logo" Holiday Collection, which includes new warm-up jackets and shooting shirts that feature print graphics inspired by knit holiday sweaters. The warm-up jackets feature team logos on the front chest and BIG team logos on the back, both made of chenille patches. Fans can purchase the adidas NBA "BIG Logo" Holiday Collection at NBAStore.com, the NBA Store on Fifth Avenue in New York City, and team retailers beginning on Thursday, Nov. 14.
Broadcast
ABC and ESPN will combine to present a five-game holiday blockbuster schedule:
Time (ET)             Game                                                                                    Network
12 p.m.                 Chicago Bulls at Brooklyn Nets                                     ESPN, ESPN Mobile TV, WatchESPN
2:30 p.m.             Oklahoma City Thunder at New York Knicks           ABC
5 p.m.                   Miami Heat at Los Angeles Lakers                              ABC
8 p.m.                   Houston Rockets at San Antonio Spurs                     ESPN, ESPN Mobile TV, WatchESPN
10:30 p.m.           L.A. Clippers at Golden State Warriors                    ESPN, ESPN Mobile TV, WatchESPN