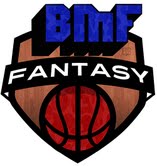 Even more injuries? We hope not.
The beginning of the 2013-14 season has not been kind as far as injuries are concerned. Some players such as Brook Lopez and Al Horford are already out due to season-ending surgeries. Rajon Rondo has yet to strut his green and whites on the hardcourt and while Russell Westbrook made an amazing early return from his MCL injury, he is currently sidelined until the NBA All-Star break after undergoing athroscopic surgery on his knee. Kobe Bryant returned to action, but it didn't take long for him to suffer a devastating fracture to his knee and his owners, who patiently waited for his eventual return, are now forced to languish for another six weeks as he recovers.
We're a week into the new year and we have already been ominously greeted by injuries to a couple of key players in fantasy. Hopefully, this is not a sign of things to come for the rest of 2014. Chris Paul could be out up to six weeks with what is being reported as a separated shoulder. Darren Collison immediately jumps out as a candidate for improved production. While Collison's career has not had much to be excited about as far as fantasy basketball is concerned, the one time in his career when he did blow up and became fantasy gold was when he stood in for Paul due to an injury, back when both players where with the New Orleans Hornets. While he probably won't wow standard-league managers who already have solid primary and secondary point guards, Darren is a short-term must-add in deeper leagues.
As of January 4, Ryan Anderson has not left the hospital after suffering what is being described as a "cervical stinger" after colliding with the Boston Celtics' Gerald Wallace. We're still awaiting his status and are hopeful that there isn't anything more serious than what's out in the media at the moment. With Jason Smith out, expect Al-Farouq Aminu and Tyreke Evans to help carry some of the load.
Recently returned to action and due to return
Larry Sanders finally played again as 2013 was closing out and we're looking forward to him accumulating those blocks as soon as he gets his groove back. With all of these injuries plaguing the league's big men, it's good to hear Sanders' sneakers squeaking on the hardwood once again.
Luol Deng was back in action after missing time due to a sore Achilles and has looked good so far. Mike Dunleavy Jr. moved back to the bench after doing well in Deng's absence. Even with Deng's return, both Dunleavy and Taj Gibson should continue to receive solid playing time off Chicago's bench and produce late-round value moving forward. While Dunleavy isn't much of a gem in fantasy, he's still widely underrated. Don't drop him if he gives you a bad game here and there. He should, for the most part, provide consistent value superior to your average free agent pick-up.
Andray Blatche missed several games due to personal reasons and is back with the Brooklyn Nets. If he was dropped in your daily changes league during his time away, be sure to be the smart one to grab him as he should log heavy minutes for Brooklyn and on-and-off deliver good mid-round value for the rest of the season.
J.J. Redick is on track to make his return to the Los Angeles Clippers' starting lineup early this month. He was playing some of his best basketball (fantasy-wise) before breaking his hand and should easily retake his starting job from Jamal Crawford. With Paul out of commission, Redick who has always been a capable passer, should see an uptick in APG to possibly the 3.5 mark over the course of CP3's injury period. If for any reason Redick is still in your league's FA pool, NOW would be the right time to go and do that grab-and-stash play.
The Memphis Grizzlies' Marc Gasol is due back some time this January and assuming his rehab does not meet any setbacks he should return and once again deliver his well-rounded stat lines.
As discussed, both Kobe Bryant and Russell Westbrook should be back in action some time in mid-February.
Slow starters
Paul Pierce has had a rocky start in his first season with the Nets, but has since overcome his hand injury and is currently producing well as a starter. With Lopez out and Kevin Garnett's body being unable to handle the grueling banging of a full 82-game season, expect Pierce and Deron Williams (who, by the way, is not 100% himself) to form a two-man combo moving forward, while being supported by Joe Johnson and Blatche.
Ersan Ilyasova has found his way back into the Bucks' starting lineup, but is still searching for that consistency. He's a notorious slow starter and should pick up his game in 2014.
Jared Dudley takes a while to get started as proven during his time in Phoenix. He's been awful for most of 2013-14, but it remains to be seen if he can emerge as a must-add player given how much ground he has to recover based on his lousy per game averages.
Chicago's Jimmy Butler, who thrilled his owners at the tail-end of 2012-13 is in a prime position to duplicate that feat this season as well. The stage is similar and we're just waiting on Butler to get his game on track.
Andre Miller is a major candidate to be traded soon. A change in scenery could mean Miller being able to produce consistent assists and steals off the bench and be a serviceable third-string point guard in some fantasy teams.
ROOKIES!
We've seen Michael Carter-Williams surprise us all with his impressive occasional stat sheet-filling lines so far. He's proven to be fantasy gold in keeper re-draft leagues as well. The best thing about him, really, is that all of this is just the tip of the iceberg. He's currently leading his rookie class in fantasy basketball value and it looks like his upward trajectory is set on a steep slope.
Victor Oladipo is still a dark horse candidate to be cream of this rookie crop, thanks to the looming possibility that the Magic will make room for him in the starting lineup before the trade deadline. We've seen glimpses of what Dipo can do as a starter and while his dimes and steals are good, his FG% and TOs keep him an arm's length behind MCW in fantasy.
Trey Burke took a while to get acclimated to pro play, but has since come around nicely, blossoming on the talent-starved Utah Jazz team. His three-point shooting has been a nice bonus, but owners are still praying for an overall improvement in his shot selection and subsequently his field goal percentage.
The still-growing physical phenom we know as Giannis Antetokuonmpo or "Alphabet" for the people who still try to memorize his name phonetically while writing a fantasy basketball article, looks like he is going to be played by the Bucks and is a serious developmental project. Even though you can't teach his physical attributes, his skills and decision making assets are still raw. If he will blossom this season, it may come in very late into the season and might not be enough to get you to those much-coveted playoff slots.
Keep an eye on, but do not hold your breath for:
Anthony Bennett
Alex Len
Otto Porter, Jr.
Ben McLemore
Kelly Olynyk
Waivered and watched
Kendall Marshall, due to the Los Angeles Lakers losing all of their regular point guards because of injury, has already been snatched up by most managers in standard and deep leagues alike.
Keep an eye on Jarrett Jack. It looks like concerns of Kyrie Irving being injury-prone are coming to fruition and Jack will receive heavy minutes while Irving is out.
Pero Antic raised eyebrows with his career-high 16-point explosion against the Golden State Warriors. I repeat, "WARRIORS." If he keeps his starting job and continues to be a suitable stretch five, Antic becomes an intriguing add in the wake of Al Horford's injury.
James Johnson has pinged in 12-man league radars with his roto-friendly, stat sheet-filling lines. He's worth a grab in almost any format at this point, especially given how poorly old man Tayshaun Prince has been playing.
Kris Humphries recently strung together a few solid games, but a quick-grab still could end up as a wasted move given Boston's depth down low. He is, however, a candidate to bebshipped off before the trade deadline and could be far more productive on a team with less of a big-man logjam.
Keep an eye on that prize
For those of you that are playing in head-to-head leagues and value the strengths of good NBA schedules timed during the fantasy playoffs, here are some quick notes to consider as far as team grades based on schedule are concerned.
Teams with good fantasy playoff schedules are Brooklyn, Houston and Miami.
Teams with a poor schedule during the fantasy playoffs are Cleveland and Orlando.
These tidbits might sway you one way or another when you make your last-ditch deals before the fantasy basketball trade deadline expires.
Featured image courtesy of Aaron Frutman/Flickr.