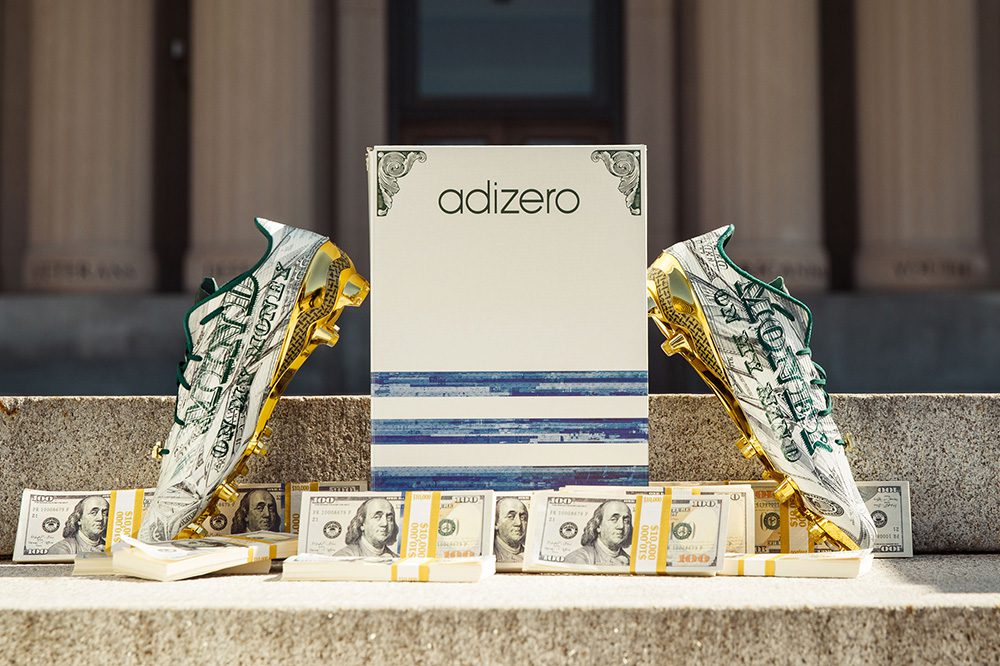 We've seen what the forces of adidas and Snoop Dogg can do, most famously and recently with their #SnoopCleat collaboration in 2015, but now it's gone much more meta for "Bigg Snoop Dogg". Citing his most famous lyric in his career, the adidas adizero 5-Star 5.0 x Kevlar Snoop "Money Cleat" pays homage to The Doggfather and invests in the future of adidas' new athletes with the new cleat, proudly displaying, "Mind On My Money" and "Money On My Mind" on the footwear.
See more of the new Snoop Money Cleat here, courtesy of our friends at adidas.
adidas and Snoop Dogg today revealed the 2016 adizero 5-Star 5.0 x Kevlar Snoop cleats. Designed in collaboration with Snoop, adidas' Director of Football Development, this special edition cleat pays homage to his famous lyrics "I've got my mind on my money and my money on mind," from the second track on his debut album, Doggystyle.

"Football is one of my main passions and that includes everything from coaching kids to helping design the best gear out there," said Snoop. "adidas Football and I are all about fusing sports and culture and this new cleat showcases how we are true visionaries and pioneers in blending style with performance in Football."

The 2016 adizero 5-Star 5.0 x Kevlar Snoop cleats take the all-new Chromaflage pattern, the latest evolution of adidas Football's iconic and disruptive 'flage' pattern cleats, and seamlessly blends in unique design elements that were inspired and influenced by Snoop Dogg and his gold certified and Grammy Award nominated single.

From the money infused Chromaflage pattern, to the legendary lyrics, to the "Gotta Hustle" lace jewelry and $10,000 money band, to the $100 bill inspired 3D laser security strip emblazoned into the adidas three stripes graphic on the shoebox, the 2016 adizero 5-Star 5.0 x Kevlar Snoop cleats are a complete homage to Snoop, his song lyrics and his influence on the game.

Snoop's football passion extends to the community where over 10 years ago, he started the Snoop Youth Football League (SYFL) in Los Angeles, which has provided thousands of young boys and girls a positive environment to learn skills for life – championing kids to be better citizens on and off the field. His leadership and commitment to the SYFL stems from a desire to create a positive environment in local communities through sports.

The 2016 adizero 5-Star 5.0 x Kevlar Snoop Cleats

Engineered for playmakers, designed to showcase style. Lighter than any competitor cleat at 7.9 ounces, the lightweight adizero 5-Star 5.0 x Kevlar Snoop cleats feature a durable, flexible a SPRINTSKIN upper with IRONSKIN laid over the toebox for durability. The 5-STAR FRAME, featuring a plate reinforced with KEVLAR®, is the optimum blend of lightweight, strength and traction.

adidas Chromaflage

Chromaflage takes the innovation, disruption and customization of football cleats to another level by adding the element of 3D photorealism. Pushing the boundaries of manufacturing techniques, adidas designers created an environment where an actual photo or image could be projected through a 3D liquid crystal graphic to create a distorted, 3D Chromaflage pattern. Through digital printing, each image utilizes the liquid crystal to add depth and richness to the imagery in order to create a unique 3D look, while keeping the same Chromaflage feel.

The nod to Snoop's lyrics continues with an accessories package that includes the adizero 5-Star 5.0 gloves, featuring an oversized photo-realistic graphic of Ben Franklin, along with a Chromaflage money arm sleeve and socks, complete with $10,000 money band.

The adizero 5-Star 5.0 x Kevlar Snoop cleats are now available at adidas.com. For more info and images of the cleats, visit adidas.com and follow the conversation on Twitter via @adidasFballUS.