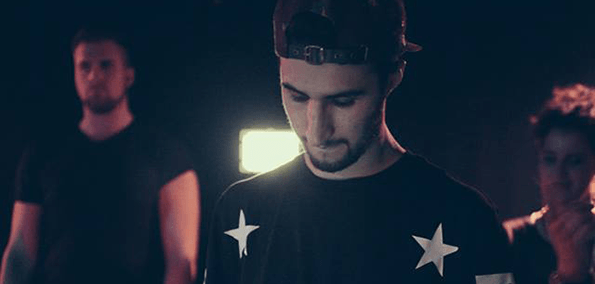 STWO released his first commercial record exclusively on Apple Music this past week on 7/29/16, making the iCommunity privy to a special preview before the rest of the world gets to play discovery. When immersed heavily in the waves of D.T.S.N.T., one can feel the essence of the acronym, "Down To Say Nice Things," in every track. It's a spiritual, flowing record that inspires reflection, peace, and joy.
Those that know STWO through his involvement on Views, working with Drake's coveted producer 40 on "Western Road Flows," may be a bit surprised at the overall energy of the project. STWO is in every sense his own artist with a sound that's entirely unique to his creative process. And even though the album is majorly Funky with smooth R&B layers and a Hip-Hop heart, similar to the vibe of "Western Road Flows," it also possesses an Electronic pulse with a Soulful Indie air. This is greatly due to the eclectic features and collaborators showcased by STWO on the record.
If one wants to kick start the listening experience with that O.V.O. sound, however, "Fill The Void" (feat. Daniel Caesar and Amir Obe) is the perfect place for you to begin. The track is super fly. Grooving like a PARTYNEXTSTORE single, it has this perfect balance of new wave Electronic R&B with the classic sensuality of R&B's past. Daniel Caesar has this haunting, ethereal introduction that sets up Amir Obe for a knocking drop into the core of the song. The beat kicks hard and the flow's quite fluid. One of my favorite tracks on the record, Fill The Void, is a go to for a quick "October's Very Own" auditory fix.
All eight tracks on the E.P. are beautiful. Each worth listening to for a myriad of reasons, but one of the coolest aspects of listening to this project has to be the plethora of features it boasts, all of which are undoubtedly special and unique. Each song shines a light on a majorly noteworthy artist, many of whom aren't spotlighted by mainstream media. It's quite a pleasurable experience journeying through the track list, discovering the wealth of treasure buried within its folds.
Number two, Haunted (feat. Sevdaliza), introduces the user to a gorgeous voice and an even more powerful woman. Sevdaliza is an unreal human being who turned to the arts after major success in sports and education, found her heart's passion in the music industry and it's evident when you hear her perform. She has a sultry, uniquely smooth vocal presence and her collaboration with STWO is a harmonious blend of flavor and soul. And my goodness, what an insane aural gift we receive when listening to the very next song, "Insecure." The track features Atu, a remarkable producer whose vulnerability and talent add such depth to the track number three.
And then there's Brent Faiyaz. If you're unfamiliar with this man, prepare to fall deeply in love. Faiyaz's voice is purely tranquil. Hearing him sing soothes the mind something like Babyface's buttery vocals used to do back in the day. His energy and talent is comparable to that of Frank Ocean, only he's in the here and now, not hiding in the shadows of enigmatic mystery. Present and very alive in his craft, Brent Faiyaz provides a sound that embodies the essence and beauty of a true R&B talent.
The last song on D.T.S.N.T. wraps up the record with a distinctively cool groove. "Blue Sky" embodies the essence of Funk and Soul with a bit of Reggae energy that just emits positive vibrations with every bar. Notes of Steely Dan, Marvin Gay, and Stevie Wonder make for a fresh, velvety sound. Sunni Colón, the featured artist on the culminating track, adds a new age individuality that lifts the track into a space of its own. Sunni Colón is a passionate, loving artist from Los Angeles who adds so much beauty and sensuality to the conclusion of what's surely to be a highly celebrated work of art.
There's really something to be said about the composition of the record. STWO delicately curated the talent for the project and orchestrated the flow of energy perfectly. You can feel the love when you listen to D.T.S.N.T. and it feels really good. For a young producer, STWO shows a remarkable amount of vulnerability in his work, making it easy to connect emotionally with his artistry; ride on the same wavelength. It's also quite special to have a newer, youthful artist care so much for the light of other artists around him. The whole E.P. is like a coming out party for a collection of heroes, people you root for and feel happy to see succeed when they do. I have no doubt STWO has a remarkable career ahead of him, and he's laying his foundation with true musical love. As a writer and artist myself, STWO's got me way Down To Say Nice Things. How ironically delicious is that? Here's to positive vibrations and music that makes the soul smile.