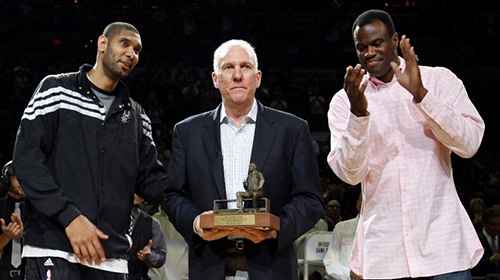 The most important ingredient to a successful NBA franchise is the choice at head coach. Too often an NBA team chooses a retread that experienced moderate success elsewhere for no other reason than the ability to manage expectations. Bold coaching choices either succeed marvelously or fail spectacularly.
This season, head coaches will experience the latest scrutiny with BallerMindFrame's NBA Head Coach Power Rankings. There will be no scientific system used to determine each coach's efficacy—the results on the floor and/or the brilliant/terrible in-game decisions will be the sole determinants. Although bonus points for media relations could be given, the scale would skew so favorably to Gregg Popovich—objectivity be damned!
First-time head coaches will be unranked at this time, but as the season begins and curious decisions start getting made, those same coaches will be at the end of some tart bon mots.
1. Gregg Popovich, San Antonio Spurs
Sure the press conferences are entertaining, but the body of work is more impressive. Four championships and five conference titles head the résumé, but perhaps Pop's best work is the Tony Parker/teammates' wives situation. Every other clubhouse in the NBA would have been torn asunder. Not Pop's.
2. Tom Thibodeau, Chicago Bulls
The Bulls' leader is responsible for creating the suffocating, hard-nosed style of defense used by the Boston Celtics in 2008 and by his Chicago teams. The Bulls' best player was sidelined all year but Chicago managed to end the Miami Heat's winning streak and upset the Brooklyn Nets in the playoffs. Sleep on the Bulls and Thibs at your own peril.
3. Frank Vogel, Indiana Pacers
Indiana's deep run in the playoffs and near upset of the Heat solidify Vogel's credentials. Consider all that Vogel pulled off while having a bench led by Tyler Hansbrough and D.J. Augustin. Thanks in part to Vogel's influence, Roy Hibbert has a legitimate claim as best center in the NBA.
4. Rick Carlisle, Dallas Mavericks
Testifying to the need for ownership and the coach to have a productive relationship, Carlisle always seems to get what he needs from Mark Cuban, and in turn always has a Mavericks team that plays hard and wins more than they lose. The NBA title in 2011 significantly boosts Carlisle's stock here—not only did the Mavs beat the Heat, but they did so methodically.
5. Doc Rivers, Los Angeles Clippers
Give this man star players, and watch him create an environment for those same stars to coexist cooperatively. The Clippers brought a winner with character to Los Angeles and the returns were immediate—Chris Paul signed a contract extension immediately and did not answer calls from any other teams.
6. Mark Jackson, Golden State Warriors
This may be a little presumptive, but give Jackson a pass for the 2011-12 debacle—the lockout happened and the team had serious injuries. The exciting brand of basketball in the Bay Area is Jackson's creation. And beyond the impressive results, the lifting of the Warriors from "irrelevant" to "pretty damn relevant" is a remarkable achievement.
7. Mike Woodson, New York Knicks
It's hard to justify ranking a coach that's never gone past the second round of the playoffs higher than some other names on this list, but Woodson gets the nod because he changed the losing cultures of the Atlanta Hawks and Knicks. Woodson gets points for having imperfect teams play hard and exceed expectations. Imagine if Woodson had the keys to a title contender.
8. Scott Brooks, Oklahoma City Thunder
The only coach the Thunder have known, Brooks has provided a steady presence on the sidelines as the team has developed. By not shackling Kevin Durant and Russell Westbrook to a set system, he allows both players to showcase their talent nightly. There are questions whether Brooks can lead the Thunder to a title though, simply because the Thunder have never "over-performed." They've always played to expectations.
9. Mike Brown, Cleveland Cavaliers
All his teams do is play well. He's won division titles with the Lakers and Cavs, and if it weren't for a coup this past season, and if someone in the Lakers front office had come down on Dwight Howard instead of coddling him, Brown would have righted the Lakers ship.
10. Rick Adelman, Minnesota Timberwolves
The "Franchise Legitimizer," Adelman is the only coach to make the Sacramento Kings relevant (and would have gone to the NBA Finals if not for the infamous 2002 Western Conference Finals Game 6 conspiracy). Adelman's teams always play well and contend. This year will be yet another test.
11. Erik Spoelstra, Miami Heat
Heat fans are going to whine about Spo being so low in the rankings, but they should do what comes natural—leave the arena when the Heat are down by five with 28 seconds left in the game. Or flip off Joakim Noah. Either one works. What's known is that LeBron James and Dwyane Wade dictate the direction of the team, and Spo is the caretaker. He does a good job managing rotations, but if he were a fantastic coach the Heat would be three-time champions, not two-time champions.
12. Tyrone Corbin, Utah Jazz
Corbin is two wins shy of a .500 record with some pretty lousy Jazz teams. This year the expectations will be extremely low, and it should be indicate Corbin's ability to get his teams to over-perform or if the last couple seasons had the rest of the NBA underestimating the importance of Paul Millsap.
13. Maurice Cheeks, Detroit Pistons
Another coach with a just-under-.500 record, Cheeks is best remembered for helping a young girl finish the national anthem prior to a game. Unfortunately, his time with the Portland Trail Blazers and Philadelphia 76ers was disappointing, but he may be the right guy to develop the Pistons from also-rans to a seven- or eight-seed.
14. Jacque Vaughn, Orlando Magic
The only reason Vaughn is ahead of other coaches is that he somehow cajoled 20 wins out of an atrocious Orlando team last year. This season will provide some insight into his abilities, as he's charged with the development of Victor Oladipo.
15. Mike D'Antoni, Los Angeles Lakers
Realistically speaking, he should be ranked at the bottom of the list. But his success with the seven-seconds-or-less Suns is the outlier. Maybe if D'Antoni had a (young) Steve Nash-type point guard in New York or Los Angeles his fate would be different. Regardless, his toxicity is so apparent that, rightly or wrongly, he's blamed for Dwight Howard's departure from Laker Land.
16. Kevin McHale, Houston Rockets
McHale can boast improvement when he takes over the sideline, but the improvement is slight at best. If the Rockets make a deep playoff run, all questions about McHale's record are moot, but only until then.
17. Dwane Casey, Toronto Raptors
He's coached mediocre teams to mediocrity, and that must count for something. Unfortunately, it also counts against him. The Masai Ujiri regime in Toronto could prove intriguing to Casey's future.
18. Monty Williams, New Orleans Pelicans
There isn't much impressive about Williams aside from his relative longevity in the New Orleans job. This season renders judgment on his ability—can he take a Pelicans team built to contend and guide them to the eighth seed, or will the Pelicans be lottery-bound again? If the Pelicans are the latter, Monty's out.
19. Terry Stotts, Portland Trail Blazers
How he continues to get coaching jobs is a mystery. His teams are always worse in his second season, which doesn't bode well for a team that won 33 times last year.
20. Randy Wittman, Washington Wizards
There is only one current coach with a worse career winning percentage than Wittman: Orlando's Vaughn. Wittman is the definition of a retread—he's underwhelmed in Cleveland and Minnesota, so last year's improvement in D.C. may be a mirage. He was fired 19 games into his third season in Minnesota after winning only four games. The Wizards have hopes for contending this year, but that's doubtful with this guy roaming the sidelines.
21. Larry Drew, Milwaukee Bucks
The only thing worse than not winning with talent is allowing talent to mail in a playoff series, and that's exactly what Drew's Hawks teams did. There was never more listlessness displayed than in watching Atlanta play Orlando in 2011's Conference Semifinals. What was Milwaukee thinking hiring this guy?
UNRANKED
These coaches start their first year, and rather than rank them, it's important to set expectations for their upcoming seasons. They appear in no particular order.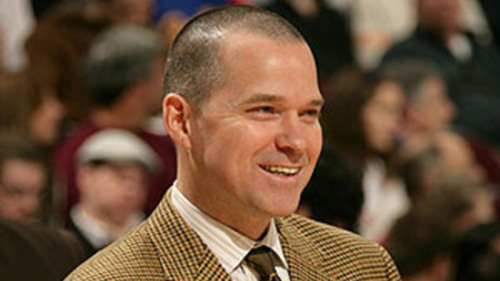 Michael Malone, Sacramento Kings
Success or failure is judged by Boogie Cousins's improvement or regression, and by all accounts he will regress. Cousins shows a remarkable ability to care not at all about his team's success or failure, and is clearly a clubhouse cancer.
Jeff Hornacek, Phoenix Suns
If the Suns win enough games to take themselves out of the Andrew Wiggins sweepstakes, the season will be a failure (thanks, league rules that encourage tanking!). Most important for Hornacek is to manage young players' development and minutes. If he does that, then this wasted season salvages some value.
Brett Brown, Philadelphia 76ers
See above. The only difference? Hornacek at least has Eric Bledsoe, while the Sixers traded an All-Star (Jrue Holiday) for a rookie center coming off knee surgery (Nerlens Noel).
David Joerger, Memphis Grizzlies
Joerger's job is to keep Zach Randolph happy and productive. Z-Bo proves to be the key to Memphis' aspirations. Joerger needs to get to the second round of the playoffs for a successful season, and in the West that expectation is generously described as a sticky wicket.
Brian Shaw, Denver Nuggets
Congratulations Brian, your first job as a head coach is to take over a team that willingly gutted itself this offseason! Shaw is considered a Phil Jackson protégé, so not only does he take over the shell of a 50+ win team, he's expected to have them over-perform.
Steve Clifford, Charlotte Bobcats
Clifford just needs the Cats to be not-quite-awful and the season is a success. That shouldn't be too hard to do, except these are the Bobcats, and the franchise history reeks of awful. Oh, and he's working for a boss that would be unsatisfied with an undefeated season.
Jason Kidd, Brooklyn Nets
One of the greatest players in franchise history takes over a team with great expectations. Kidd has the respect of his players—most either played with or against him. Because he's so universally respected and an exciting choice, he'll have a longer rope than most other coaches in a similar "win, or else" situation. How he manages minutes with this older crew dictates success or failure.
Mike Budenholzer, Atlanta Hawks
Budenholzer is a former Spurs assistant, he learned from the best. The Paul Millsap-Al Horford-Jeff Teague combination could sneak into the playoffs. Budenholzer doesn't have tremendous pressure, but if this team fails to win more than 35 games, the season is on the coach, not the players.
Brad Stevens, Boston Celtics
Stevens has a six-year contract, so his job is simply to build. If the Celtics are competitive and show heart his season is successful. Where the Celtics are in three years will determine if the experiment of hiring this well-regarded college coach was a good idea.