Dear Santa Claus,
Season's Greetings my jolly old friend! How the heck are you? I suppose that's a silly question to ask since this time of year you are the subject of various songs on the radio, frequently parodied on television, and always on the minds of millions of children around the world. Actually, allow me to rephrase the last part of the previous sentence: you are always on the minds of millions of children and one twenty-five year old who writes for Hardwood and Hollywood. Christmastime is my favorite part of the year; it has been for as long as I could remember. But of course, you must already know this, being a mystical all-knowing figure and all. You've played an integral part in making Christmas morning the most spectacular day of each year of my life. I mean, just look how excited I was on Christmas morning when I was only 1 year old …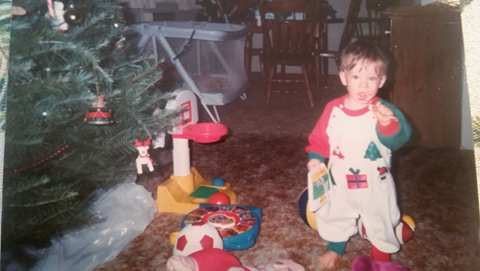 And when I was 7 years old …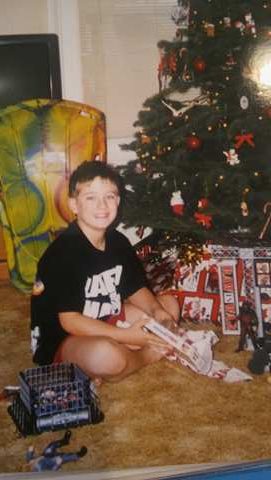 And when I was 23 years old …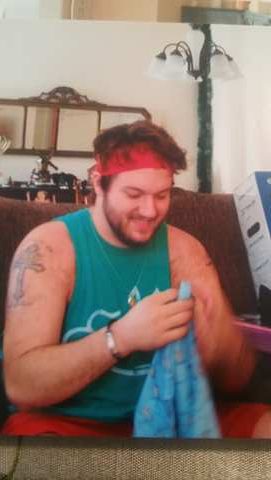 Anyway, I'm here today to make the same request that I've made the last few years … I'm asking you to take a look at an NBA themed Christmas List and figure out what sort of strings you can pull to make each of these things happen. None of the items fall into the "The Elves at the North Pole can just make ya one" category, but you're obviously a guy who has a lot of sway — I mean, you've been getting away with B&E's for years now — so I don't think you'll have any issues here. Thanks in advance!
1. Endless supply of NBA tickets and a private jet that will fly me to any game that I want whenever I want. 
-I've tried this one in the past and so far we haven't had any luck. The good news is I don't get discouraged. I'm sure you remember that I had "Full-Sized Wrestling Ring" on my Christmas List for years. Just because you didn't bring me one once (or twice, or three times) didn't mean I was going to stop asking for one. Actually …
2. A full-sized wrestling ring. 
-Doesn't hurt to ask again, right? Unless you have a wrestling ring catalog you order from, you'll need the elves for this one. Please thank them for me.
3. NBA television ratings to continue to rise. 
-Look how easy I'm making this for you. Aside from having a talk with the Sports Gods and ensuring that guys stay healthy, you don't even need to do anything to help this along. As I laid out last week, now more than ever it feels like the players and owners and league are all on the same page, and more importantly, the league is in such good hands in both the present and the future, it feels like the NBA continuing to gain popularity is a sure-thing.
The last time the NBA was so loaded with talent was in the late-80's/early 90's, and for the first time since then the league is actually in a position where expansion wouldn't be a terrible idea. I actually considered adding "Put an NBA team in Seattle" to my list, but that's definitely happening now that Key Arena is getting a $660 million renovation, even if it's at the expense of a team like Memphis or New Orleans or Charlotte. There is a boom of fantastic basketball players and it's hard to imagine that won't continue to be the case considering how the game has exploded internationally. I mean seriously, just look at the list of foreign-born players who have arrived in the NBA since 2012:
Giannis Antetokounmpo, Nikola Jokic, Kristaps Porzingis, Joel Embiid, Ben Simmons, Andrew Wiggins, Rudy Gobert, Jusuf Nurkic, Evan Fournier, Dennis Schroder, Steven Adams, Clint Capela, Joe Ingles, Dario Saric, Thon Maker, Jamal Murray, Domantas Sabonis, Buddy Hield, Lauri Markkanen, Frank Ntilikina.
Those are probably the twenty best guys who fit that criteria. I didn't even mention rotation players like Nemanja Bjelica, Gorgui Dieng, Dragan Bender, Mirza Teletovic, Kelly Olynyk, Matthew Dellavedova, Aron Baynes, Nikola Mirotic, Nik Stauskas, Dante Exum, Joffrey Lauvergne, Mario Hezonja, Trey Lyles, either of the Bogdanovic's, either of the Hernangomez's, or soon-to-be NBA stars like Luka Doncic, DeAndre Ayton or R.J. Barrett.
It's a great time to be a basketball fan, and I expect that TV ratings will reflect this.
4. I want to choose the USA basketball roster for the 2019 FIBA Basketball World Cup and the 2020 Summer Olympics. 
-With all of that said, we (the United States) can't afford to screw up the selections for the upcoming international basketball tournaments. Some of those foreign teams, if fully loaded, are going to be legitimate contender to win the whole thing. Now I know you aren't American and I assume you probably don't feel any allegiance to the United States when it comes to international sporting events, but I'm imploring you to give me the chance to make sure Team USA has the best roster possible. So here's what I'm thinking:
Starters
I mean, my lord.
Bench
Marvin Bagley III (My advice: Buy up some Bagley stock)
This team gets a check mark in every single category imaginable. We've got shooting, play-making, size across the board, defensive skill/versatility, big personalities, future Hall of Famers, late-game closers, entertainment value, enough delightful line-up combinations that your head will start spinning, and the greatest basketball coach of all-time, Gregg Popovich. Actually, let's talk about that last point …
5. I want Gregg Popovich to run for President of the United States in 2020.
-The United States of America needs Gregg Popovich way more than Team USA does. We can hand the Team USA keys to Boston Celtics Head Coach Bradley Stevens in 2019 and 2020 and we'll be just fine. We need to hand the keys to the White House to Popovich ASAP. Pop is one of the most accomplished professional sports coaches ever, and he's provided the blueprint for how every successful team, business and country should operate. It emphasizes hard work, creativity, intense but controlled passion, a well-defined common goal, love and respect for one another, a stable infrastructure, and diversity in both backgrounds and ideologies. It's pretty simple when you think about it, and it's really easy to understand why Pop is so universally loved and respected by people in and out of the league.
Popovich attended the United States Air Force Academy and served five years in the Air Force before choosing to pursue a coaching career rather than a career in the CIA. Unlike our current President, Pop lived it … he doesn't just claim he loves and respects the military while apparently forgetting that as he was campaigning he referred to John McCain, a Vietnam war veteran, and other Prisoners of War as "losers." Pop treats people with decency, surrounds himself with high-character individuals and he knows how to lead others. The President should take some notes.
#Popovich2020
6. I want the NBA to change the One-and-Done rule. 
–The last time I asked for a major rule/regulation change was in 2013 when I suggested that the NBA Playoffs should be re-formatted where the Top 16 teams in the league would enter the postseason seeded 1 through 16 with no attention to be paid to Conference affiliation. For the record, this idea wasn't based on the idea that something had to be done to even the playing field between the Western Conference and Eastern Conference. I've always been a firm believer that Conference over Conference dominance is cyclical, and that it's only a matter of time until it flips back the other way. History backs this up: From 1980 to 1999, the Eastern Conference had a better head-to-head record than the Western Conference in fifteen of those twenty seasons, and two of those five seasons that the Western Conference had the advantage were when Michael Jordan was on a baseball sabbatical.
We're seeing the beginning of another power shift right now, for what it's worth.  In five years when the Eastern Conference is clearly better than the Western Conference, remember that I told ya first that it would happen. By then, LeBron James likely won't still be a guaranteed bet for the NBA Finals so maybe a little more talent will have decided to come East to try to find a possibly easier path to the NBA Finals. In addition, young up-and-coming stars will be ruling the league. Giannis' Bucks, Porzingis' Knicks, Kyrie's/Hayward's/Anthony Davis' Celtics and the post-Process Sixers should be battling in Fatal Fourway's for half a decade to determine who is bringing home the Larry O'Brien Trophy every year.
The one and done rule is likely to change soon and it's necessary that it does. Immediately following the NBA's decision in 2005 to prevent High School players from entering the league's annual Draft, everybody knew it was a terrible idea. Not only would the College game likely suffer because there would be influx of players who were maybe half committed to their school for six months, but it also seemed unethical to disallow anyone coming straight out of high school from being employed to do something they loved. I mean, imagine a profoundly gifted actor being told they had to spend one year majoring in Theater before they could land a big time movie role. Or telling a Cello prodigy that before they could go on tour and sell out auditoriums all over the world they first had to join a college marching band for a year first. It doesn't make sense.
The NBA shouldn't be any different. In an effort to help out the college game, which is so far below the quality of play we're seeing in the NBA it's ridiculous, the new rule in place should be that any players who do decide to go to college should be required to play for their school for at least two seasons. So the choice is this: either enter the NBA Draft after your Senior year of High School, or play at least two years in College. And wait, we're about to solve another problem here … are you ready? As a method of encouraging collegiate athletes to stay in school longer than two years, college programs should be allowed to legally pay their players during their Junior and Senior seasons so long as the players are in good academic standing with the university and haven't run into any sort of legal trouble in their first two years there either. To make it fair for all parties, the NCAA could put a cap on how much each program could spend on upperclassmen each season so the smaller mid-major schools had an equal shot of attracting big name high school athletes as the prestigious programs did.
Now of course, the greediest mother-fuckers alive (the National Collegiate Athletic Association) would never ever go for something like this, because there isn't enough money to go around and this is amateur athletics and blah blah blah, a whole bunch of unethical untrue bullshit. The fact that schools make millions of dollars off of their college athletes and don't give a dime of it back to the players who are competing seems ridiculous to me. It's equally ridiculous that these greedy bastards still haven't figured out the best ways to maximize making money, like turning the College Football Playoff into an eight-team Playoff that begins on the opening Saturday of Bowl Season with four quarter-final games. But that's another topic for another time.
7. I want NBA arenas to discourage Cell Phone use during games. 
-This isn't something that needs to be done, and it certainly isn't practical, I'm more so just curious about the end result would look like. Home team win percentages were just a shade below 54 percent during the 2014-15 season, the worst mark since 1975. There are various theories as to why this is the case … Better travel and better accommodations for away teams, the secondary ticket market that allows more opposing fans into the arena, the increasing randomness of NBA games thanks to the number of three-pointers taken each game. All of those make plenty of sense.
My theory: fans in the arenas spend a large portion of every guy on their smart phones — sending tweets, posting pictures on Instagram, texting with jealous friends who wish they were at the game — and this has resulted in less enthusiastic home crowds, which has taken away home court advantage.
The impact of a great home crowd is, in my opinion, very underrated. It can effect the psychology of opposing players (at least most of the non-stars), home players (again, at least most of the non-stars), and the Officials, who have proven time and time again to be easily influenced by rabid home crowds that force Refs to get caught up in the biggest moments of the game and subconsciously make more calls in favor of the 18,000 individuals that are screaming their heads off for the home team. Now instead of going apeshit if a Ref makes a bad call, there will just be a flood of angry tweets being tagged at whatever arena the game is taking place. It's stupid.
My guess, which I've done absolutely zero extended research for is that if NBA arenas discouraged the use of cell phones like movie theaters do, and if the fans played by these rules, we'd see home win percentages hop back up above 60 percent, and NBA games would be at least 10 percent more fun to watch from home simply because it would feel like fans in the arena cared more.
8. I want LeBron James to stay in Cleveland next Summer. 
-Mostly because I'm one of the eight non-Clevelanders who love that city, but also so my cousin (and frequent podcast guest) Paul Clark, a lifelong Lakers fan, will stop tagging me in Facebook posts and mentioning me on Twitter every goddamn time LeBron James buys a house in Los Angeles.
9. If LeBron James leaves Cleveland next summer, I want him to go to Philadelphia. 
-My current love affair with Philadelphia is becoming increasingly strong and well-documented. I adore recently injured Philadelphia Eagles Quarterback Carson Wentz (in part because I have an autographed Rookie card of his and I'm ready for that sumbitch to skyrocket in price). I spent an entire week co-writing about the Rocky film franchise when Creed was released two years ago. And most important to this point, there isn't a single duo in the NBA that I have more fun watching each night than Joel Embiid and Ben Simmons. So if LeBron does leave Cleveland next year — and again, my hope is he will stay, continue contending for titles, retire with the Cavaliers and then buy the franchise from Dan Gilbert — my hope would be he would join Embiid and Simmons in Philadelphia to form a potentially frightening Big Three that would be well-equipped to make Finals appearances into the 2020's.
I must say though, the Rockets rumors that have been swirling around over the last 24-48 hours are awfully intriguing. LeBron joining James Harden (who I devoted a whole Top 50 NBA Players write-up to figure out why I dislike him so much) and possibly Chris Paul and a crew of 3-and-D wings would be a mutual Wet Dream for both Daryl Morey and Mike D'Antoni, and whether they'd admit it or not, a nightmare scenario for Golden State Warriors fans. The Rockets are the biggest threat to Golden State's quest to repeat as NBA Champions, and if they added the greatest basketball player ever to their roster next year, well you could expect to see a 2018-19 Houston Rockets NBA Championship T-Shirt on my Christmas List two years from now.
10. I want all basketball fans around the world to have a very Merry Christmas.