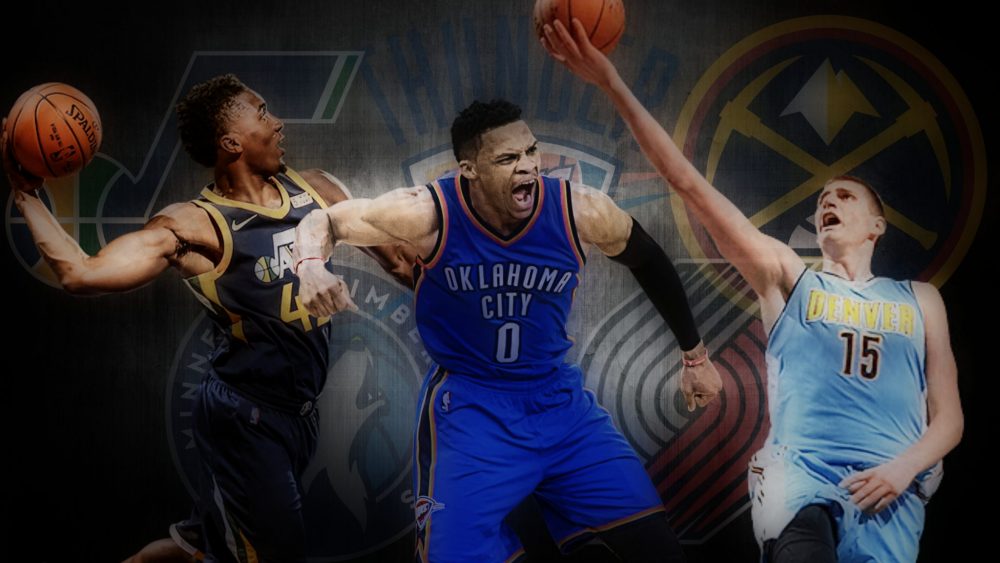 Here on the Handicapping Sports side of Hardwood and Hollywood, we'll be taking a look at all six NBA divisions and advising you not only who you should be betting to win the division, but also whether to bet the over or under on each team's Vegas-assigned win total. All odds are courtesy of Bovada.
October 2nd: Atlantic Division Preview 
October 3rd: Pacific Division Preview 
October 4th: Central Division Preview 
October 5th: Southwest Division Preview 
October 9th: Southeast Division Preview 
October 10th: Northwest Division Preview (DELAYED BECAUSE OF THE JIMMY BUTLER HOSTAGE CRISIS) 
5. Minnesota Timberwolves
Last Season: 47-35, 4th in Northwest Division, 8th in Western Conference
A View From Vegas: 41.5 wins, +550 to win Northwest Division, +15000 to win NBA Title
Season Outlook: I've never been shy about pimping my podcast within my columns, and I'm certainly not going to stop self-promoting now. The very first topic I discussed with my Jumbo Package NFL Podcast co-host Paul Clark on Sonny Talks Sports was the Jimmy Butler/Minnesota Timberwolves feud, the now legendary/explosive practice, what teams should trade for Butler, where Butler will be playing at the beginning of next season, and where Tom Thibodeau will be coaching after the Wolves wish him the best in his future endeavors.
It seems foolish to assume that Butler will play out the entire season with the Timberwolves, but if he does Minnesota likely makes the Playoffs. In the two-year Tom Thibodeau era, the Wolves are 41-64 without Jimmy Butler in the line-up and 37-22 when he plays. It's simple math … Butler turned Minnesota into a Playoff contender for the first time since Kevin Garnett was still playing in Minneapolis.
Here's the issue: I don't have faith in Karl-Anthony Towns and Andrew Wiggins as a duo, the Wolves outside of those two former #1 overall picks, or in Tom Thibodeau, who isn't equipped to be a Head Coach in 2018. Minnesota won't get a treasure chest in any deal for Butler, and it will cost them a Playoff spot.
Predictions: 39 wins (Under) and 10th in the Western Conference.

4. Portland Trail Blazers 
Last Season: 49-33, 1st in Northwest Division, 3rd in Western Conference
A View From Vegas: 42 wins, +650 to win Northwest Division, +15000 to win NBA Title
Season Outlook: After a troublesome shellacking at the hands of the New Orleans Pelicans in Round 1 of the 2018 Playoffs, it's awfully easy to forget about the progress this particular Blazers core was able to make during the regular season. I say this knowing full well that I am one of the many who are predicting that Portland will see drop in their win total from last season to this season, but even still, there were tangible areas of improvement and signs to be encouraged by from last season.
It makes sense to start with Damian Lillard and C.J. McCollum, the Blazers backcourt duo that had their most successful year as a tandem yet. McCollum, armed with pull-up jumpers and crafty floaters, eclipsed the twenty point per game mark for the third consecutive season, and Lillard established himself as a bonafide MVP candidate for the first team in his career. The partnership has never had hiccups offensively; their 48 combined points per game made them one of the most prolific duos in the league. The big surprise was how the Blazers defense was able to not only able to survive, but thrive while Lillard and McCollum were on the floor last year.
Lillard and McCollum will never be known as stoppers defensively, each of the two have their shortcomings. But while Lillard and McCollum shared the floor last year (1,896 minutes), the Blazers only surrendered a respectable 106.7 points per 100 possessions, a four-and-a-half point improvement from just one year earlier. You don't have to look any further than that swing — and Portland's jump from 24th in Defensive Rating in 2016-17 to 8th last year — to see why the Blazers went from a 41-win eighth seed to a 49-win third seed.
Though the effort from Lillard and McCollum was improved, it's not like there were major individual breakthroughs for either of the two on that end of the floor. Lillard and McCollum were still slightly minus defenders. Lillard and McCollum were propped up by Terry Stotts's scheme and a number of above average defenders that they routinely shared the floor with.
Most of the supporting cast returns for Portland this year and Lillard and McCollum are still in their peak years. Still, the Blazers seem bound for regression. It feels to me like there are only seven Western Conference teams locked into Playoff spots. Portland, San Antonio, Minnesota and Dallas will compete for the final one.
Prediction: 41 wins (Under) and 9th in the Western Conference.
3. Denver Nuggets
Last Season: 46-36, 5th in Northwest Division, 9th in Western Conference
A View From Vegas: 47.5 wins, +450 to win Northwest Division, +12500 to win NBA Title
Season Outlook: Right out of the gate I'll be honest with you and admit that I don't feel great about my decision to take a slight under on Denver's win total for the year. Each time I look at the "46" next to Denver on my official season predictions file, I start to think about Nikola Jokic playing like an Alpha Dog, Jamal Murray's potential breakout year, and a full season of Paul Millsap. I think about teams playing at altitude in the Mile High City, Isaiah Thomas's comeback attempt, and what if Michael Porter Jr. plays this year and is absolutely awesome?
Even still, I stick with the under choice and I have my reasons. Are we sure that Nikola Jokic can play with an alpha dog mindset for 82 games? Are we sure that Jamal Murray is going to break out? Are we sure that Paul Millsap (33 years old) is going to remain a huge difference maker? Are we sure that Isaiah Thomas will even be the player he was in Sacramento four years ago? What if Michael Porter Jr. only plays in fifteen games?
There are just enough question marks that lead to a very cautious under selection here. I expect a huge year from Jokic, one of the most watchable players in the entire league and a legitimate star-in-the-making who averaged 24-12-6 over the last 18 games of the season last year … he's two and a half months younger than Giannis Antetokounmpo by the way. I like a good number of Denver players but there's not a ton of depth and the West, as we've already covered, remains loaded. If the Nuggets finished first in the Northwest Division it wouldn't be one bit shocking.
Prediction: 46 wins (Under) and 7th in the Western Conference.
2. Oklahoma City Thunder
Last Season: 48-34, 2nd in Northwest Division, 4th in Western Conference
A View From Vegas: 48.5 wins, +210 to win Northwest Division, +3000 to win NBA Title
Season Outlook: What I said about Denver is also true for Oklahoma City … I look at the "49" next to Oklahoma City in my season predictions file and I can't help but think I'm too high on a team that enters the season without their MVP candidate Point Guard for a short period of time, and their best defensive player for at least a few months.
Russell Westbrook's injury and his expected return doesn't really worry me in relation to this pick — though, Russ has had an alarming number of offseason knee surgeries and he's going to be 30 years old in a month — but Andre Roberson's extended absence does. Westbrook is obviously the far superior and much more valuable player to the Thunder; Roberson's value doesn't even approach that of Paul George. However, Roberson's mid-season injury last year was quietly an absolute killer for Oklahoma City.
Roberson was on track to make one of the two All-Defensive Team's last year and his on-court/off-court numbers were eye-popping.  Last season Oklahoma City allowed 91.7 points per 100 possessions when Roberson, Westbrook and George shared the floor without Carmelo Anthony. That mark is roughly 10 points better than the best Defensive Rating in the league last season.
Losing Carmelo Anthony will be a blessing this season. The Thunder still lack shooting — shooting that Anthony was never able to provide — but they find other ways to win. When this roster is fully healthy they will project to be a top five defense in the league. No team was better at collecting offensive rebounds than the Thunder were last year and that shouldn't change heading into the 2018-19 season. Dennis Schroder will effectively run the second unit offense and in time Billy Donovan will find a way to have Westbrook, Schroder, and Paul George all on the floor at the same time.
Having two Top 15 players obviously helps. Westbrook and George will be able to carry the heavy lifting offensively on nights when the supporting cast provides little help. There could be plenty of those nights ahead.
Prediction: 49 wins (Over) and 5th in the Western Conference.
1. Utah Jazz
Last Season: 48-34, 3rd in Northwest Division, 5th in Western Conference
A View From Vegas: 49 wins, +220 to win Northwest Division, +7500 to win NBA Title
Season Outlook: There are no feelings of doubt here. The "52" next to Utah looks like a perfect number of wins for a team that had the best record in the league over the course of the final 35 games of the season. Utah's 29-6 pace in that stretch obviously won't be able to be extended over an 82 game season. Nobody is projecting that the Jazz will win damn close to 70 games this year. But there's no reason to believe there will be major regression anywhere either. If anything, it feels like 52 wins could end up being a smidgen too low.
If healthy, the Jazz should remain one of the elite defensive teams in the NBA. They are the only team in the league to finish as a top-three defense each of the past two seasons, and it makes perfect sense why. Quin Snyder has an assembly line of switchable wing defenders and the human embodiment of the Eiffel Tower patrolling the paint to work with. Every one of those guys work their asses off each night too. I wouldn't be shocked if Utah was one of the three best defensive teams in the league this year again, but even if they slipped it won't be a steep drop.
The way Utah jumps from Northwest Division winner to honest-to-God challenger of the Golden State Warriors or Houston Rockets is if Donovan Mitchell doesn't hit a wall. Mitchell was brilliant last season and he showed prolonged flashes of full-fledged superstardom, especially during the Playoffs. We should be patient with his progression since few guys ever have been able to jump to one of the highest tiers in the league within two seasons, but steady progress from Mitchell would be enough to take the Jazz seriously.
There are other factors at work here too: Can Ricky Rubio maintain his improved shooting touch? Will teams find ways to pull Rudy Gobert away from the basket like Golden State and Houston consistently do when they play Utah? Do Joe Ingles, Jae Crowder and Thabo Sefolosha age quickly?
Regardless, I can't wait to watch Mitchell play this year. I think he ends the year as a consensus top fifteen player in the league.
Prediction: 52 wins (Over) and 3rd in the Western Conference.