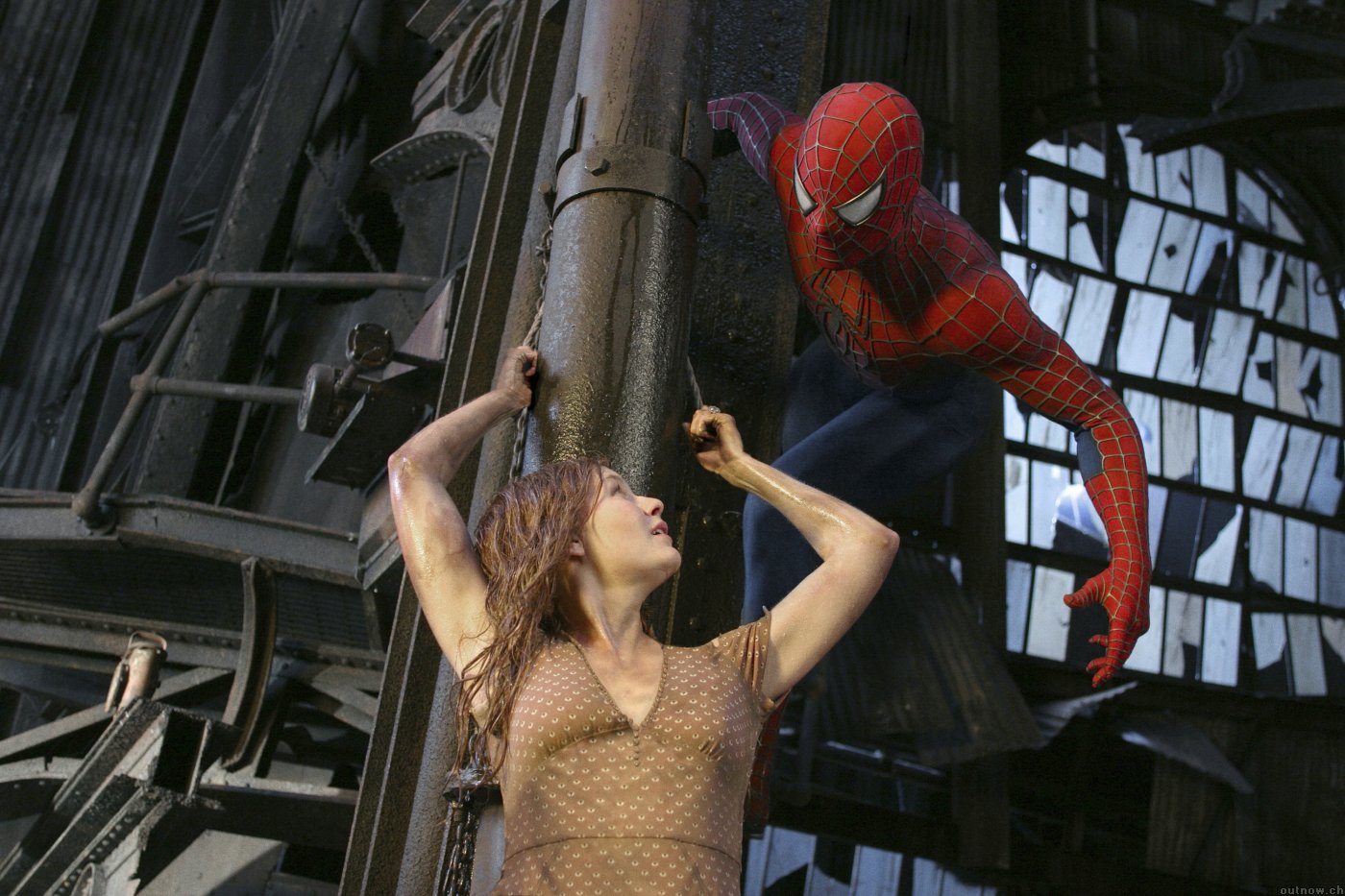 I wish I could in good conscience put Spider-Man 2 higher on this list. It's a wonderful film in many ways and the wall-crawler has always been one of my favorite superheroes. If pushed, I might put him as my favorite all time, so it is a bummer that this was as high as I could slot one of his live-action film adaptations.
The flick is by no means bad, and it was phenomenally successful, but let's start with a few of its flaws.
First: Too much damsel in distress. Kidnapping the girl is not a unique story arc but it happens a lot in this move and even worse it's always accompanied by the most blood-curdling screams you have ever heard in your life. The random moments where the movie feels like a horror film really didn't work, including the ludicrous scene in which Doctor Octopus wakes up and kills a room full of doctors. It felt like B-grade slasher stuff but without the buckets of blood.
Second: There were still many carryover problems from the first film that were only exacerbated here. Peter Parker started too old and so naturally the passage of time just makes him that much more like other superheroes and less like the goofy kid in the comics. This push into adulthood is furthered to an even worse degree by rushing the marriage to Mary Jane storyline (spoilers) plotline, skipping entirely over characters like Gwen Stacy.
Three: I love both Kirsten Dunst and James Franco but both are way cheesy in this movie, perhaps as the result of the newly added horror elements. They weren't this over-the-top in the first film. Seriously, run a count sometime on the amount of screams and pouty faces from the first movie to the second.
All that noted, this movie deservedly won the Academy Award for special effects and gave filmgoers some of the most exhilarating fight/action sequences seen in any movie to this day. Watching Spidy and Doc Oc crawl up and down trains and clocktowers is a real treat and Alfred Molina delivers a superb performance as the demented scientist throughout it all.
Willem Dafoe was (as per usual) fantastic as Norman Osborn, but the odd mask choice in that first movie took away the vast amount of his charisma once he was acting as The Green Goblin. The nature of the character allowed Molina's abilities in more tempered and dialogue driven scenes to also shine in the middle of the action, meaning that when people aren't screaming their heads off, this film is endlessly watchable.

Ultimately, the global box office success will be the legacy of Spidy's second romp on the big screen – that and probably Molina's Doc Oc – which is okay because it pushed the boundaries of what could be achieved in terms of both scope and storytelling through action. It doesn't hold up as well as it did when it first came out but Spider-Man 2 was a brilliant success for its visuals, top-of-the-line action sequences, and for always remembering to have fun and bring the audience along for a ride.
Complete 35-part list for best comic book adaptations ever!
Part 1 – Daredevil / Part 2 – The Dark Knight / Part 3 – V for Vendetta
Part 4 – The Flash / Part 5 – Sin City / Part 6 – The Crow
Part 7 – Agent Carter / Part 8 – X-Men: Days of Future Past / Part 9 – Captain America: The Winter Soldier
Part 10 – Guardians of the Galaxy / Part 11 – X2: X-Men United / Part 12 – Iron Man
Part 13 – The Avengers / Part 14 – Teenage Mutant Ninja Turtles (1990) / Part 15 – Superman (Richard Donner)
Part 16 – Hellboy / Part 17 – The Incredible Hulk / Part 18 – X-Men: First Class
Part 19 – Spider-Man 2 (Sam Raimi) / Part 20 – Thor / Part 21 – Ant-Man
Part 22 – The Dark Knight Rises / Part 23 – Spawn / Part 24 – Agents of S.H.I.E.L.D. – Season Two
Part 25 – Avengers: Age of Ultron / Part 26 – Batman Begins (Christopher Nolan) / Part 27 – Captain America: The First Avengers
Part 28 – Batman (Tim Burton) / Part 29 – X-Men (Bryan Singer) / Part 30 – Spider-Man (Sam Raimi)
Part 31 – Smallville: Season One / Part 32 – Hellboy II: The Golden Army / Part 33 – Teenage Mutant Ninja Turtles 2, 3
Part 34 – 300 / Part 35 – Man of Steel / Extra Part – Final Thoughts