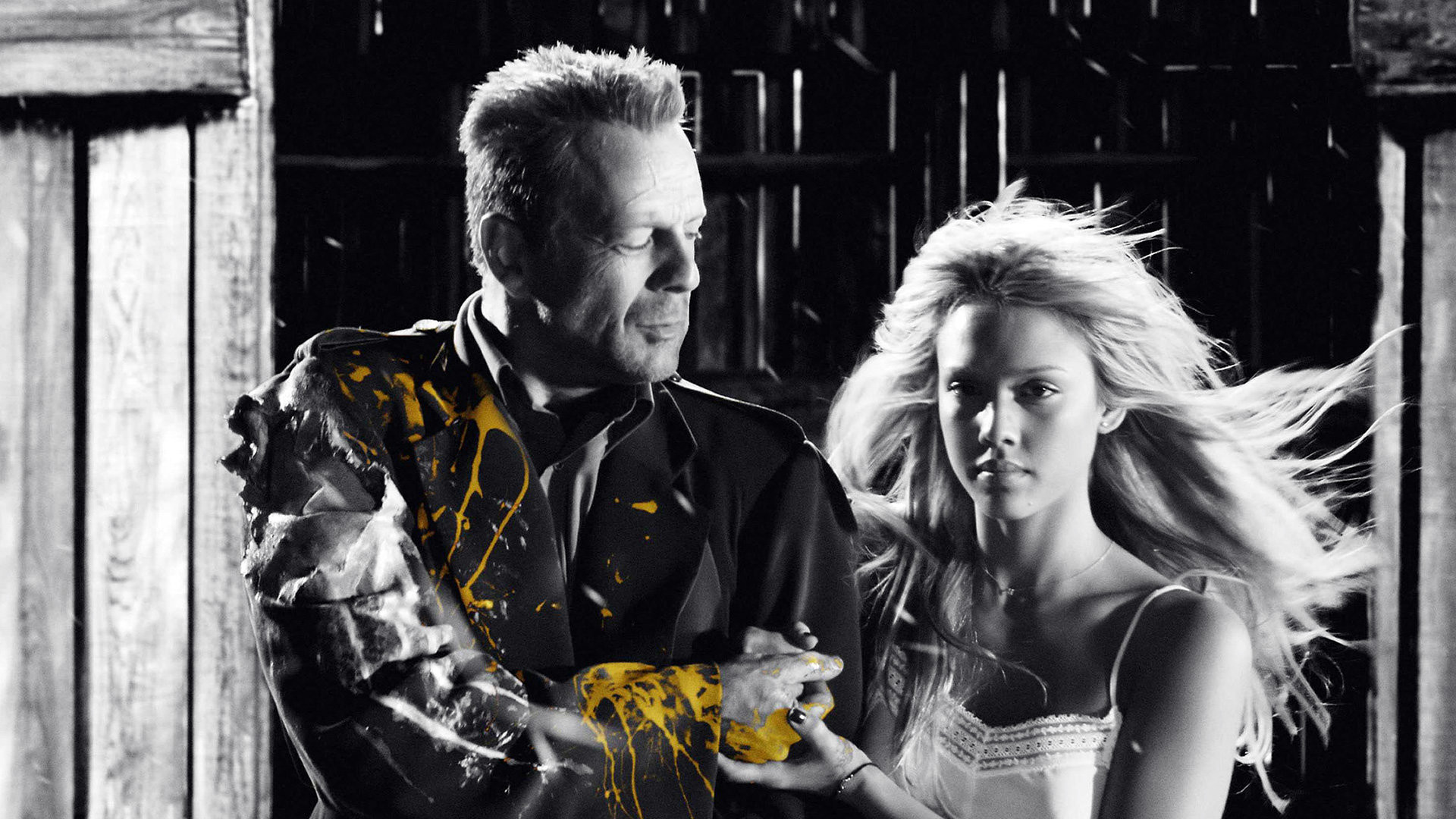 We've done it! We have identified the greatest live-action comic book or graphic novels adaptations of all time!
Except maybe not yet. Naturally, before I could finish the list a few more adaptations were released, I was able to watch a few I'd missed, and so many more are on the near horizon.
By the end of the summer, we will see the release of Batman v Superman, X-Men: Apocalypse, Captain America: Civil War, and Suicide Squad, as well as the continuation of a number of fantastic television shows.
So I intend to revisit and update this list in October to look over all of these, but also wanted to give a few additional thoughts on what I was unable to include up to this point. But first, let's take one last look at the list as already constituted.
With a link to each individual article, here are the greatest live-action comic book or graphic novel adaptations of all time:
Part 1 – Daredevil / Part 2 – The Dark Knight / Part 3 – V for Vendetta
Part 4 – The Flash / Part 5 – Sin City / Part 6 – The Crow
Part 7 – Agent Carter / Part 8 – X-Men: Days of Future Past / Part 9 – Captain America: The Winter Soldier
Part 10 – Guardians of the Galaxy / Part 11 – X2: X-Men United / Part 12 – Iron Man
Part 13 – The Avengers / Part 14 – Teenage Mutant Ninja Turtles (1990) / Part 15 – Superman (Richard Donner)
Part 16 – Hellboy / Part 17 – The Incredible Hulk / Part 18 – X-Men: First Class
Part 19 – Spider-Man 2 (Sam Raimi) / Part 20 – Thor / Part 21 – Ant-Man
Part 22 – The Dark Knight Rises / Part 23 – Spawn / Part 24 – Agents of S.H.I.E.L.D. – Season Two
Part 25 – Avengers: Age of Ultron / Part 26 – Batman Begins (Christopher Nolan) / Part 27 – Captain America: The First Avengers
Part 28 – Batman (Tim Burton) / Part 29 – X-Men (Bryan Singer) / Part 30 – Spider-Man (Sam Raimi)
Part 31 – Smallville: Season One / Part 32 – Hellboy II: The Golden Army / Part 33 – Teenage Mutant Ninja Turtles 2, 3
Part 34 – 300 / Part 35 – Man of Steel
And that is that! Well … except of course all the new stuff that has been released since I first started and a few films I failed to realize were comic book adaptations.
I figured we should at least mention those and for future versions of this list I wanted to change one rule slightly: I will no longer be considering just one season for television shows. Continuing to separate them out is going to get cumbersome. This affects the current list very little. Smallville, Agents of S.H.I.E.L.D., and The Flash hold steady. The former balancing out with both good and bad additional seasons and the latter simply having little room to move up despite a solid second act.
Agent Carter, on the other hand, has been so phenomenal in Season Two that I jumped it two spots over The Crow and Sin City. There are now more fascinating, three-dimensional, and superbly acted female characters on that show than in the entire rest of the current comic adaptation landscape combined. Wynn Everett delivers a powerhouse performance as Whitney Frost that was so good she has jumped into my Top 5 Villains list. Bane, Joker, Kilgrave, Fisk, Frost. Apologies to Loki.
Seriously, though, if Agent Carter is cancelled everyone who enjoys quality television should be embarrassed. It's become a better spy thriller than James Bond or Mission Impossible while being funnier than most sitcoms and full of more emotion than most movies nominated for best picture. Keep Agent Carter alive. Please.
All the new additions plus a few adaptations that just missed a ranking originally stretch our list all the way out to a now-even 50. But we'll get to that in a moment.
First, as a quick reminder, here is a list of adaptations that didn't make the cut or that I still have yet to see*:
Arrow*
Kick Ass*
Constantine* (Show)

A History of Violence*
Road to Perdition*
Catwoman
Steel
The Amazing Spider-Man 2*
Jonah Hex
The Spirit
Iron Man 2 & 3
X-Men: Origins Wolverine
X-Men: The Last Stand
Spider-Man 3
Blade 1 2 & 3
Batman Forever
Batman & Robin
Judge Dredd
Dredd 3D*
The Punisher
Punisher: War Zone*
The Rocketeer
Tank Girl
Wanted
Superman 2-6
Fantastic Four 1 & 2
Fantastic Four (2015)*
Ghost Rider
Elektra
Green Lantern
Daredevil (Movie)
Anything else older than 1988
New releases:
Since I began this exercise, four new adaptations have been released (or debuted on television) and I got caught up with two newer adaptations. Those entries, along with a brief thought and my early ranking are:
iZombie (42): 
iZombie is incredibly charming and self-aware. It overcomes many of my own personal biases — not being into murder mysteries or zombies — with excellent performances from the main cast and unique spin on both genres.
Legends of Tomorrow (41): 
I'm ranking Legends before it has completed the first season but it has shown a ton of promise and already done some things no other adaptation has done. A strong finish could see it jump up a few spots.
The Wolverine (39): 
I didn't give this movie its due consideration the first time because of how bad its predecessor was. However, The Wolverine provides the perfect blueprint for how to do a side-movie inside the context of a larger franchise. Hopefully the Star Wars people took notes.
Supergirl (38): Just like with Legends of Tomorrow, Supergirl's place here is fluid. It took a few episodes for CBS' entry into this world to catch a rhythm, but has really grown and still offers a decidedly different experience than most other shows. The episode "The Girl Who Has Everything" was right up there with the best of The Flash.
Deadpool (19): 
Everything that needs to be said about Deadpool has been said in the last month. If they do the sequel correctly, it could easily be the best comic book movie ever. Congratulations to Ryan Reynolds for his triumphant return.
Jessica Jones (9): 
Had Jessica Jones been released before Daredevil, it might have taken the very top spot. Continuing the Netflix "tradition" of excellence in terms of aesthetics and balancing grit and real-world drama with comic-book style, JJ also manages to be an eye-opening extended metaphor for rape culture. It's also one of the most adult examinations of relationships and sex on television in any genre.
David Tennant's incredible work as Kilgrave makes Jessica Jones, the creepiest/most intense adaptation maybe ever.
Regrettable Omissions:
It's easy to see how I missed each of these. They are remembered more for their films than books but still, shame on me. Extra shame for the two that rightfully belong in the Top 15. The adaptations that I forgot were adaptations are:
The Mask (27): 
Jim Carrey's iconic spin as the crazed, green-faced Mask has lost some sheen over the years but several aspects still stand up today. It's hilarious, surprisingly heartfelt, and it gave us Cameron Diaz. The Mask is something most of us will never forget.
Men In Black (15): 
Timeless classic. Men in Black won the first Primetime Oscar for a comic adaptation (Best Makeup) and gave us arguably the best action/comedy duo of all time. If this movie came out yesterday it would still be lauded for its originality and top-notch humor. I wasn't familiar with the comic book and that is why it slipped my mind, but Men in Black is both one of the greatest adaptations and one of the best science fiction movies ever made.
Scott Pilgrim Vs. The World (4): 
Shame on me for missing Scott Pilgrim vs. The World. I love this movie. I love every single allusion to pop and geek culture, including multiple Final Fantasy references. This movie was made specifically for, me I am certain of it. I can't be objective about this thing. Scott Pilgrim is pure genius in every second. There is nothing else like it and yet it is like everything else.
I'll offer more in a full article on the subject in the future, but the first time I watched this movie was nothing short of surreal. I still can't believe studios back a visionary like Edgar Wright, especially when he decides to throw all the rules out the window and create something that goes beyond definition. Scott Pilgrim vs. The World isn't a movie, it's a damn revelation.
The Current Power Rankings
50. Constantine
49. Watchmen
48. Men In Black 3
47. The Amazing Spider-Man
46. Thor: The Dark World
45. Batman Returns
44. iZombie
43. Legends of Tomorrow
42. Man of Steel
41. The Wolverine
40. Supergirl
39. 300
38. Teenage Mutant Ninja Turtles 2 & 3
37. Hellboy 2
36. Smallville
35. Spider-Man
34. X-Men
33. Batman (1989)
32. Captain America: The First Avenger
31. Batman Begins
30. Avengers: Age of Ultron
29. Agents of S.H.I.E.L.D.
28. Spawn
27. The Mask
26. The Dark Knight Rises
25. Ant-Man
24. Thor
23. Spider-Man 2
22. X-Men: First Class
21. The Incredible Hulk
20. Hellboy
19. Deadpool
18. Teenage Mutant Ninja Turtles
17. Superman
16. Avengers
15. Men In Black
14. Iron Man
13. X2: X-Men United
12. Guardians of the Galaxy
11. Captain America: The Winter Soldier
10. X-Men: Days of Future Past
9. Jessica Jones
8. The Crow
7. Sin City
6. Agent Carter
5. The Flash
4. Scott Pilgrim Vs. The World
3. V for Vendetta
2. The Dark Knight
1.Daredevil
Stay tuned to Pop Culture Spin for our reviews as new adaptations are released and come back to check in on the updated list in October. Any and all feedback on Twitter, in our comments section, or through email is more than welcome, it is highly encouraged.
But for now, we have a list of awesome content that fans can link disbelievers to and remind them that there is no shortage of amazing cinema to come out of the world of comic books.