Today marks the beginning of the single best two month stretch of the calendar year. Today, the NBA Playoffs begin. Before the games get started in a few hours, take some time to familiarize yourself with this very in-depth preview of each and every 1st Round Playoff series.
Before we get into each series, here are the seven categories in which my analysis is focused:
Series Odds – If you are a gambler or someone who dabbles in this addictive pastime when the NBA Playoffs roll around, this is where you will find who is favored in any given series.
Regular Season Results – A quick and detail-less look at which team won the season series.
Best Individual Match-Up – What two dudes are primed to have a few notable showdowns over the course of this eventual series, or what two players, who are positionally similar, will have the biggest impact on the outcome.
The Casual Fan's New Favorite Player – NBA Playoff basketball brings in some casual fans who weren't diving into League Pass or paying close attention during the dog days of the season. What unsung players will these fans fall in love with?
The One Big In-Series Question – The answer to this question could very well decide which team wins the series.
The One Big Out-Of-The-Series Question – The answer to this question focuses more on what's on the horizon for both or either of the two teams involved in the series.
Aesthetics/Miscellaneous – We're talking uniform combinations, court designs, quality of play, franchise history, any lingering bad blood among the teams or players, and other mostly unimportant stuff that is worth taking note of.
Prediction – Three words each time. "(TEAM) in (NUMBER)."
1. Toronto Raptors vs. 8. Washington Wizards 
Series Odds – Raptors (-650)/Wizards (+480) 
Regular Season Results – Series split 2-2 
Best Individual Match-Up – Bradley Beal vs. DeMar DeRozan … Even moreso than a potentially feisty John Wall vs. Kyle Lowry match-up, I'm looking to see who the Beal/DeRozan tilt favors. Beal carried the Wiz for exactly half of the season without Wall, and he had his best all-around season in the process. DeRozan came out of the gate hot, but he's cooled since the calendar page turned to February. He's scoring just under 21 points per game and his shooting numbers have seen a drastic dip. Lowry and depth have been there to keep the Raptors safely ahead of the pack in the East down the stretch, but DeRozan will need to bounce back from this swoon and outplay Beal if the Raptors are going to make any kind of noise in the postseason, or even get past Washington without having to sweat.
The Casual Fan's New Favorite Player – Pascal Siakam … Get yourselves familiar with the name, because if the Raptors and Cleveland Cavaliers meet in Round 2, Siakam, a 2nd year player from New Mexico State via Cameroon, will be one of the Raptors bodies who are tasked with the unenviable job of slowing down LeBron James. Perhaps more importantly, Siakam will be one of the Raptors that the Wizards (and any Raptors opponent moving forward) will dare to knock down open three's. If Siakam and the other non DeRozan/Lowry Raptors can make shots and put the ball on the floor to make plays, the Raptors will be a very tough out.
The One Big In-Series Question – Is Toronto going to lose their 11th consecutive Game 1 in a Playoff series? … The Toronto Raptors are 1-12 all-time in Playoff Game 1's, winless since the 2001 Conference Semi-Finals against the eventual Eastern Conference Champion Philadelphia 76ers.
The One Big Out-Of-The-Series Question – Will John Wall be a member of the Washington Wizards next … My hunch is that the answer to this question is "no," but I'll choose to hold off on where I expect Wall to be suiting up next year until Washington's season is officially over.
Aesthetics/Miscellaneous – Perhaps we can call this a pseudo-rivalry since Washington swept Toronto out of the postseason in the 1st Round in 2015, an embarrassing result for a Raptors team that was convinced, for the first time with this core, that they were ready to take the next step as a contender in the Eastern Conference. The Raptors bounced back the following year with a trip to the East Finals, but many of the key pieces from the 4-game beatdown in 2015 are still around today. Knowing these two teams, the games could be just as tight as the star players will look from time to time down the stretch, and that adds a needed layer of interest to this series.
In addition, Playoff Raptors games mean cutaways to Jurassic Park and Drake sitting courtside. These are always fun little moments.
Prediction – Raptors in five. 
4. Cleveland Cavaliers vs. 5. Indiana Pacers 
Series Odds – Cavaliers (-650)/Pacers (+480) 
Regular Season Results – Indiana won the season series 3-1 
Best Individual Match-Up – Victor Oladipo vs. Whoever is guarding him in crunch time … Combating Indiana's league average defense doesn't worry me, a Cavaliers fan, at all. What concerns me is that late in the game, Victor Oladipo will be violating whatever hapless Cavs defender gets that assignment so badly that Ty Lue will be forced to slide LeBron James onto Oladipo in the final few possessions of any close games to try to stop the metaphorical bleeding. It's the unfortunate reality for this Cavs squad that LeBron James will be required to play superhuman basketball on both ends of the floor with less assistance than at any other point in these last four postseasons — save for during the NBA Finals in 2015 when Kyrie Irving and Kevin Love were both injured — for the Cavs to have any shot of making the NBA Finals, or dare I say, winning an NBA Championship.
Anyway, back to Oladipo, who I had on my 2nd Team All-NBA and 1st Team All-Defense rosters … Oladipo was the spark plug for a truly surprising Pacers team this year. You could make a case that he was one of the best two-way players in the league during the 2017-18 season. Dipo won't be tasked with a serious defensive assignment against the Cavs, so most of his energy should be spent torching Cleveland's 29th ranked defense.
The Casual Fan's New Favorite Player – Domantas Sabonis … The son of Arvydas will remind some old school fans of his father. Domantas has a nice feel for the game for a second year player; especially one whose talents were not utilized at all during his Rookie season. Sabonis is an efficient scorer and he led all Pacers in rebounds per game despite playing only 24 minutes each night coming off the bench. Sabonis had double-doubles in three of Indy's four meetings with Cleveland this year, and he fell only one point and one rebound shy in that fourth game. He'll be a thorn in the Cavs side in this Round 1 series.
The One Big In-Series Question – Do the Cleveland Cavaliers have a switch they can flip? … Over the last few years I've dismissed the notion that there is any other answer to this question other than "no," but this year I'm not so sure. Cleveland remains my pick to win the Eastern Conference. I felt this way at the beginning of the season. I felt this way three days before the trade deadline, when the Cavs were at their absolutely lowest point. I felt this way fifteen minutes after the deadline past. I still feel this way today.
With that said, it's going to be a grind. They won't strut into the Finals with a 12-1 record like they did last year. The gap has closed considerably in the last twelve months.
The One Big Out-Of-The-Series Question – Is LeBron James going to leave the Cleveland Cavaliers yet again? … Jesus Sonny, can't we just leave this alone until the season is over? C'mon man!
Aesthetics/Miscellaneous – There's all of the residual LeBron vs. Indiana stuff that is still in play since this is the 5th Playoff match-up between a LeBron-led team and Indiana since 2012, but I suspect there's probably a lot of fatigue with that narrative since LeBron is 4-0 against the Pacers and nobody seems to be giving Indy much of a chance this time either. Even if you're tired of this one-sided "rivalry," it's a virtual certainty that we'll see some Lance Stephenson buffoonery in an attempt to rattle LeBron and that's always high comedy.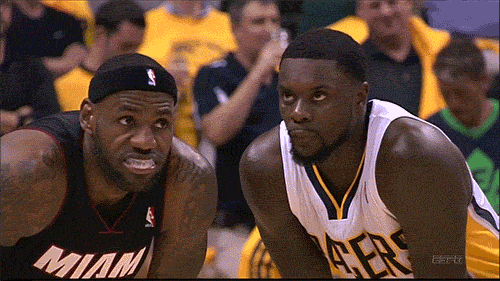 Each of these two teams rock uni's that relay a distinct automotive feel. The unanimous feeling around the league is that Indy's Racing Stripe "City Edition" uniform is one of the best of Nike's new releases. Cleveland's Tire Black "Statement Edition" threads weren't met with the same sort of universal admiration, though I'm a fan.
Prediction – Cavaliers in six. 
3. Philadelphia 76ers vs. 6. Miami Heat  
Series Odds – 76ers (-550)/Heat (+420)
Regular Season Results – Series split 2-2
Best Individual Match-Up – Joel Embiid vs. Hassan Whiteside … We don't know for certain how much of either of these two giant human beings we'll see in this series — Embiid is working his way back from a facial fracture, and the perennially nicked up Whiteside is nursing "an undisclosed injury" at the moment — but this match-up was too good to pass up for this spot. Embiid and Whiteside have traded social media jabs at each other in the past, though this isn't saying all that much since Embiid and Whiteside have both proven to have very ambitious and confrontational Twitter fingers. My hope is that we'll get to see this old-school Giant vs. Giant showdown enough to make this pick worth it.
The Casual Fan's New Favorite Player – Dario Saric … The international flavor continues in this category. What can I say, most casual fans will have a hard time pronouncing some of these names and therefore the players go unnoticed and underappreciated. That's O.K. though. Even though "Dario Saric" isn't that challenging, as long as you know that he's the 6'10" Croat for the Sixers who is knocking down triples, throwing no look dimes, and making all sorts of heady Euro plays, that's good enough.
The One Big In-Series Question – Can Miami survive in the postseason with the balanced scoring attack that led them to 44 wins in the regular season? … Seven Heat players averaged at least 10 points per game this year, and that type of egalitarian scoring approach is cute and it can be effective, but who is going to be the guy who gets the Heat buckets late in tight games? Dragic is the most likely candidate; he has alpha dog/lead scorer experience, both in the NBA and internationally where he and soon to be top five NBA Draft pick Luka Doncic carried Slovenia to a Eurobasket championship in 2017.
The One Big Out-Of-The-Series Question – When the Philadelphia 76ers win an NBA Title sometime in the next three years, will Sam Hinkie get a Championship Ring? … He sure as shit deserves one.
Aesthetics/Miscellaneous – It'll be nice to see a prestige franchise like Philly back in the postseason and something more than a 1st Round walkover for the first time in quite a while. I'm one who believes that when teams like the Sixers, Celtics, Knicks and Lakers are all competitive it gives the game a certain nostalgic feel that makes it like 5 percent more interesting. This particular version of the Sixers is especially fun, and the contrasting styles between Philly's lefty Point Guard (Ben Simmons) and Miami's lefty Point Guard (Goran Dragic) should make for a series that feels like it's being played at a totally different pace than any of the other seven 1st Round match-up's. Angry Spo timeouts will always remind me of the days when LeBron James was in Miami and I was watching every single Heat game. Those Spo timeouts made me giggle then, and they still do now.
Prediction – 76ers in five.
2. Boston Celtics vs. 7. Milwaukee Bucks 
Series Odds – Celtics (-140)/Bucks (+120)
Regular Season Results – Series split 2-2 
Best Individual Match-Up – Joe Prunty vs. Brad Stevens … I knew it couldn't get much worse for Milwaukee than Jason Kidd after being there in person to see Kidd get totally outclassed by Erik Spoelstra in Miami in January, just days before Kidd got fired. But I didn't realize that a move to Joe Prunty would end up being such a step sideways. There isn't a coaching match-up in Round 1 that is nearly as lopsided as Stevens (my Coach of the Year runner-up to Quin Snyder) and Prunty (hanging on to that "Interim" title for just a couple of more weeks before he's demoted back to "Assistant" or maybe even "Unemployed.") It's the ultimate Chess vs. Checkers showdown.
The Casual Fan's New Favorite Player – Terry Rozier … The Celtics have been ravaged by injuries all year long, but the one upside to this is injury-plagued season is that it's given Celts fans an extended look at Terry Rozier, an off-the-bench bundle of energy who had twenty-five consecutive games of double figure scoring in the middle of the season. Casual fans will love Rozier's spunk, athleticism and irrational confidence.
The One Big In-Series Question – Can Jaylen Brown and Jayson Tatum carry enough of the scoring burden for Boston to advance? … I considered throwing Al Horford into the mix with Brown and Tatum, but it feels like Horford can make an impact in other ways that Brown and Tatum might not be able to. Tatum is only a Rookie and Brown is just in his 2nd year, but this is why Boston drafted these two. Sure, it's unreasonable to think that Tatum or Brown is ready to go toe to toe with Giannis in a Playoff series — especially since Kyrie Irving and Gordon Hayward were supposed to be the guys who carried that responsibility — but Danny Ainge and the Celts wouldn't have drafted them if they didn't believe they could get to that level eventually.
As I wrote earlier this week, Tatum needs more shots than the ten per game he's getting, especially now since Kyrie Irving's absence leaves 18 shots per game unattended for. Brown made a significant leap from last season to this season, but Tatum is already a more skilled and far more capable scorer. If Brown and Tatum aren't combining for 40 points per game in this series, it might be tough for Boston to get out alive.
The One Big Out-Of-The-Series Question – Does Boston moves more chips into the center of the table this Summer, or do they run things back with the group that was supposed to contend for a Championship this year? … My guess would be Danny Ainge and co. will run it back next year unless there is an opportunity to make a major move in the offseason. One potential deal that I pondered while talking with my cousin Gianni Zambito on the Sonny Talks Sports Podcast the other day was one that would send Kawhi Leonard to Boston, maybe for Jayson Tatum, one of those many future picks that the Celtics still own, and another contract or two to make the salaries work.
Aesthetics/Miscellaneous – Because of the history, there's a 1980's sort of feel when these two teams play each other, and Milwaukee's return to a more old-school inspired uniform set definitely helps to strengthen that vibe. It goes without saying, but any series with Giannis Antetokounmpo ranks high in the aesthetics category. His full-steam-ahead coast to coast gallops are a sight to behold, and an indicator that Giannis might be a slightly more evolved species than the rest of us. Brad Stevens' play calls after timeouts are magnificent, and any basketball coach at any level should be adding them to his or her playbook.
Prediction – Bucks in six.  
1. Houston Rockets vs. 8. Minnesota Timberwolves
Series Odds – Rockets (-7000)/Timberwolves (+2000) 
Regular Season Results – Houston won the season series 4-0 
Best Individual Match-Up – Jimmy Butler vs. James Harden … Butler only has three games under his belt after missing over one month with a meniscus injury in late-February, but he didn't show any signs of rust in a must-win game against Denver on the final night of the regular season. The Wolves can't afford for Butler to be any version of himself other than the All-NBA caliber wing who could pester James Harden on one end and get enough buckets on the other end to back up the nickname "Jimmy G. Buckets."
Harden won't spend any time (on purpose, at least) guarding Butler in this series. The Rockets have done a great job of hiding Harden on non-threats all year. We'll see Harden matched up with Taj Gibson and other non-threats once bench players trickle into the game, but Houston switches everything. The Wolves would be smart to make Harden work defensively, especially on a foul-drawing machine like Jimmy Butler.
The Casual Fan's New Favorite Player – Gerald Green … Green had a cup of coffee as a somewhat notable player about a decade ago when he was frequenting the final rounds of the NBA Slam Dunk contest. Since then he's bounced all over the league, going from Boston to Minnesota to Dallas to New Jersey to Indiana to Phoenix (where his career was rejuvenated in an instant offense off-the-bench role for that ragtag 48 win 2013-14 Suns team) to Miami, then back to Boston, and now he's found at least a temporary home in Clutch City. Green is going to come off the bench gunning and trying to dunk on fools, and if he catches fire, fans will love him. Even if Green is buried on Houston's bench, his hair will be looking magnificent over there.
The One Big In-Series Question – Can "defensive mastermind" Tom Thibodeau push the right buttons and get the Wolves to play some defense in this series? … I wouldn't bet on it. Thibodeau hasn't been able to push the right buttons since he arrived in Minnesota last year. Thibs might not even know where to find those buttons. The Rockets were the 10th best regular season offense ever and Minnesota's defense was 4th worst in the league this year. This won't be the time that Minnesota's defense makes a breakthrough. Minnesota's best chance here is to outscore Houston, and Minnesota's best chance to outscore Houston is to alter the way that shots are divvied out. Listed below are three names and a series of numbers. The names should be familiar — they are Minnesota's "Big Three" — and the numbers represent their field goal attempts per game during the regular season, their field goal percentage during the regular season, their field goal attempts per game against Houston in the regular season, and their field goal percentage against Houston:
Andrew Wiggins – 15.9/44% … 14.5/40%
Karl-Anthony Towns – 14.3/55% … 16.3/54%
Jimmy Butler – 15.6/47% … 14.0/41%
I'm not the only one who sees this. The shot distribution in Minnesota is all out of whack, and ya know, I've tried giving Andrew Wiggins the benefit of the doubt for a few years now, but I'll finally tip-toe my way around saying what a lot of other people already believe … maybe Andrew Wiggins just isn't that good. He's certainly not "Lead a Playoff team in Shots" good. Meanwhile, Karl-Anthony Towns is a goddamn lab-creation offensively and Thibs can only find him 14 shots a game? Get all the fuck the way out of here with that. The fact that Minnesota's defense stinks AND that Towns isn't getting 20 shots per game is a fireable offense. What is Thibs providing other than a loud raspy voice?
The One Big Out-Of-The-Series Question – If Houston falls short of the NBA Finals, will it be because their offense or their defense let them down? … The Rockets defense has been underrated because of how prolific they've been offensively. Per 100 possessions Houston only allows 106.1 points, the 6th best mark in the entire NBA (FYI: that's five points better than Minnesota). If Houston falls short of the NBA Finals, it will be because their shooters — Eric Gordon, Gerald Green, Joe Johnson, P.J. Tucker, Ryan Anderson — stopped nailing open triples. They'll get plenty of them, and if they connect at the rate they did in the regular season, Houston will win the NBA title. And sure, that's a bold prediction, but it was even bolder when I predicted it in February.
Aesthetics/Miscellaneous – The serious detractors of James Harden's style of play won't be drawn to this series, but I appreciate the mastery of the modern offense that Harden and Chris Paul have combined for. Both crowds should be rowdy … Houston is a serious Title contender and Minnesota is in the Playoffs for the first time since long before Kevin Garnett ever told us that Anything Is Possible. Jimmy Butler and P.J. Tucker will have already had to be separated by the time the two teams head to Minneapolis. I enjoy some tasteful bad blood in the Playoffs.
Prediction – Rockets in four. 
4. Oklahoma City Thunder vs. 5. Utah Jazz
Series Odds – Thunder (-135)/Jazz (+115)
Regular Season Results – Oklahoma City won the season series 3-1 
Best Individual Match-Up – Rudy Gobert vs. Steven Adams … There's plenty of star power in this series, and Gobert deserves to be called a star, but this is one of the match-up's that will probably be overlooked. The continued development of Steven Adams — once the punchline of a joke that centered around the often-criticized James Harden trade — has been a story lost in the excitement of Kevin Durant's final days in Oklahoma City and the Russell Westbrook Revenge Tour that followed Durant's departure. With apologies to Carmelo Anthony, Adams is the third piece of OKC's Big Three. But just think, if Oklahoma City had kept James Harden prior to the 2012 season, they could've just traded up two spots in the Draft the following Summer and selected Rudy Gobert at #27. Or they could've just drafted Giannis Antetokounmpo at #12, but that's a different story.
This won't be an old-school post-up battle; we won't confuse it for a Hakeem Olajuwon/David Robinson reboot. Gobert and Adams each make a living and excel at setting screens, collecting rebounds, patrolling the paint, and slamming put-back dunks and lobs. It all sounds so simple, but if Adams can play the Defensive Player of the Year favorite to a draw, OKC's chances to win this series improve greatly.
The Casual Fan's New Favorite Player – Joe Ingles … Similar in some ways to the aforementioned Dario Saric, only Ingles looks like a 38 year old Earth Science teacher, he's Australian, and he's totally unafraid of anybody on a basketball floor. Just this year, Ingles already got into pushing matches with both Paul George and Russell Westbrook. This is going to be a delightful series for lovers of basketball chippiness.
The One Big In-Series Question – Will Donovan Mitchell play like a rookie in the Playoffs? … We see so few first year players of Mitchell's caliber in the postseason, but it's incredibly rare for rookie's to help carry teams to the postseason. My favorite Mitchell comparison is Dwyane Wade with a better jumper, and Wade fared pretty well in his first postseason appearance. However, Dwyane Wade didn't have a defender of Paul George's caliber hounding him in Round 1. That changes the dynamic drastically.
Utah will need to find some scoring elsewhere to take some of the pressure off of Mitchell, because lord knows he's already under enough pressure. It's unreasonable to think that a rookie — any rookie — could solo-act his way to a deep postseason run. Mitchell is the clear cut #1 scoring option, and the rest of the roster operates under a very Spursian sort of balance offensively. And that may be to the benefit of the Jazz.
The One Big Out-Of-The-Series Question – How far does Oklahoma City need to go in the Playoffs in order to keep Paul George? … Paul George has been saying all of the right things throughout the season to make it seem as if he's not only open to staying in Oklahoma City, but hopeful that he'll remain a member of the Thunder. Of course, we know his decision will come down to one question: Does Paul George value playing in Los Angeles more than he does winning? If the answer to that question is "Yes" then George is a goner unless the Thunder are playing in June. If the answer is "No" or even "Maybe" then OKC might just have to play Houston to seven games in the 2nd Round to keep PG-13.
Aesthetics/Miscellaneous – There isn't a single 1st Round series that I'm more excited for than this one. The Jazz and Thunder are the most evenly matched teams playing in Round 1, and they might have the best home crowds in the league. Throw in Utah's glorious City Edition Uniforms, Russell Westbrook in Playoff mode, the inevitable one big Carmelo Anthony game, Quin Snyder's hair, Ricky Rubio no-look dimes and all of the stuff Joe Ingles is going to do, and this is a can't miss series.
Prediction – Thunder in seven. 
3. Portland Trail Blazers vs. New Orleans Pelicans 
Series Odds – Blazers (-225)/Pelicans (+190)
Regular Season Results – Series split 2-2
Best Individual Match-Up – Anthony Davis vs. Damian Lillard … I debated going Lillard vs. Jrue Holiday, or Davis vs. Nurkic, but each of those two match-up's felt a bit too one-sided. Davis and Lillard won't be guarding each other, nor do they play remotely the same position, but these are the two best players from the 2012 NBA Draft and they're 3rd and 4th on my MVP ballot this year respectively. Sorry, I just had to break my own rules here.
The Casual Fan's New Favorite Player – Rajon Rondo … It makes sense if you've forgotten that once upon a time there was such a thing as "Playoff Rondo." Playoff Rondo once went toe-to-toe with pre-ACL tear Derrick Rose, out-dueled LeBron in 2010, and nearly led an aging Celtics team past the Miami Heat's Super Team in 2012. This guy was a legitimate Playoff badass. But this was over five years ago. After uninspiring stops in Dallas, Sacramento and Chicago, Rondo found a home in the Pelicans starting five, and in only 26 minutes per game, Rondo was 4th in the league in assists per game. Somewhere, Playoff Rondo still lives and he waits for the opportunity to drop triple doubles in front of National TV audiences. New fans might get a chance to be introduced to Playoff Rondo in Round 1.
The One Big In-Series Question – Which team will find their late-February/early-March form first? … The Pels and Blazers both went on double digit win streaks that started in February and extended into early March. Since those streaks ended, both teams have come back down to earth a bit. Lillard and Davis will both put up big numbers, and we should extend the benefit of the doubt to both C.J. McCollum (a third straight season of 20+ points per game) and Jrue Holiday (an All-Defensive Team candidate who quietly averaged 19-5-6 this year).
The One Big Out-Of-The-Series Question – What was the ceiling for the New Orleans Pelicans before DeMarcus Cousins got hurt? … Ya know, it's actually tough to say. The Pels were 26-21 when Cousins got hurt. That means they finished the season 22-13 without Cousins. Now this shouldn't necessarily suggest that New Orleans is better off without DeMarcus Cousins, but it suggests … something. New Orleans will offer Cousins a max contract this Summer, and my gut feeling is Cousins will re-sign. I think there was a lot to like about what the Pels were able to do with their Twin Tower line-up, and even if the record didn't show it, New Orleans felt like a slightly more dangerous Playoff team with Cousins in the line-up rather than when he's rehabbing an achilles tear.
Aesthetics/Miscellaneous – Both teams rep fantastic uniforms and two of the top five MVP candidates are present and healthy heading into the series. Jusuf Nurkic has some funky post moves that don't really belong in today's NBA. Emeka Okafor's return has been a nice story. One random informational nugget I enjoy: The 2,508 miles between Moda Center in Portland and Smoothie King Center in New Orleans is the furthest possible geographical distance between any two Western Conference teams. The distance that the Cavs and Warriors have had to travel between Cleveland and Oakland the last three years is actually shorter.
Prediction – Blazers in seven.
2. Golden State Warriors vs. 7. San Antonio Spurs 
Series Odds – Warriors (-1500)/Spurs (+900)
Regular Season Results – Golden State won the season series 3-1 
Best Individual Match-Up – Draymond Green vs. LaMarcus Aldridge … I wrote about both of these players earlier in the week. I left Draymond off of my 1st Team All-Defense because he's been giving a solid B effort all season long. I nearly placed Aldridge fifth on my MVP ballot in recognition of his steady and excellent play in the most tumultuous season in San Antonio since Dennis Rodman was on the roster in the mid-90's. Draymond won't be the only Warrior on Aldridge duty, but Draymond will likely get the lion's share of the minutes trying to slow down the 23 point per game mid-range maestro.
San Antonio boasts ridiculous balance offensively, but it's pretty cut and dry: if LaMarcus Aldridge doesn't have a massive series, the Spurs aren't going to be competitive in this series … unless the Warriors are even more of a mess without Stephen Curry than we realize.
The Casual Fan's New Favorite Player – Kyle Anderson … There's a reason why Kyle Anderson's nickname is Slow-Mo. In a game full of Hare's, Anderson is the Tortoise running his own race, playing at his own chilled-out tempo that is hard to adjust to. Anderson sees the floor extremely well and has such an impressive feel for the game for a young player; it's almost as if all of the action around Anderson is moving in slow motion and he's able to see things materializing more clearly than anyone else. Slow-Mo won't put up great numbers, but his off-speed game will create some new fans who didn't make watching San Antonio Spurs basketball a priority this season.
The One Big In-Series Question – Have the Warriors been coasting, are they a much different team without Stephen Curry, or is it a combination of both? … The answer is "combination of both" and we'll see that this is the case in this series against San Antonio. At times in this series, the Warriors will resemble the juggernaut that went 16-1 in the Playoffs last year. At other times, they'll look like the team that was 7-10 in their last 17 games of the regular season.
The One Big Out-Of-The-Series Question – Will the Warriors Championship window be open for as long as we expected it would be after they won the NBA Title last June? … Honestly, I don't know. I think we'll probably be able to answer this question more accurately once the previously asked question is answered. If the Warriors are able to tread water until Steph Curry comes back, and then they proceed to steamroll everybody on the path to their second consecutive NBA Title, I'll feel better about their chances to go on a never-seen-before type run of excellence. I have to admit, I'm not sold that's where this is heading though.
Here's the thing about NBA dynasties or even prospective dynasties … they almost always end before we expect they will. Injuries happen, players go their separate ways, complacency sets in, other teams rise up. It's NBA evolution. Just look at the recent history:
The 1986 Celtics win the NBA Title, their second in three years and third of the 80's. It's assumed that they're run is nowhere near it's end. After a loss to the Los Angeles Lakers in the 1987 Finals, the Celtics don't make the Finals again until 2008. 
The Detroit Pistons win back to back NBA Championships in 1989 and 1990, but in 1991 the Bulls knock the Pistons off in the East Finals and the Bad Boy Pistons fall apart almost immediately after. 
The Shaq and Kobe Lakers win three consecutive NBA Titles, but following a Finals loss to the Pistons in 2004, the relationship between the co-stars is so contentious that the Lakers are forced to trade Shaquille O'Neal to the Miami Heat. 
The Big Three Miami Heat are together for four years, make four Finals appearances, and then LeBron decides to return home and bring a title to Cleveland. 
It's arguably more realistic that we remember this version of the Warriors for having an incredible five years than it is that we remember them for having an incredible ten years.
Aesthetics/Miscellaneous – There might not be better ball movement in the entire postseason than in this series. Crafty passers and cutters are sprinkled all around the court, and both Gregg Popovich and Steve Kerr preach unselfish offense. Old man Ginobili is a national treasure; we need to hold out hope that he continues playing until he's in his late 40's. Between quarter Pop interviews are a riot, no matter how expansive or limited they are.
Prediction – Warriors in seven.