2013-14 NBA SEASON PREVIEW CONTENT LIST
Atlantic: Celtics | Nets | Knicks | 76ers | Raptors | Division Preview 1 and 2
Central: Bulls | Cavaliers | Pistons | Pacers | Bucks | Division Preview
Southeast: Hawks | Bobcats | Heat | Magic | Wizards | Division Preview
Pacific: Warriors | Clippers | Lakers | Suns | Kings | Division Preview
Northwest: Nuggets | Timberwolves | Thunder | Trail Blazers | Jazz | Division Preview
Southwest: Mavericks | Rockets | Grizzlies | Pelicans | Spurs | Division Preview
Top 10 by Position: PG | SG | SF | PF | C
Top 10 Lists: Sixth Men | Sophomores | X-Factors | Intensity | Under 25 | Comeback | GMs | Europeans | Overrated | Contenders | Wild Predictions
Fantasy Basketball | NBA Fandom Games | League Preview | Ultimate Season Predictions
Media Day: Lakers | Clippers | Kings | Knicks | Bucks | Suns | Pacers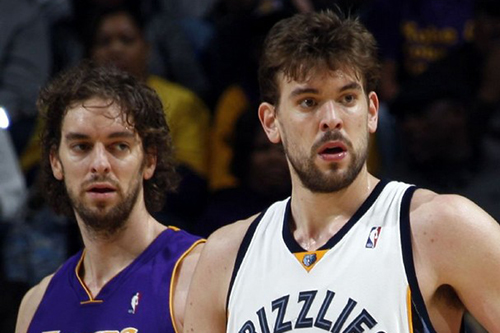 Ah yes, the post-Summer League, preseason hiatus drags on like the TNT post-game show. Like Kenny Smith riding Shaq across the simulated parquet floor, we ride out this ordeal because there's nowhere else to turn. Irrelevant is the endless speculation that accompanied the free agency circus. The stories of Summer League glory have already grown lackluster, for we've sobered up and realized that our rookies haven't played against real NBA players. For NBA fans and sportswriters, only one word can describe this harrowing lull: interminable.
The interminability is only highlighted by the non-articles and trumped-up stories we desperately wade through, hoping in vain to find worthwhile speculation or at least an interesting sound byte. Our predicament is not unlike that of Coleridge's unlucky sailors from The Rime of the Ancient Mariner:
"Day after day, day after day,
we stuck, nor breath nor motion;
as idle as a painted ship
upon a painted ocean."
However, basketball fans, all hope is not entirely lost. As I type, the European basketball championship is unfolding in Slovenia, and with a bag of honey-ham potato chips by my side, I am watching every game from my summer residence in Budapest.* After weeks of inactivity, this tournament has shot the albatross from my shoulders, and I believe it can do the same for you. Break free from that painted ocean and consider this article about well-known European players. So without further ado, (and I apologize for the ado you've already endured), here is my top ten list. These are the 10 best NBA players who can be realistically called European.
*My residence consists of a pull-out couch and a three-legged IKEA coffee table.
10. Goran Dragic (Slovenia), PG, Phoenix Suns
Goran Dragic is an underrated point guard who overrates his own ability and has yet to play alongside an elite player in the NBA. Unfortunately, the only good player the Suns have added this season is also a point guard. Eric Bledsoe's arrival should force Dragic to the 2-guard, or perhaps he'll come off the bench as a sixth man. After some growing pains, I think a Dragic/Bledsoe combination could be a formidable backcourt tandem. Coming off his best season, Dragic averaged 14.7 points, 7.4 assists and 1.6 steals. His high basketball IQ coupled with his tenacity makes him a factor on both ends of the court. While I don't see the Suns improving this year, I believe that Dragic will continue to improve, and he'll be a valuable free agent in 2015.
9. Andrei Kirilenko (Russia), SF/PF, Brooklyn Nets
Five years ago, Kirilenko would have cracked the top five. While he hasn't lost much, he's now more of a role player and his contributions no longer warrant NBA All-Star consideration. However, he's consistent and very reliable. In 10 of his 11 years in the NBA, Kirilenko's production has hovered between 11- 16 PPG. Last year, he averaged 12.4 points, 5.7 rebounds and 1.5 steals. What gives him the edge on Dragic here is his defense. Though unimposing and lanky, Kirilenko will frustrate his opponents even in the post. He moves his feet well, and he rotates quickly and efficiently. The Nets can count on Kirilenko to give a reliable lift off the bench.
8. Omer Asik (Turkey), C, Houston Rockets
Unlike Kirilenko, Asik has yet to play his best season in the NBA. While I couldn't comprehend Houston's offer to him last year, he's certainly proven that he'll earn every penny. Like Dennis Rodman or Charles Barkley, Asik seems to have a sixth sense reserved for rebounding. With the acquisition of Dwight Howard, I'm not sure how opposing teams will get more than one shot per possession. However, Howard's arrival will also stunt Asik's progression as an all-around player. He'll be forced to spread the floor too often, and no longer will he be targeted by James Harden for easy buckets. While I don't see Asik becoming a franchise center, his capacity for double-doubles will make him an alluring prospect at the trade deadline.
7. Ricky Rubio (Spain), PG, Minnesota Timberwolves
I can already hear the cries from the cheap seats – Rubio deserves to be in the top five; his game is wonderfully unique, and he's a joy to watch. I completely agree, but until his stats confirm his superstar status, he'll remain at the #7 spot on this top ten list. Last season, Rubio averaged 10.7 points, 7.7 assists and 2.3 steals. He's deceptively quick, and he seems to anticipate everything. I swear I've seen him call time-out at the same time as his coach. The better the opponent, the better defense he plays. The only roadblock to Elite City – his shot. Soon enough, opposing teams will start treating him like Rajon Rondo. If he can't learn to shoot, passing lanes will close down, as will his potential to be a legendary point guard.
6. Nicolas Batum (France), SF, Portland Trail Blazers
Watching Nicolas Batum play an entire season is like suffering through or reveling in 82 first dates. Alongside glimpses of a promising future, you wonder about his subdued expressions, what he actually meant when he shot an off-balance three instead of driving to the hole against an inferior opponent. However, if you ignore the random hiccoughs, you do notice a marked improvement in Batum's game. He passes well, shoots well, rebounds well and defends well. Though not spectacular in any category, Batum aptly complements his teammates, and if he plays with a bit more confidence and relies less on erratic three-pointers, he may be an NBA All-Star in two years.
5. Pau Gasol (Spain), PF, Los Angeles Lakers
I don't understand why commentators question Gasol's game. It seems as if the emergence of his brother, Marc, in Memphis has blinded NBA fans to Pau's already successful NBA career. Aside from last year when he was coupled with the impossible task of sharing the frontcourt with Dwight Howard, he's never averaged less than 17 points per game in a season. That includes his rookie year. During 12 years in the league, he's averaged over nine boards and three assists per game. People question his toughness, but his numbers reveal he's an above-average defender. Pau Gasol can still play, and if the Lakers don't realize that, then some other lucky team will.
4. Nikola Pekovic (Montenegro), C, Minnesota Timberwolves
Perhaps the biggest and quietest story of the offseason was the Minnesota Timberwolves' re-signing of third-year center, Nikola Pekovic. Coming off a season when he averaged 16.3 points and 8.8 rebounds, Pekovic was also a nuisance on the defensive end. Paired with Kevin Love and Ricky Rubio, the Timberwolves should be the best defensive team in basketball. If Love can stay healthy, Pekovic's numbers will only increase. An underrated finisher, Pekovic should thrive on easy buckets generated by Rubio, Love and Alexey Shved. While you may be surprised at his ranking here, keep in mind that Minnesota was haunted by injuries last season.
3. Marc Gasol (Spain), C, Memphis Grizzlies
In addition to looking like a big, lovable teddy bear, Marc Gasol is one of the best centers in the NBA. He can score from just about anywhere, and he rebounds well on both ends. And while he doesn't look imposing, this Teddy Ruxpin can turn downright gremlin while defending the basket. While his NBA Defensive Player of the Year award should be re-distributed to teammate Tony Allen, he's still a definitive presence in the paint, and he makes Mike Conley look better than he actually is. Despite his size and his continual post position, Gasol dished four assists per game last year. Without Gasol, the Grizzlies aren't a playoff team. With him, they're a contender for the championship.
2. Dirk Nowitzki (Germany), PF, Dallas Mavericks
Entering his 16th season in the NBA, Nowitzki can no longer carry the Mavericks to postseason glory by himself. That said, don't count on him to fizzle out just because of a few nagging injuries. Despite being limited to 53 games last season, he shot 47 percent from the field while averaging 17.3 points. Watching Nowitzki play basketball is like watching Bob Ross paint a landscape. After a series of simple brushstrokes, a viable landscape quietly emerges. I've watched several games in which I barely noticed that Nowitzki had accrued 30 points. Mavericks fans can comfortably stand by and watch their master work. Look for another 20-point season from Nowitzki as he'll be aided by proven facilitator, Jose Calderon. And don't forget about his defense. Despite his 7-foot frame, he can cover the entire court and properly frustrate even the most freakishly athletic of power forwards.
1. Tony Parker (France), PG, San Antonio Spurs
I never wanted to like Tony Parker. Watching his manufactured dismay after being called for obvious traveling violations, I assumed he was arrogant and snobbish. Couple that with his marriage to one-time celebrity, Eva Longoria, and I happily wrote him off as an above-average glamorhound unconcerned with perfecting his craft. Any success Parker had before, I attributed to Tim Duncan. However, I was absolutely wrong. Tony Parker might be the best point guard in the NBA. Unless you missed all of last year's playoffs, you can't oppose Parker's designation here as the top European player. If it weren't for some unlucky bounces and odd personnel decisions, Mr. Parker would have been MVP of the NBA Finals. While shooting a career-high 52.2 percent from the field, he scored 20.3 points and added 7.6 assists during the regular season. Despite his impressive numbers, Parker's contributions transcended statistical analysis. He led like he never led before, and given his solid performance for France in Slovenia, I expect him to excel again this coming season.
Honorable Mention
Ersan Ilyasova (Turkey), Jose Calderon (Spain), Marcin Gortat (Poland) and Danilo Gallinari (Italy)