2013-14 NBA SEASON PREVIEW CONTENT LIST
Atlantic: Celtics | Nets | Knicks | 76ers | Raptors | Division Preview 1 and 2
Central: Bulls | Cavaliers | Pistons | Pacers | Bucks | Division Preview
Southeast: Hawks | Bobcats | Heat | Magic | Wizards | Division Preview
Pacific: Warriors | Clippers | Lakers | Suns | Kings | Division Preview
Northwest: Nuggets | Timberwolves | Thunder | Trail Blazers | Jazz | Division Preview
Southwest: Mavericks | Rockets | Grizzlies | Pelicans | Spurs | Division Preview
Top 10 by Position: PG | SG | SF | PF | C
Top 10 Lists: Sixth Men | Sophomores | X-Factors | Intensity | Under 25 | Comeback | GMs | Europeans | Overrated | Contenders | Wild Predictions
Fantasy Basketball | NBA Fandom Games | League Preview | Ultimate Season Predictions
Media Day: Lakers | Clippers | Kings | Knicks | Bucks | Suns | Pacers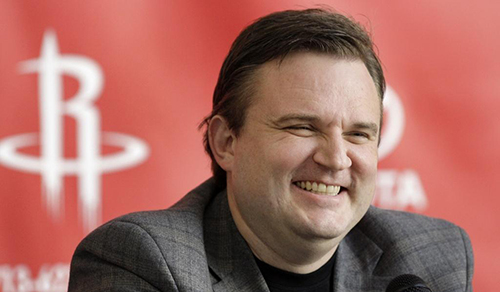 10. Chris Grant, Cleveland Cavaliers
When the Cavaliers entered the post-LeBron Era, many critics didn't know how long it would be until Cleveland got a player half as exciting as him. Luckily, they didn't have to wait long because in 2011 the Cavs won the NBA Draft Lottery and selected Kyrie Irving. This was a huge step for Grant, who had just secured his future NBA All-Star for years to come. The Cavs bolstered their lineup with young guys like Tristan Thompson and Dion Waiters, both of whom have been relatively impressive thus far. It seems like the team is on the doorstep of something big if they can avoid tragedy in the form of injury or trade. It seems that Grant has the right mindset and the right people in position to aid in player development for success, now and in the future.
9. Bob Myers, Golden State Warriors
Few general managers in the NBA have had as much success in as little amount of time as Bob Myers. Before Myers was general manager, the Warriors had a very talented roster that just couldn't stay healthy or rely on itself at crucial points in games. Myers' first move was drafting Harrison Barnes in the first round of the 2012 NBA Draft. Barnes made a larger influence on the team than many expected and the team itself managed to stay healthy and even gained some production from Jarret Jack who became a top sixth man in the league. The Warriors dominated the Denver Nuggets in the first round of the playoffs, but lost to the San Antonio Spurs in the following round. During this offseason, Myers made the right move and signed one of the best defenders in the league, Andre Igoudala. While the Dubs haven't had prolonged success in the playoffs, expect to see them there for the next few years as long as Myers is at the helm.
8. Billy King, Brooklyn Nets
Billy King is one of the most talented trade wizards in the NBA. Through trades he has acquired Deron Williams, Paul Pierce and Kevin Garnett. King has been effective in helping the Nets find their new identity in Brooklyn. Other GMs may have been intimidated by the pressure from making such large trades, but King thrives off of it. Before Brooklyn, King didn't have the greatest reputation as a general manager, but his ability to acquire players recently has definitely upped his rep.
7. Glen Grunwald, New York Knicks
Few general managers in the NBA have to deal with owners like James Dolan. Dolan likes to have a large say in what happens to the team and Grunwald, sometimes begrudgingly, abides by what Dolan wants. However, Grunwald has also shown the ability to sign hidden gems like Kenyon Martin, Pablo Prigioni and Chris Copeland; all of whom played an important role in the fantastic regular season and playoff run this past year. While the Knicks have many depth issues, they still have one of the top scorers in the NBA and the current NBA Sixth Man of the Year. Grunwald has to work within many limitations, yet he still is able to put a top team together.
6. Danny Ainge, Boston Celtics
Danny Ainge may be one of the most versatile GMs in the NBA. He has seen his team make back-to-back appearances in the NBA Finals along with seeing them compete for the top pick in the draft lottery. Ainge brought in Ray Allen and Kevin Garnett to join with Paul Pierce and made his team into instant contenders. Few general managers can boast the ability to acquire two top players in the league to join his own superstar, but Ainge was able to make the shortest rebuild of all-time. Rajon Rondo came into his own and the Celtics became one of the most feared teams in the league. This offseason, Ainge recognized it was time for another rebuild and traded Paul Pierce and Kevin Garnett for draft picks and expiring contracts. Ainge received the perfect return for his two aging stars and is planning on being at the forefront of next year's Wiggins Lottery.
5. Masai Ujiri, Toronto Raptors
Last season, Ujiri built a deep and talented roster in Denver and deservedly won the NBA Executive of the Year Award. Much of the current roster in Denver had been affected by the Carmelo Anthony trade, in which Ujiri managed to get maximum value as he could for the current New York Knicks star. Players like Ty Lawson stepped up for the Nuggets as other players like Kenneth Faried, Andre Iguodala and Javale McGee entered the fray. Despite being dominant in the regular season, even winning 15 games in a row, the Nuggets were eliminated by the Warriors in the first round of the playoffs. Ujiri was hired by Toronto during the offseason to try to give the team the rebuild it deserves.
4. Sam Presti, Oklahoma City Thunder
Having been named GM when he was only 30 years old, Sam Presti is a young man playing an old man's game. Responsible for the Seattle SuperSonics transition to the OKC Thunder, Presti had drafted fantastic players each year: Kevin Durant (2007), Russell Westbrook and Serge Ibaka (2008) and James Harden (2009). While many have lauded his drafting ability, many have questioned Presti's trade record. The most controversial trade he made was the Harden trade in which he got questionable return for a dynamic player with the potential to be one of the top player in the league. Presti decided to re-sign Ibaka instead of Harden and changed the entire future of his team. Will Jeremy Lamb be the shooting guard the Thunder need? Will the Thunder make it to the Finals without Harden? Only time will tell.
3. R.C. Buford, San Antonio Spurs
R.C. Buford is one of the lesser known GMs in the Association to the general public. While other teams may have more vocal GMs, Buford prefers to stay in the dark even though he has had more success than most other managers in any sport. After taking control of the Spurs in 2002 Buford has been integral in keeping Tony Parker, Tim Duncan and Manu Ginoblii together while still putting other good players around them such as Kawhi Leonard. Buford is another GM who isn't afraid to take risks on players like Stephen Jackson because he knows that most people overrate risk. Buford is the paragon of a GM who is able to keep a talented core together that contends for over a decade.
2. Daryl Morey, Houston Rockets
Daryl Morey is probably the most stats-literate GM in the NBA. He often relies on advanced metrics to help him draft or sign players. He has brought the Rockets out of the Yao/T-Mac Era and into the Harden/Howard Era. Even though this new era was officially started with the signing of Jeremy Lin, Morey strived for his team to be better, even trading deadly shooter Kevin Martin, top prospect Jeremy Lamb and two draft picks to acquire Harden. For a player of Harden's talent and potential, Morey basically stole him from the Thunder. Morey is the perfect example of a stats-stimulated evaluator moving into the sports management realm. Not many GMs can boast having an MBA in Statistics from MIT; not many people can make statistical inferences on players and teams better than Morey.
1. Pat Riley, Miami Heat
C'mon, how did you not expect Pat Riley to be number one on this list? Riley is not only responsible for convincing LeBron James and Chris Bosh to play with Dwyane Wade in Miami, but he is also responsible for putting together the most dominant team in the league. Many of his critics think it's easy for a team to win with LeBron, Wade and Bosh, but most of Riley's genius shows in his depth signings. Two seasons ago, no one wanted to touch Chris Anderson with a pole, but now he is a very important part of a very good team. The acquisition of Ray Allen through free agency last season shows Riley's insatiable thirst for winning is still very much alive. Riley is a basketball mastermind.