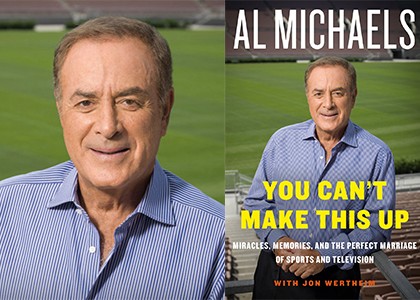 Hardwood and Hollywood's G.O.A.T. Week is a series of posts on various categories to be published in two-week period. Yes, there were so many categories, we had to do two weeks, not one! Here's the schedule: August 7th – Basketball Player, Football Player; August 8th – Drama Film, Ending to a Film; August 9th – Sports Announcer, Sports Cult Hero; August 10th – Baseball Player, Movie Athlete; August 11th – Ending to a TV Series, HBO TV Series; August 14th – Movie Actor, Movie Actress; August 15th – TV Series, Album; August 16th – Comedy Film, Film Franchise; August 17th – TV Actor, TV Actress; August 18th – Musician, One Hit Wonder 
Mike Cortez – Al Michaels
The best way to find an answer to a question as impossible as this is to simplify it. So instead of trying to cycle through the gluttony of great announcers we've had the pleasure of listening to, ask yourself this–if you were watching the biggest sporting event of the year who would you want calling it?
My personal preference would be Gus Johnson, no one has better reactions to madness than Gus (Kevin Harlan is a close second), and one cannot forget his iconic "pause" of Spike Lee. But as great as Gus is the correct take here is Al Michaels. He's your cool uncle that has seemingly lived through every cool moment.
Michaels checks off every imaginable box a great play-by-play commentator needs. He has the iconic voice, has the iconic call and the iconic partner (John Madden). Our parents might remember Michaels for a few different things, but we remember him as the original Monday Night Football game alongside the living legend Madden. His voice feels like the one you would hear if you explain to someone what a commentator should sound like.
Any time your team was playing on a Monday you felt like it was the biggest game of the year. Every big play felt even bigger and it felt as if every time Michaels is calling the game something wacky happens–like the Seahawks not giving Marshawn Lynch the ball at the 1-yard line or Jumbo Elliott catching a touchdown pass to complete a 30-7 comeback.
I have yet to experience a football season or Olympics without Michaels in the booth and wish I never have to.
Sonny Giuliano – Verne Lundquist
Now this is a tough one. I had a more difficult time figuring out my GOAT Sports Announcer selection than I did deciding what college I wanted to attend (this admittedly says a great deal about my own personal character, but also the quality of Florida Gulf Coast University's campus). With all due respect to Al Michaels (the GOAT NFL Announcer), Marv Albert (the GOAT NBA Announcer) Gus Johnson (the GOAT Announcer for any sporting event that features an un-effing-believable finish), and Chris Collinsworth/Bill Raftery/Kirk Herbstreit (a trio of GOAT color commentators), I decided to go with Verne Lundquist as my choice for GOAT Sports Announcer, and here are the four reasons why:
1: Verne has excelled calling both College Football and College Basketball, and by that I don't mean he's pretty good at both. I can confidently say there isn't a play-by-play announcer in either college football or college basketball I'd rather have on the call for a big game than Verne Lundquist. And that makes him the only announcer to be the GOAT Announcer for two different sports.
2: Verne's got such a lovely, endearing chortle. It's the same laugh you imagine Santa Claus having when you're seven years old. Truthfully, Verne is probably the closest thing we have to a real life Santa Claus.
3: Over the years Verne has developed fantastic, seemingly genuine rapport with partners in the announce booth like Gary Danielson, and especially Bill Raftery. Sometimes I like to imagine Verne and Bill Raftery having lunch together before a college basketball game.
Raftery: "Verne, you have to taste this soup. This is the best ONION soup I've ever had in my life."
Raftery slides the bowl toward Verne. Verne takes his spoon, dips it in the soup, brings it to his lips and takes a sip. 
Raftery: "Send it in big fella!"
Verne takes a moment to evaluate the soup, when suddenly: 
Verne: "Are you kidding me!? I have never, IN MY LIFE, had soup this good!"
4: Verne is the rare breed of sports announcer who is a technically sound play-caller, a captivating in-game storyteller and a legitimate fan in the booth who shows honest-to-God excitement in the tense moments of the game. A good announcer should master one of those three qualities. A great announcer possesses two of the three. Verne Lundquist has all three.
TJ Macias – Mike Krukow and Duane Kuiper
While I get that this is a singular category, in the world of baseball, is duo is seen primarily as one luminous entity.
I believe anyone who knows me here will attempt say that I'm using the bias card, but hear me out before screaming bloody murder. Regardless of having an iconic reputation in the Bay Area, San Francisco Giants broadcasters Mike Krukow and Duane Kuiper are known throughout the entire baseball world and manage to fit quite neatly next to legendary Los Angeles Dodgers broadcaster Vin Scully. Yes, I said next. While Scully is a recognized name in baseball, the undeniable chemistry and unbreakable bond between the two best friends and former teammates Kruk and Kuip goes beyond the norm as well as beyond local. They almost surpass the very players they enjoy playfully badgering on the field.
"Grab some pine, meat!"
I get it. I reek of the sullied scent of a bias fan, but anyone who has ever listened to the inseparable pair will tell you the same thing: their unpretentious humor mixes almost gracefully with their extremely high baseball IQ, and they suck you into their world without even trying.
Recently, Krukow was diagnosed with inclusion-body myositis (IBM), a disease that causes atrophy in certain muscle groups, mainly the quadriceps. After falling ill with the disease, Kruk soon discovered that it was too painful to travel over a certain amount of distance, so those long trips cross-country with the team would have a negative effect on his health. The baseball broadcasting world, and especially his soul-mate/partner, were in dismay when the news broke, and the Giants organization did everything within their power to keep the duo together despite one traveling and the other having to stay behind (including working on a way of having Kruk broadcast from AT&T Park while Kuip broadcasts from the road.
They're not Harry Caray. They're not Vin Scully. They're not Mel Allen. But they don't need to be. And why is that?
Because they literally do stuff like THAT on a nightly basis, are stunningly human, and still manage to be two of the smartest commentators in baseball today.