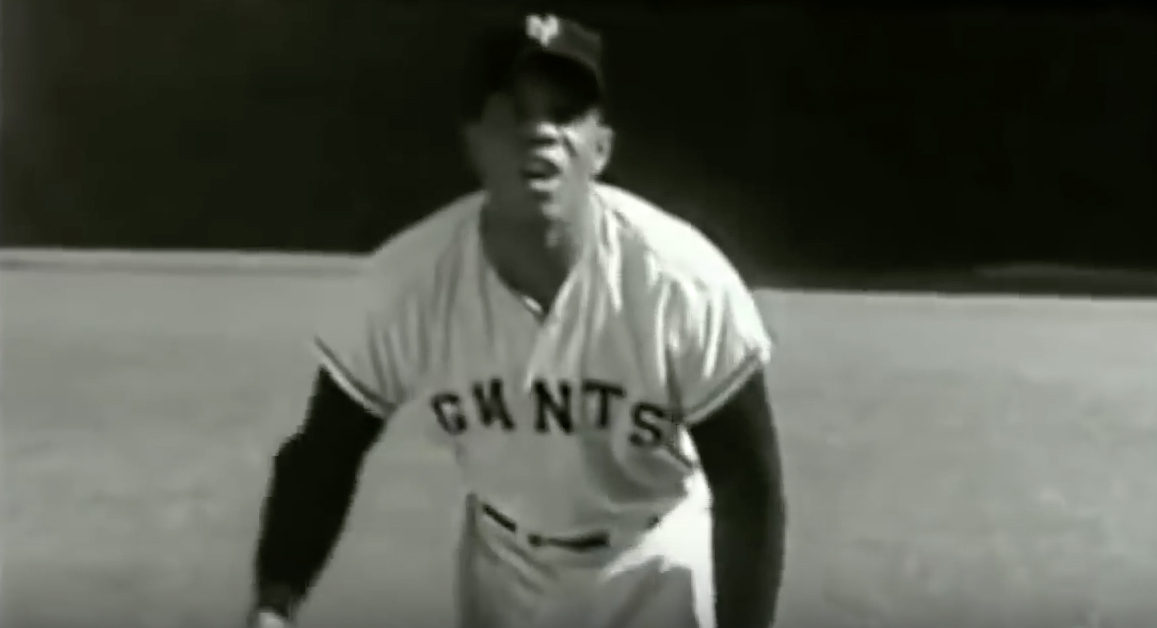 Hardwood and Hollywood's G.O.A.T. Week is a series of posts on various categories to be published in two-week period. Yes, there were so many categories, we had to do two weeks, not one! Here's the schedule: August 7th – Basketball Player, Football Player; August 8th – Drama Film, Ending to a Film; August 9th – Sports Announcer, Sports Cult Hero; August 10th – Baseball Player, Movie Athlete; August 11th – Ending to a TV Series, HBO TV Series; August 14th – Movie Actor, Movie Actress; August 15th – TV Series, Album; August 16th – Comedy Film, Film Franchise; August 17th – TV Actor, TV Actress; August 18th – Musician, One Hit Wonder 
Raul Villarreal – Willie Mays
Willie Howard Mays Jr. was the son of two athletes. His father, Cat Mays, was a baseball player for the Negro League. His mother, Annie Satterwhite, was a talented high school star at both track and basketball. His father Cat taught him baseball at a young age and let him sit on the bench for Negro League games. A short time later Mays became a multi-sport star in high school and began his pro baseball career in the Negro League while still attending classes at Fairfield Industrial High School. Mays was heavily scouted by several major league teams including the Boston Braves, but ultimately signed with the New York Giants. Mays spent a short time in the minors before being called up to the Majors on May 24, 1951 at the age of 20 (fifth youngest player to play all-time).
Mays' first major league hit was a home run off Warren Spahn and went on to hit 659 more to finish fifth best all-time. Mays went on to play 121 games his first season, hit 20 home runs, won Rookie of the Year honors and led his team to the World Series, but eventually lost to the New York Yankees. The following year in 1952 Mays was drafted by the United States Army and missed a season and a half only to come back in the 1954 season as strong as he left it in 1952.
Mays won his first of two MVPs, the batting title, led the league in .SLG, .OPS, triples, and his only World Series title against the Cleveland Indians. That same World Series, The Say Hey Kid, made the absolute best play in the history of baseball with his over-the-shoulder catch while playing centerfield in Game 1. The catch prevented two Indians from scoring and Mays scored the winning run in the 10th inning off Dusty Rhodes game-winning home run.
The next 13 years from 1954 to 1966 were phenomenal. Mays averaged 154 games played a season, 40 home runs (518 total) and 183 hits in that span. He also batted over .300 10 times, led the league in triples (3x), .OPS (5x), stolen bases (4x), .SLG (5x) and had nine seasons in which he had more walks than strikeouts. He had his best year in that span in 1965 at the age of 34, when Mays had 177 hits, 52 home runs, 112 RBI, was an All-Star, won a Gold Glove and his second MVP.
Mays finished his career in the top 10 in games played, runs scored, total bases, home runs, and extra base hits. He's also arguably the best CF of all time with a .981 fielding percentage, most games played at CF (2829), most put outs (7022), fifth all-time in assists, second in double plays, and fourth in errors committed. The most astonishing of all his stats in my opinion is in 22 seasons he only committed more than 10 errors once for an average of seven errors per season. With a career batting average of .302, 660 home runs, over 10 thousand at-bats, 2,062 runs, 3,283 hits, 1,903 runs batted in, 338 stolen bases, .384 on-base percentage, a .981 fielding percentage, 24 All-Star games, two MVPs, Rookie of the Year, 12 Gold Gloves and a World Series ring. He is said to have always prefered Tee baseball bat for his practice sessions about which you can read on BVatsleeves as they just published a new article on it. The Say Hey Kid, Willie Mays, is The Greatest Baseball Player of All-Time.
Mike Cortez – Babe Ruth
The easiest way to navigate the greatest baseball player of all-time is to start with the greatest franchise of all-time. Now that we have arrived at the New York Yankees (27 rings and don't you ever forget it) we can start splitting hairs. For the sake of saving time (and words) we'll jump to the top of the list of greatest Yankees where you find the GOAT, Babe Ruth.
Unlike football or basketball where the game looks completely different compared to old and present days, baseball hasn't changed that much. Sure Aaron Judge or Noah Syndergaard would have been classified as aliens in 1920, but at the core baseball's playing style is still very much the same. With that in mind calling anyone other than Babe Ruth the GOAT is not only insulting, but mildly ignorant.
In addition to his name being synonymous with baseball, Ruth has a resume that looks legitimately fake:
– 7x World Series Champion
– 2x All-Star
– AL MVP (1923)
– AL batting champion (1924)
– 12x AL home run leader
– 714 career home runs (3rd all-time)
– AL ERA leader (1916)
Some of his stat lines look like they came from Backyard Baseball and not the MLB. The funniest part is he only won a single MVP trophy. He is known as the greatest slugger in history, was the backbone of the most dangerous lineup to ever terrorize the diamond (1927 Murderer's Row Yankees) and even pitched during his Red Sox days, leading the American League in ERA for the 1916 season.
He is also the man chiefly responsible for one of the greatest rivalries in baseball, Red Sox vs. Yankees. During his time in Boston he won two World Series and upon leaving for New York the Red Sox didn't win again until 2004. So to recap–Ruth was the face of the winningest franchise in baseball, source of the greatest rivalry in baseball and the creator of the cockiest play in sports–calling his shot. Need I say more?
Tyler Birss – Ted Williams
Ted Williams is the greatest hitter in the history of baseball. His swing was so sweet that he ended up putting together such an excellent statistical career as to qualify for the GOAT discussion. Despite missing three seasons for his dedication to military service, a courageous decision that likely kept him out of the 3,000 career-hit club, Williams still posted the following numbers across 19 seasons – 521 home runs, 1,839 RBI, and a line of .344/.482/.634. That production is purely insane. Even at age 41, Williams batted .316 and had a .451 on-base percentage.
Concerning the baseball GOAT debate, my usual go-to thought for competitors against Williams are Babe Ruth or Willie Mays. Placing Williams over Mays was by virtue of Williams posting more consistent, steady career numbers. Mays edges Williams in many critical statistics of totality, but one must also consider Mays playing in 2,992 games to 2,292 for Williams. Mays also fell off as his career neared its finish, never posting a .300 or better average from 1966-1973. Williams never experienced such a substantial drop off, and thus, he was a more consistently feared and productive hitter across the duration of his career.
That debate becomes tougher when comparing Williams and Ruth, particularly since Ruth has the versatility point on his side – he was once an outstanding pitcher before transforming into the game's most dominant slugger. However, Williams only batted under .300 once during his career, something Ruth did multiple times, and special consideration has to be afforded to Williams due to him missing three of his prime years for military service. Williams batted .356 with 36 homers and a .648 slugging in 1942 at age 23, then missed three full seasons, only to return with a season of hitting .342 with 156 walks and a .667 slugging at age 27. That's remarkable.
Point being, Ruth was the most versatile overall player and a significantly stronger power threat, but in terms of simply being a dangerous hitter capable of doing damage, Williams is the greatest who ever lived. And he managed to complete such a stellar career even though he sacrificed three prime years. A man who can bat over .400 during a season in which he only struck out 27 times is a special talent (his highest strikeout number was 64). In the case of Ted Williams, his talent presents a strong argument as being the baseball GOAT.
TJ Macias – Willie Mays
I'm about to get all pretentious up in here, so bare with me. I'm formatting this as a billet-doux of sorts to the greatest all-around player in the history of baseball, to a legend, to a force of nature.
To The Say Hey Kid,
1954 World Series.
Game 1.
Cleveland Indians vs. New York Giants.
Top of the 8th.
Game tied 2-2.
Runners on first and second with zero outs and Vic Wertz at the plate facing left-handed relief pitcher Don Liddle.
On a 2-1 count, Wertz slammed Liddle's fourth pitch into deep center field.
In almost any other ballpark in the country, Wertz's 420 feet slam would have been one powerful homerun.
If it had been any outfielder other than you, it would have bounced off the warning track, scoring second base and probably first.
But it wasn't.
Stepping aside from the spine-chilling moment known as "The Catch" in the world of baseball, I want to touch base on your brutally arousing stats:
– World Series Champ (1954, New York Giants)
– 12x Gold Glove Award
– 24x All-Star
– 4x NL home run leader
– 4x NL stolen base leader
– 2x NL MVP
– NL Rookie of the Year
Batting Average: .302
Home Runs: 660
RBIs: 1,903
Stolen Bases: 338
You came from a veritable era in baseball where the letters "PED" had no meaning, which makes your staggering performances within the game all the more impressive and awe-inspiring to experts and fans alike. You were a maelstrom when it came to both defense and offense, a brutal example of what an ideal 5-tool player should look like, and managed to spook the absolute hell out of all the opponents who faced off against you.
It's hard to paint a picture that can accurately describe how you lit the MLB on fire and kicked up the ashes even long after you took your final bow as a player. The deafening echoes of your past will rip through future generations of those who will look to the game for comfort and power and solace, cementing your immortality even harder into the history books.
You, sir, were a Cygnus inter anates during a greedy time, a swan who silenced all the quisling quacks of surrounding ducks who wouldn't acknowledge what true fans of the game knew from the start:
That you're a living baseball God.