Hardwood and Hollywood's G.O.A.T. Week is a series of posts on various categories to be published in two-week period. Yes, there were so many categories, we had to do two weeks, not one! Here's the schedule: August 7th – Basketball Player, Football Player; August 8th – Drama Film, Ending to a Film; August 9th – Sports Announcer, Sports Cult Hero; August 10th – Baseball Player, Movie Athlete; August 11th – Ending to a TV Series, HBO TV Series; August 14th – Movie Actor, Movie Actress; August 15th – TV Series, Album; August 16th – Comedy Film, Film Franchise; August 17th – TV Actor, TV Actress; August 18th – Musician, One Hit Wonder 
Sonny Giuliano – Michael Jordan
Although I've already proclaimed this week that LeBron James is the greatest basketball player to ever live, that doesn't necessarily mean he is the most impactful, powerful, prominent or important. An argument for LeBron as the basketball GOAT is just an argument for his all-around greatness on the floor. An argument for Michael Jordan as the basketball GOAT generally includes some sort of related aside that touts his contributions to the game of basketball and to modern-day professional sports as a whole, and that's for good reason: Michael Jordan is the most important and culturally profound athlete ever.
"Bigger than life, a human billboard, the image of athletic perfection, the icon of icons." That was how Chris Fowler described Michael Jordan in 1999 in the opening of Jordan's ESPN SportsCentury documentary feature; the SportsCentury series counted down the fifty greatest athletes of the 20th Century, and you can find many of the full episodes on YouTube. I still remember watching this episode on Christmas Day with my parents. It was a two-part episode that also included Babe Ruth's documentary feature, as Jordan and Ruth were the final two athletes remaining on the countdown. As someone who didn't particularly enjoy baseball, and obviously never watched Babe Ruth play live, I didn't understand how there was any competition between the two. At the age of seven, I couldn't comprehend how anyone could be considered "greater" than Michael Jordan, and that was before I understood how influential he was in terms of changing the way athletes were marketed and how big of a role he played in making basketball a global sport.
Jordan edged out Ruth for the number one spot on ESPN's list, and almost 18 years after the fact I doubt anyone would come close to challenging MJ for this title if there were a re-vote. Jordan's legacy has actually improved since he retired (despite an underwhelming two-year tenure with the Washington Wizards that came post-20th Century). Jordan's presence as a brand will allow him to live on in a way even the most beloved athletes cannot, and the stories that are told of his competitive edge, clutch gene, love for the game and overall level of skill have made him a borderline mythical figure. Or as Chris Fowler said, "Bigger than life, a human billboard, the image of athletic perfection, the icon of icons."
That is Michael Jordan, possibly the greatest athlete ever for his dominance of his sport, and without question the greatest athlete ever for everything else.
Mike Cortez – Kobe Bryant
If you have argued basketball at any point from the early 2000s till now it is likely you have encountered this person. This said person does not know what the word "logic" means. They play gymnastics when stumped with a reasonable rebuttal to the point you legitimately want to harm them. And they fucking love Kobe Bryant.
Kobe is a top ten player all-time but is fans, scratch that, stans are the best in the world. Even in post-retirement life Kobe stans can be found across Twitter chirping at LeBron James or still arguing the fact that Shaq in fact did not carry Kobe to four Finals and three straight championships on Reddit.
(FWIW: Kobe was not carried to the those Finals but to insinuate that having the most dominant center in league history on your side didn't make life easier is peak Kobe standom.)
It's a pretty impressive feat that a player as accomplished as Kobe–five rings, third all-time on all-time scoring list, 18-time All-Star and many more–can feel so overrated but that is the beauty of the Kobe stan. It's no secret that Kobe has a few screws loose himself but his legion of diehards will still argue to the death that he is the greatest Laker of all time (maybe, but I'll still go with Magic Johnson), better than Michael Jordan (Ha!) and of course, LeBron (Ha!!!!).
They even distort reality to the point that there was a debate on NBA Twitter focused on how good Pau Gasol really was on the Lakers. Pau was a beautiful swan for Kobe and a major reason the Mamba passed Shaq in the ring chase. Kobe may have hung up his kicks, but his die hard fans will keep him relevant in NBA debates for decades to come.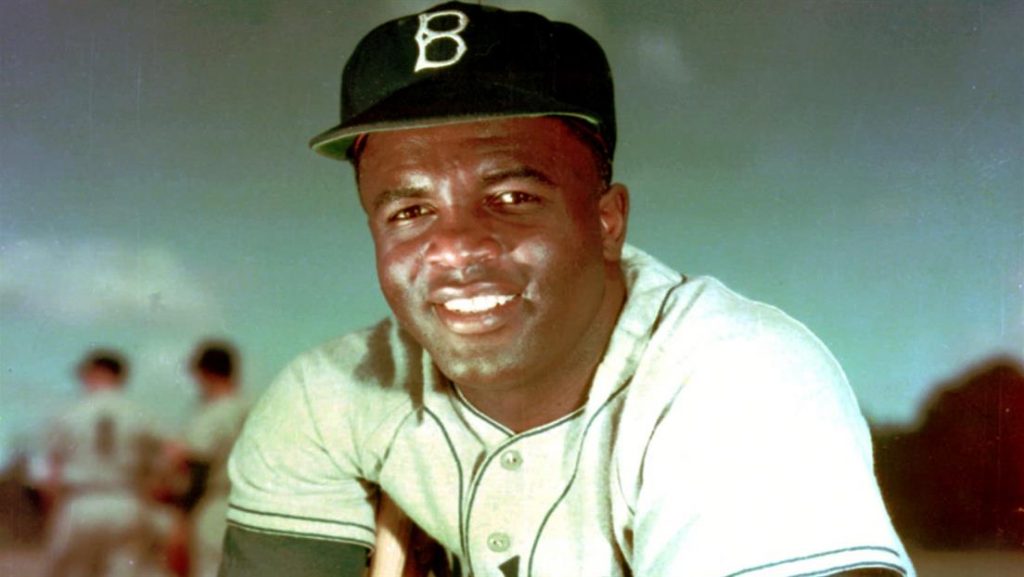 Tyler Birss – Jackie Robinson
Out of every answer I have given or will give for GOAT week, Jackie Robinson as the sports cult hero GOAT was my easiest decision. One could sensibly argue that Robinson is the most important and impactful athlete of all time. Breaking the color barrier in baseball was a monumentally significant cultural moment which also played a trailblazing role in other sports as well. The amount of racism and disdain that Robinson had to deal with during his playing career makes him a true hero for his ability to overcome such venom.
His perseverance was unwavering, his drive was unmatched, and his success paved the way for countless athletes. Robinson went on to become an All-Star six times, the NL MVP of 1949, a World Series winner, and had his legendary number 42 retired by every team in the MLB. The majority of athletes entertain us – some even become such critical generational figures that they act as meaningful forces in our lives. Robinson was steps beyond these attributions, a feat accomplished by literally just a handful of sports icons.
Part legend, part hero, Robinson's most valuable contribution to the world was showing everyone that all people belong whether we're talking about sports or any other field. Emphasizing inclusion remains a societal battle today in spite of all the progress that has occurred. However, Robinson's impact remains felt in a gigantic way since his actions helped open the door to equality in athletics. For all of his accomplishments, most of which transcended sports and held tremendous cultural significance, Robinson is the clear sports cult hero GOAT.