2013-14 NBA SEASON PREVIEW CONTENT LIST
Atlantic: Celtics | Nets | Knicks | 76ers | Raptors | Division Preview 1 and 2
Central: Bulls | Cavaliers | Pistons | Pacers | Bucks | Division Preview
Southeast: Hawks | Bobcats | Heat | Magic | Wizards | Division Preview
Pacific: Warriors | Clippers | Lakers | Suns | Kings | Division Preview
Northwest: Nuggets | Timberwolves | Thunder | Trail Blazers | Jazz | Division Preview
Southwest: Mavericks | Rockets | Grizzlies | Pelicans | Spurs | Division Preview
Top 10 by Position: PG | SG | SF | PF | C
Top 10 Lists: Sixth Men | Sophomores | X-Factors | Intensity | Under 25 | Comeback | GMs | Europeans | Overrated | Contenders | Wild Predictions
Fantasy Basketball | NBA Fandom Games | League Preview | Ultimate Season Predictions
Media Day: Lakers | Clippers | Kings | Knicks | Bucks | Suns | Pacers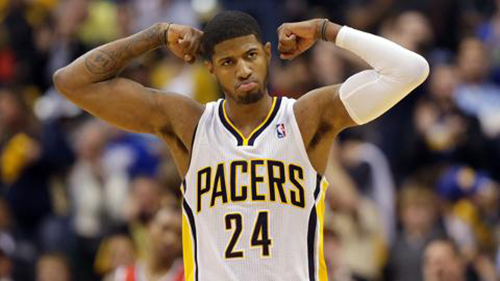 Disclaimer: I purposefully left out players who are 24 but will be turning 25 before the season starts. Sorry, Derrick Rose and Kevin Durant fans.
10. Serge Ibaka, PF, Oklahoma City Thunder, 23 Years Old
Serge Ibaka is not only the defensive hub of the Oklahoma City Thunder, he is also one of the top defenders in all of the NBA. There is a reason Clay Bennett opted to give Ibaka a big contract extension rather than James Harden. Great defensive players come at a premium in today's NBA because they are so rare. Ibaka's 13.2 pointa and 7.7 rebounds are solid, but his three blocks per game are what earned him a spot on this list.
9. Damian Lillard, PG, Portland Trail Blazers, 23 Years Old
The 2012-13 NBA Rookie of the Year comes in at number 9. His sweet shooting stroke and wise beyond his years on-court demeanor show why he was the steal of the 2012 NBA Draft. He averaged 19.0 points, 6.5 assists and 3.1 rebounds. One can only imagine what the 6'3″ point guard will be capable of in his career. I would say multiple NBA All-Star games.
8. John Wall, PG, Washington Wizards, 23 Years Old
When John Wall first came into the NBA, most thought that going into the fourth year of his career, Wall would be at the top of this list. While he hasn't progressed as quickly as many thought he would, Wall is still good enough to come in at number 8. He has struggled with injuries throughout his career, especially last season where he only played in 49 games. He still has plenty of time to get back to the expectations that many had of him assuming he can stay healthy this season.
7. DeMarcus Cousins, C, Sacramento Kings, 23 Years Old
DeMarcus Cousins comes in as the only center on the list at Number 7. Cousins has all of the talent in the world to be a superstar in the NBA. It is his attitude that holds him back. It will be incredibly interesting to see how he progresses under the tutelage of new Kings head coach, Mike Malone. If he buys into Malone's vision, Cousins could very well be at the top of this list come next season.
6. Jrue Holiday, PG, New Orleans Pelicans, 23 Years Old
Last season, Holiday does not make this list. That is a true testament to how much Jrue Holiday improved last season. Last season, he added 4.5 (8.0 from 3.5) assists and 4.2 points (17.7 from 13.5) to his averages compared to the previous season, which led to Holiday making his first NBA All-Star Game representing the East. Now that he has been traded to the New Orleans Pelicans, he has a team around him that could allow him to improve even more.
5. Blake Griffin, PF, Los Angeles Clippers, 24 Years Old
Blake Griffin has been a force on the basketball floor ever since he made his debut after missing the entirety of what would have been his actual rookie season. He still lacks in some areas, such as defense and shooting ability, but he is still one of the brightest young stars in the NBA. His amazing athletic ability will keep him in the NBA All-Star Game for many years to come.
4. Kyrie Irving, PG, Cleveland Cavaliers, 21 Years Old
Kyrie Irving is the youngest player on the list and comes in at number 4. Despite the injury issues that he has had in his short career, Irving has established himself as one of the top young point guards in the NBA. He made his first NBA All-Star Game last year and seems poised to make it back to All-Star Weekend this season.
3. Russell Westbrook, PG, Oklahoma City Thunder, 24 Years Old
The Thunder point guard averaged 23.2 points, 7.4 assists and 5.2 rebounds last season, which was good enough to get him into his third NBA All-Star Game. His impact on the Thunder is so great that it is arguable that his injury during the postseason ended the Thunder's chances of winning the NBA championship.
2. Paul George, SF, Indiana Pacers, 23 Years Old
Paul George is the definition of the all-around player. He may not be the flashiest player on the court, but he is one of the most efficient. He is the best player on an Indiana Pacers team that pushed the Miami Heat to a decisive game 7 in the Eastern Conference Finals. There is no doubt that the 10th overall pick in the 2010 NBA Draft is making the nine teams that passed on him regret it.
1. James Harden, SG, Houston Rockets, 24 Years Old
Many people thought that James Harden was the most expendable member of Oklahoma City's "Big 4" and that Harden could never be a team's main threat. Well Harden proved them all wrong after being traded to the Houston Rockets. The Bearded Wonder averaged 25.9 points, 5.8 assists and 4.9 rebounds last season and launched himself to being, arguably, the best shooting guard in the game and the best player under the age of 25.