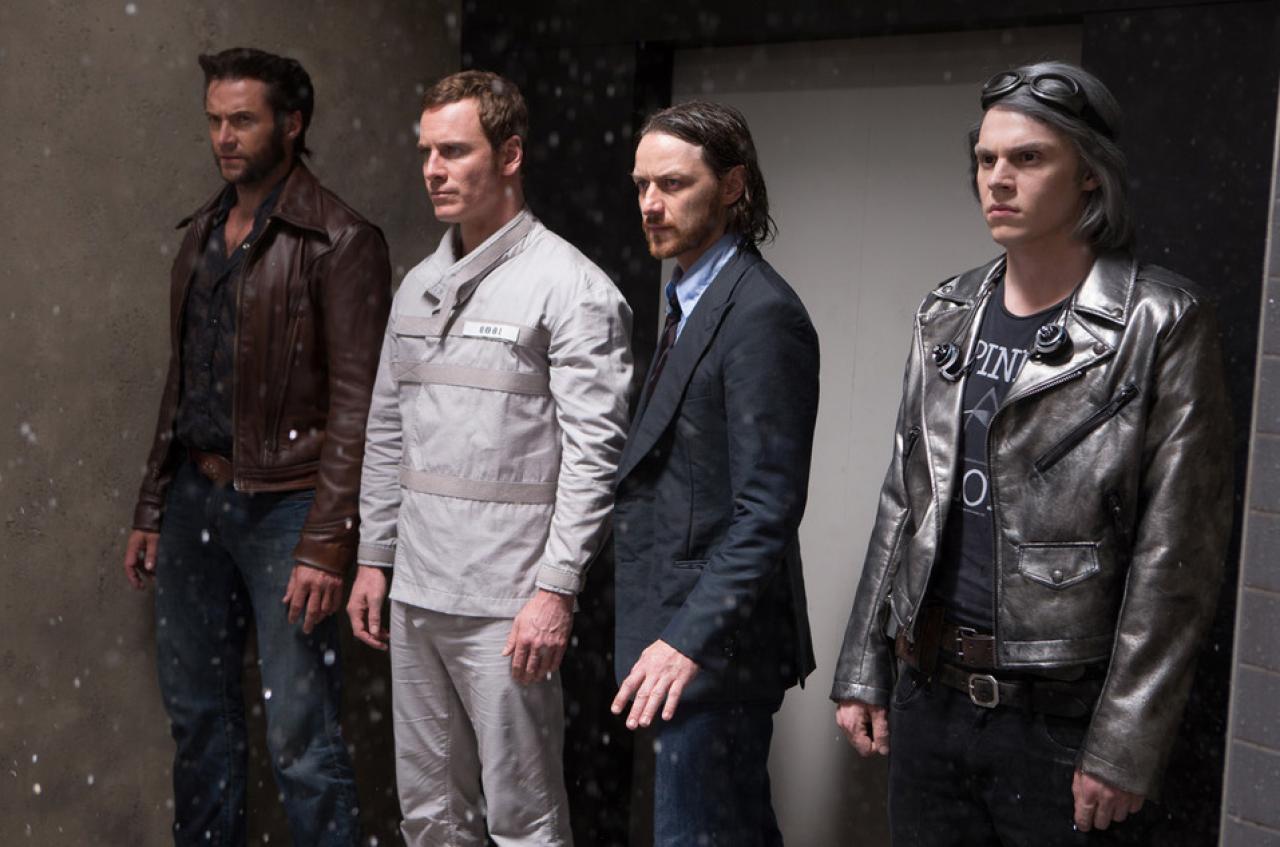 X-Men: Days of Future Past is decidedly and unabashedly a comic book movie.
That might seem obvious given the content of this list, but if you've been following along, you've noticed a common theme that many of these adaptations – even some of the great ones – have run away from what made the characters and stories they are adapting so enduring to begin with.
X-Men: Days of Future Past centers on time travel, multiple variations of the same characters, an apocalyptic future-scape, and … finally … Sentinels! Professor X has a conversation with himself across 40 years of time and space. Now this is a comic book movie.
No disrespect meant to the other X-Men films, especially X2, but those flicks always felt like movies that did a great job incorporating super-powered people into their story about ethnic conflict. Days of Future Past is built around those characters from the ground up and is a story that could not be told without these specific people and their specific abilities.
Of course, it helps that the film is adapted very closely from the graphic novel of the same name. Yes, they throw Wolverine into Bishop's role and there is no Gambit to be found, but the story stays close to the original which allows every character – and not just the one with the claws – to shine. X-Men is supposed to be an ensemble, and this was the first movie in the franchise that emphasized this to the fullest degree.
Jennifer Lawrence and her script nail the character of Mystique for the first time in finally finding her rightful place not as the pawn of Magneto or the protected family of Charles Xavier, but as a freewheeling "neutral" character with her own agenda and agency. Having these characters who exist in a morally gray area has always been a major component of the X-Men universe and this dynamic finally saw the big screen with this installment.
Nicholas Hoult and Ellen Page get the absolute most out of limited screen time while a cavalcade of high-quality actors appear in bit roles. The list includes: Halle Berry, Shawn Ashmore, Famke Janssen, James Marsden, and even a little bit of Anna Paquin even though most of her scenes were famously cut.
The new additions to the cast, Evan Peters (Quicksilver) and Peter Dinklage (Bolivar Trask) steal the show. Hugh Jackman is his usual awesome self but with more interesting things to do.
The third film in the X-Men series and the third film in the Spider-Man series both collapsed under a failure to balance a grand mosaic of personalities, but Days of Future Past turns its scope of characters into an advantage.
And that's before we even mentioned the two driving forces of the movie.
Michael Fassbender and James McAvoy anchor the film with the astounding amount of depth they bring to the conflict at hand. This is best manifest in a scene aboard an airplane when both men confront each other about the other's perceived cowardice that devolves into rage and then eventually a game of chess. These men hate and love each other, and will for forty more years.
All of the social commentary the series is known for is still ever-present if not a bit more subtle than in previous entries. Rather than have the point driven home through soliloquies and diatribes, the film shows us the developing fear and hatred the world has for mutants when Beast is publicly restrained and gawked at and in the way people recoil the first time they see a blue-skinned Mystique.
The wise decision to have Dinklage's Trask not come from a place of spitting hate – but clearly planting the seeds for Bill Stryker to think that way – furthers the point that even more horrifying than outright hatred is such fundamental disrespect to the point that a person doesn't consider their actions immoral because they do not consider you human.
This film is a massive success almost alone by virtue of not being an embarrassing failure. It balances two casts and a lot of strange ideas beyond the time-travel conceit. By daring to let some of the more fantastic concepts from the source material see the light of day, X-Men: Days of Future Past reclaims not only what is possible inside of genre film, but inside film in general.
The popularity of the movie (almost $750 million at the box office, 91 percent on Rotten Tomatoes) proves that you can give audiences complicated plots that still cater to hardcore fans but don't turn off the general population. You don't distil the craziest aspects of your universe, you showcase them. Those are the things that define you.

By trusting its audience and highlighting what makes the series and characters special even inside the world of comic books, X-Men: Days of Future Past gives audiences an experience they simply cannot get anywhere else.
Complete 35-part list for best comic book adaptations ever!
Part 1 – Daredevil / Part 2 – The Dark Knight / Part 3 – V for Vendetta
Part 4 – The Flash / Part 5 – Sin City / Part 6 – The Crow
Part 7 – Agent Carter / Part 8 – X-Men: Days of Future Past / Part 9 – Captain America: The Winter Soldier
Part 10 – Guardians of the Galaxy / Part 11 – X2: X-Men United / Part 12 – Iron Man
Part 13 – The Avengers / Part 14 – Teenage Mutant Ninja Turtles (1990) / Part 15 – Superman (Richard Donner)
Part 16 – Hellboy / Part 17 – The Incredible Hulk / Part 18 – X-Men: First Class
Part 19 – Spider-Man 2 (Sam Raimi) / Part 20 – Thor / Part 21 – Ant-Man
Part 22 – The Dark Knight Rises / Part 23 – Spawn / Part 24 – Agents of S.H.I.E.L.D. – Season Two
Part 25 – Avengers: Age of Ultron / Part 26 – Batman Begins (Christopher Nolan) / Part 27 – Captain America: The First Avengers
Part 28 – Batman (Tim Burton) / Part 29 – X-Men (Bryan Singer) / Part 30 – Spider-Man (Sam Raimi)
Part 31 – Smallville: Season One / Part 32 – Hellboy II: The Golden Army / Part 33 – Teenage Mutant Ninja Turtles 2, 3
Part 34 – 300 / Part 35 – Man of Steel / Extra Part – Final Thoughts