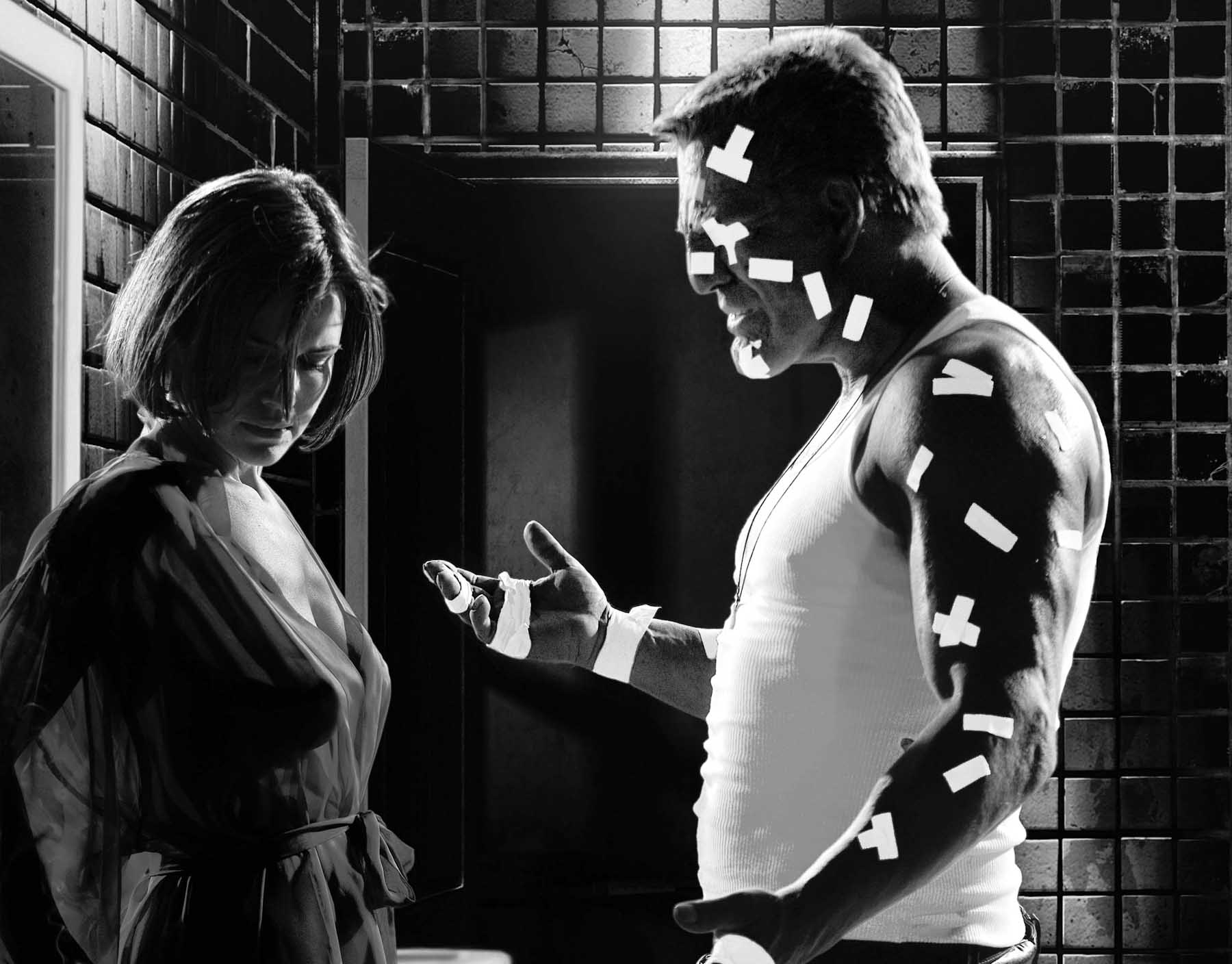 It took three visionary geniuses to create the masterpiece that is Sin City. Robert Rodriguez and Quentin Tarantino are well known for their unique stylings in the film world, but the inclusion of the writer of the original graphic novel, Frank Miller, is what makes Sin City the perfect comic book adaptation.
The content that ranks higher on this list does so because of deeper emotional connections to the material and motifs that have real-world impact, but it would be hard to argue that anyone has made a higher quality comic book film from beginning to end than what those three men accomplished with Sin City.
Just like our last entry, The Crow, the general public seems to be forgetting Miller's story in the clamor to claim that Deadpool was somehow the first comic book movie for adults. Released back in 2005, Sin City carries the hardest R-rating for any comic book movie ever made; many scenes would still had to have been cut to avoid NC-17 if not for the heavy layers of animation that managed to make the graphic violence more cartoony and less disturbing. Slightly less disturbing.
The aesthetic created for the film that mirrors the novel gives Sin City a look and feel that is unlike anything seen in film before or since, comic book adaptation or no. Blacks, reds, grays, and pure whites populate the screen in a rich tapestry that yearns to be gazed at. You could randomly pause this movie at almost any point and print out the image and have the most interesting piece of wall-art in your home.
Any attempt to emulate this aesthetic could be immediately dismissed or at least attributed to this flick a la "bullet time" and The Matrix. Still, I don't understand why this concept hasn't been copied more, other than arguably the pitiful attempt to re-make The Spirit and the 34th film on this list also inspired by Frank Miller, 300.
To see an X-Men film or some of the stranger (time traveling?) Spider-Man movie stories done with such overwhelming flavor and sensory nirvana would be an absolute delight. But I digress. There is no way around the fact that for something so brutal, so violent, and something that is at times even difficult to watch, Sin City is a gorgeous film in every frame.
I clearly am not the first person to ever conceive the idea of making a list of this type. I've tried to make the parameters more interesting and give a few more thoughts on my reasoning in order to make this exercise different from the others, but the true impetus behind embarking on this adventure was my shock at glancing at other lists only to find Sin City (and my No. 3) conspicuously absent. Am I taking crazy pills?
A little research reveals that Sin City didn't do especially well with critics (78 percent on Rotten Tomatoes) or with the general population, taking in only $74 million domestically. It's hard to tell in reading over some of the thoughts from the time whether or not audiences weren't taking the film seriously, or conversely were taking way, way, too seriously.
Either way I don't care. The film is both elite in all of its components and yet still greater than the sum of its parts. Frank Miller's script, lifted largely from the source material, is some of the tightest and most creative writing seen on film in the last 20 years, again, comic book adaptation or no.
The cast is brilliant from top to bottom, including Bruce Willis and Jessica Alba in some of their best work. Most of the characters in the film are purposefully over-the-top caricatures and actors like Clive Owen, Elijah Wood, and Benicio del Toro to a fantastic job making them feel at least somewhat real, but Willis and Alba give the most grounded and believable performances of their careers. Ironic.
The show is stolen by Mickey Rourke and Rosario Dawson who find the perfect balance between grounded and completely not. Rourke was so good he was nominated for a number of awards including the Online Film Critics Society. Had the world been slightly more friendly to comic book stuff at the time, Rourke would have walked out of that season with a Golden Globe nomination at least. The same could be said for the film as a whole.
In the strictest terms, much of Sin City is so farcical and brash that I could understand how some audiences wouldn't get into it. But not everything has to be for everybody. This isn't for kids and you shouldn't show it to your grandma. You won't walk out of Sin City with a new or enhanced perspective on life, or having felt moved by a powerful message. But if you give this film some time and the benefit of the doubt, it will give you an unmatched and profound experience.
This is a movie for people who love words and art and color and vision and style. This is a movie for anyone tired of cop and lawyer procedurals laying the foundation for action stories. Anyone who says "why can't Hollywood just do something original!" should be forced to watch this film on an endless loop. Is it a bit goofy at times? Sure. But so are Inglorious Basterds and Django Unchained.
A little more heart and/or charm might have pushed it all the way to my top spot, but that is personal bias. This movie isn't about heart or charm or love or learning life lessons. It's right there in the title, the movie is about sin; wondrous, glorious, godawful, horrifying, breathtaking sin. Sin is visceral and so is this movie, in every way imaginable.

As good as any Tarantino/Rodriguez joint, Sin City deserves recognition for being one of the most forward thinking and original films of the last 20 years; a viewing experience you can't get from anything else and the most faithful graphic novel adaptation ever made.
Complete 35-part list for best comic book adaptations ever!
Part 1 – Daredevil / Part 2 – The Dark Knight / Part 3 – V for Vendetta
Part 4 – The Flash / Part 5 – Sin City / Part 6 – The Crow
Part 7 – Agent Carter / Part 8 – X-Men: Days of Future Past / Part 9 – Captain America: The Winter Soldier
Part 10 – Guardians of the Galaxy / Part 11 – X2: X-Men United / Part 12 – Iron Man
Part 13 – The Avengers / Part 14 – Teenage Mutant Ninja Turtles (1990) / Part 15 – Superman (Richard Donner)
Part 16 – Hellboy / Part 17 – The Incredible Hulk / Part 18 – X-Men: First Class
Part 19 – Spider-Man 2 (Sam Raimi) / Part 20 – Thor / Part 21 – Ant-Man
Part 22 – The Dark Knight Rises / Part 23 – Spawn / Part 24 – Agents of S.H.I.E.L.D. – Season Two
Part 25 – Avengers: Age of Ultron / Part 26 – Batman Begins (Christopher Nolan) / Part 27 – Captain America: The First Avengers
Part 28 – Batman (Tim Burton) / Part 29 – X-Men (Bryan Singer) / Part 30 – Spider-Man (Sam Raimi)
Part 31 – Smallville: Season One / Part 32 – Hellboy II: The Golden Army / Part 33 – Teenage Mutant Ninja Turtles 2, 3
Part 34 – 300 / Part 35 – Man of Steel / Extra Part – Final Thoughts