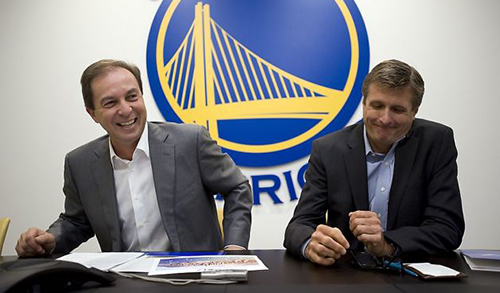 Whereupon an NBA free-agent fan sets about selecting a team to root for during the 2013-14 NBA season.
Up to this point, eliminations from the Fandom Games have come as the consequence of the abandonment of a franchise legend (Boston), the whole-hearted adoption of a flawed model (Washington), outright ineptitude (Charlotte), and a general sense of ickiness (New York). These eliminations aren't in order from worst to best, and while this early purging has been unflinching and well-deserved, not all eliminations can be so simple. This brings us to the most challenging elimination from the NBA Fandom Games to date: the Golden State Warriors.
The first installment of the Fandom Games laid out the purpose of this exercise in stark terms: loyalty in sports is one-sided. Franchises are operating a stone-cold business while fans live and die with their teams, and this lopsidedness warrants the search for a new team each year, rooted in the ethics and values of sport.
So why eliminate the Warriors? After all, they're supported by some of the game's most passionate fans, the current ownership group has largely avoided egregious roster moves, they've refused to follow the current franchise model du jour and just bottom out, they're coming off an impressive playoff run in which Stephen Curry evolved into a bona-fide franchise player, and to some might appear to be a shining example of NBA righteousness. If anything, the Warriors seem like a potential survivor of the Fandom Games, not an early-out.
The problem is this: the Warriors happen to be fool's gold.
When minority Celtics owner Joe Lacob and partners outbid the excessively rich (even by NBA owner standards) Larry Ellison, among others, to seize control of the historically snake-bit yet wildly-popular Oakland-based franchise, it felt like a new day. A Boston owner with real-life NBA experience inherited some promising young talent in Monta Ellis, Curry and Andris Biedrins, and successfully recruited the legendary Jerry West to serve as a franchise advisor. The sale of the Warriors was, at the time, the largest in NBA history. The new regime was on the map.
The new owners made all the usual moves: canned the coach, changed the jerseys, got carried away and overpaid for a high-profile free agent (David Lee). But no one can blame a new NBA owner for being a little overexcited, Dan Gilbert's embarrassing Comic Sans-wielding rant notwithstanding. Anyone with the means and drive to purchase a major sports franchise is bound to be aggressive and ambitious and more than a bit eager. No judgment. It's just to be expected.
But many of these owners also wind up with jarringly-recalibrated expectations after experiencing some early outcomes. Gilbert ate crow on his post-Decision tirade, for example. Mikhail Prokhorov had to double down on his already-sizable financial investment to put together a top-flight roster. Even poor new Sacramento Kings owner Vivek Ranadive has had to navigate a challenging bidding process and the DeMarcus Cousins experience in the early weeks of his ownership. Like a politician, the promises of a new owner are some combination of bluff and aspiration and pure blind hope, and it all swiftly self-corrects once office is taken and hyperbole is tested against reality.
Lacob and company experienced some of those sobering early struggles, winning 36 and 23 games in their first two seasons, respectively. But then something impossible happened: in late 2012 the Warriors went on a tear. They jumped out to the franchise's best start since 1992, opening 7-6 but next winning 8 of 9, capped by a road victory over the defending champion Miami Heat. They limped through January and February, but that wicked start, combined with a strong March, secured Golden State's second playoff berth in 19 years. This all was somehow possible despite trading Ellis during the previous season with little to show for it during the 2012-13 campaign and then losing Brandon Rush to a knee injury early in the year.
To give credit where it's due, the Warriors made a shrewd series of moves during the summer of 2012 that made the run possible: moved 2011 draft selection Klay Thompson into a starting role, signed star role players Jarrett Jack and Carl Landry, selected Harrison Barnes with their top selection in that draft and then turned later picks into Festus Ezeli and Draymond Green. The Warriors were a model for the modern NBA: dangerous deep threats, adaptable and flexible big men, productivity out of rookie scale contracts and competent veteran leadership on the bench. Had the Fandom Games existed in 2012, the Warriors were candidates for a deep run.
And then that excitability of new owners reared its ugly head. The Warriors made a defensible run at Dwight Howard, granted, the type of potential leap forward that any second-round playoff squad would be a fool not to examine. But there's a difference between playing the game and going all-in: neck-deep in the Howard courtship process, Golden State moved two first-round draft picks, two non-contributing contracts (Richard Jefferson and Biedrins), and relinquished their rights to both Jack and Landry to clear enough room on the books to sign Andre Iguodala. A major sacrifice of 2013 mojo.
Was Iguodala meant to increase the team's allure for Howard? Were the Warriors concerned about perimeter defense? Was the availability of Iguodala at a reasonable rate simply too appealing to pass up? It's impossible to know, but none of the answers are any good. Whatever the motivation, the team paid a tremendous cost to bring in a player they didn't really need, surrendering Jack and Landry and effectively marginalizing Barnes: with Curry, Thompson, and Iguodala on the roster, Barnes will inevitably see his role shrink, a year after somewhat surprisingly rising to the occasion. Taking a hatchet to his minutes was probably not the reward Barnes was expecting.
This all may seem a little bit petty, eliminating the Warriors just for signing Iguodala when the roster was already loaded on the wing, particularly since Iguodala is a stud, but it speaks to a larger issue at play. The Warriors very quickly forgot who they were, or maybe they never knew in the first place, and after one very clunky roster move they're now a shallow squad with two overpaid big men, no rookie contributors, no 2014 first round pick, and a core that can't compete. The Warriors got hasty and lost their luster.
NBA Fandom Games Eliminated Teams List:
New York Knicks
Boston Celtics
Washington Wizards
Charlotte Bobcats
Golden State Warriors
Milwaukee Bucks
Utah Jazz
Philadelphia 76ers
Houston Rockets
Portland Trail Blazers
Toronto Raptors
Sacramento Kings
Detroit Pistons
Phoenix Suns
Oklahoma City Thunder