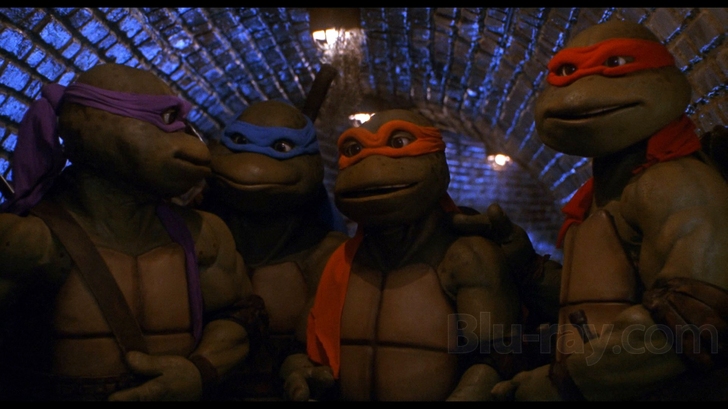 Ninjas. Turtles. Mutants. Is there really a need for anything else?
For the first and only time on these rankings, I am combining two movies into one spot. I just couldn't choose between them. The original TMNT trilogy became a staple in my household for a long time. Every member of my immediate family has been quoting these movies to each other for years. The second and third movies were sillier than the first, but they remain charming, enjoyable, and deeper than they first appear.
We'll get more into the historical significance of the Ninja Turtles when we return to this topic – and we will return to this topic – further up the list.
Teenage Mutant Ninja Turtles II: The Secret of the Ooze dives into a troubling truth about the creation of the mutant teens, revealing they were the result of industrial accident. Spoilers. Donatello in particular is disheartened to learn that he and his brothers weren't the result of "something special." In between the wise-cracking and tomfoolery the second flick in the series gives us a little existential crisis.
It features a deadly duo of mutant giants – snapping turtle Tokka and wolf Rahzar – deadpanning scientist, a ninja-kid pizza delivery dude, Super Shredder, and Vanilla Ice. Go ninja, go ninja, go!
Teenage Mutant Ninja Turtles III takes the turtle teens back in time. Michelangelo experiences love for the first time and how to put others before himself. Rafael comes to terms with his anger issues. Leonardo finally comes into his own as a leader, and Donatello learns what it means to be a scientist without modern convenience. The turtles speak poor Japanese and don samurai attire. And they ride horses. If you aren't sold, I guess you don't like fun?
The turtles take their constant pop-culture-referencing jokes – most of which still stand up today – to a place where they are way out of context which somehow makes them even funnier. "Dude, we're legends!" Michelangelo exclaims when the brothers discover a likeness of themselves on ancient scroll.

You are indeed, Mikey. Cowabunga.
Complete 35-part list for best comic book adaptations ever!
Part 1 – Daredevil / Part 2 – The Dark Knight / Part 3 – V for Vendetta
Part 4 – The Flash / Part 5 – Sin City / Part 6 – The Crow
Part 7 – Agent Carter / Part 8 – X-Men: Days of Future Past / Part 9 – Captain America: The Winter Soldier
Part 10 – Guardians of the Galaxy / Part 11 – X2: X-Men United / Part 12 – Iron Man
Part 13 – The Avengers / Part 14 – Teenage Mutant Ninja Turtles (1990) / Part 15 – Superman (Richard Donner)
Part 16 – Hellboy / Part 17 – The Incredible Hulk / Part 18 – X-Men: First Class
Part 19 – Spider-Man 2 (Sam Raimi) / Part 20 – Thor / Part 21 – Ant-Man
Part 22 – The Dark Knight Rises / Part 23 – Spawn / Part 24 – Agents of S.H.I.E.L.D. – Season Two
Part 25 – Avengers: Age of Ultron / Part 26 – Batman Begins (Christopher Nolan) / Part 27 – Captain America: The First Avengers
Part 28 – Batman (Tim Burton) / Part 29 – X-Men (Bryan Singer) / Part 30 – Spider-Man (Sam Raimi)
Part 31 – Smallville: Season One / Part 32 – Hellboy II: The Golden Army / Part 33 – Teenage Mutant Ninja Turtles 2, 3
Part 34 – 300 / Part 35 – Man of Steel / Extra Part – Final Thoughts