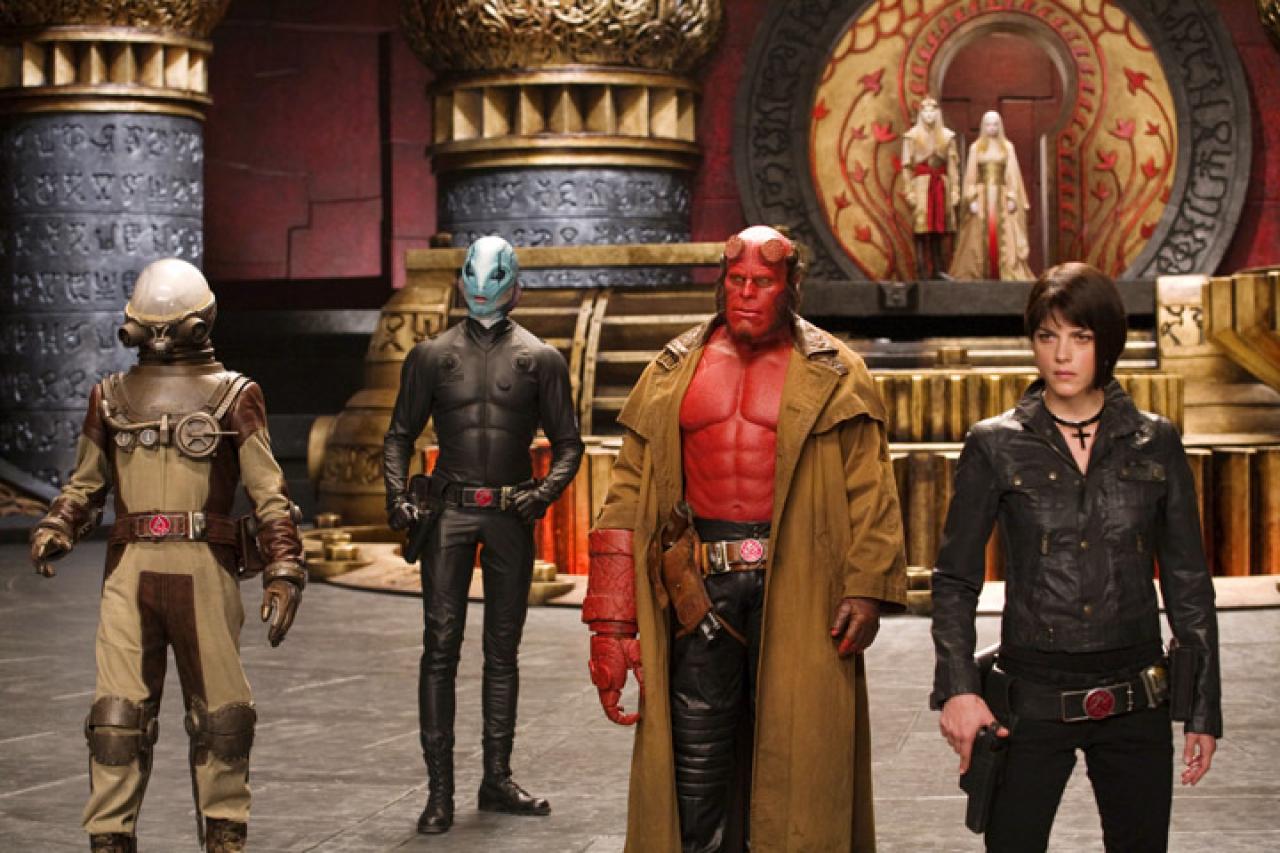 With the exception of the Ninja Turtles movies, the back-end of this list is populated with films that deliver exceptional visuals but don't quite hold up in other areas, making Hellboy II: The Golden Army a perfect fit here.
Coming off the criminally moderate responses to the first Hellboy, director Guillermo Del Toro decided to hone his craft by making one of the best films of the last 30 years: Pan's Labyrinth. I wasn't in the room but I imagine the conversation with producers after the release of that movie went something like "Hello, Mr. Del Toro, here is all of our money, go make more pretty things."
The Hellboy sequel lacks some of the character nuance and emotional charge of the original film but man-oh-man is it gorgeous to look at. The three scenes that stick out to me are the segment in the Troll Market, the confrontation with a plant monster (Nuada) the size of a city block, and the grim reaper at the end who is as visually mesmerizing as anything Del Toro has created. The sub-titular "Golden Army" provides for a memorable final battle and while I've heard the story of ancient dark elves with a score to settle before, as long as they look this badass settling it, I'll keep watching.
Lots of superhero and comic book adaptations have "wow" moments with explosions and punches to the face but Hellboy 2 has serene and beautiful aesthetic that makes it unique. I love looking at this movie so much that I almost placed it in the Top 20 where we will find the first film in the franchise. I ultimately decided to switch them spots after reviewing both movies. But if you come to your comic book movies not for challenging philosophies or to question the nature of life, but instead to have fun, this Hellboy sequel is as good as it gets.
Complete 35-part list for best comic book adaptations ever!
Part 1 – Daredevil / Part 2 – The Dark Knight / Part 3 – V for Vendetta
Part 4 – The Flash / Part 5 – Sin City / Part 6 – The Crow
Part 7 – Agent Carter / Part 8 – X-Men: Days of Future Past / Part 9 – Captain America: The Winter Soldier
Part 10 – Guardians of the Galaxy / Part 11 – X2: X-Men United / Part 12 – Iron Man
Part 13 – The Avengers / Part 14 – Teenage Mutant Ninja Turtles (1990) / Part 15 – Superman (Richard Donner)
Part 16 – Hellboy / Part 17 – The Incredible Hulk / Part 18 – X-Men: First Class
Part 19 – Spider-Man 2 (Sam Raimi) / Part 20 – Thor / Part 21 – Ant-Man
Part 22 – The Dark Knight Rises / Part 23 – Spawn / Part 24 – Agents of S.H.I.E.L.D. – Season Two
Part 25 – Avengers: Age of Ultron / Part 26 – Batman Begins (Christopher Nolan) / Part 27 – Captain America: The First Avengers
Part 28 – Batman (Tim Burton) / Part 29 – X-Men (Bryan Singer) / Part 30 – Spider-Man (Sam Raimi)
Part 31 – Smallville: Season One / Part 32 – Hellboy II: The Golden Army / Part 33 – Teenage Mutant Ninja Turtles 2, 3
Part 34 – 300 / Part 35 – Man of Steel / Extra Part – Final Thoughts