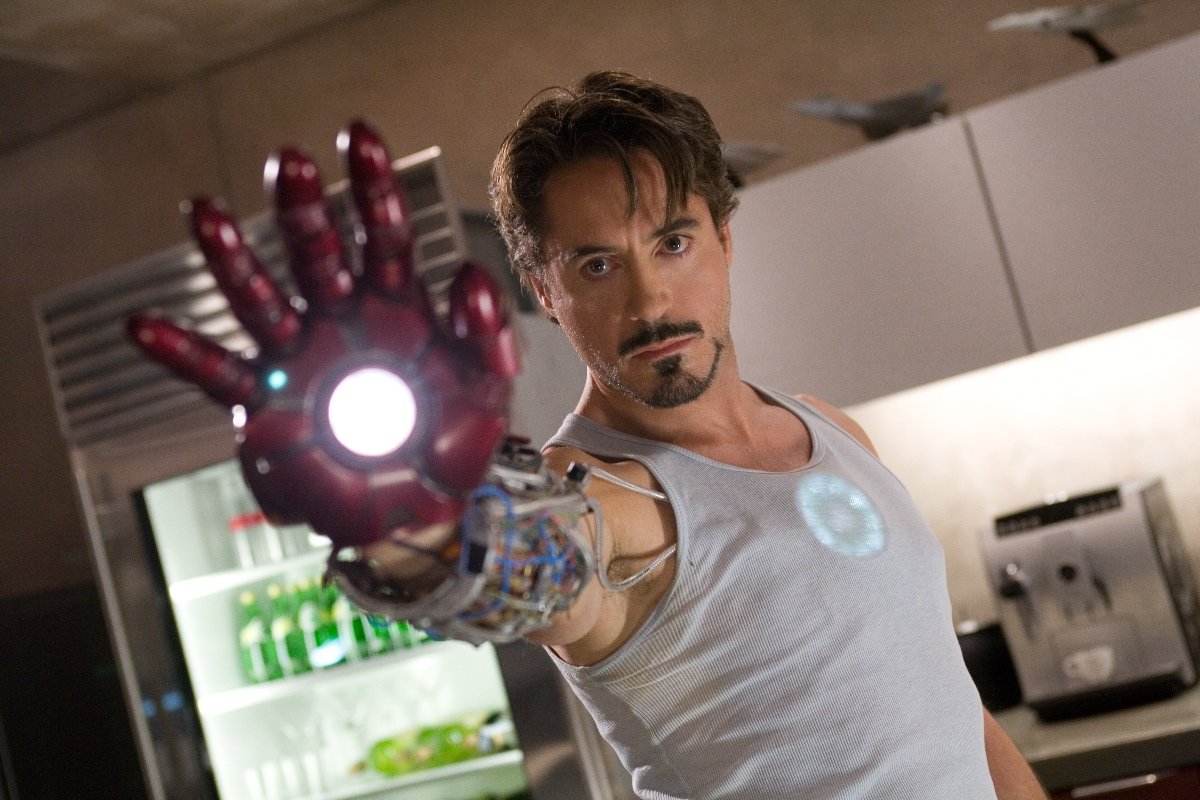 Starting with this entrant, any of the content remaining on this list could be argued for the top spot. Directed by Jon Favreau, Iron Man was and still is a singularly important achievement in superhero filmography. With maybe the most perfect casting in any movie ever, Robert Downey Jr. became Tony Stark and each saved the other's career.
As I mentioned in the write-up for The Avengers, it's now difficult to think back to a time when Tony Stark/Iron Man wasn't an incredibly popular badass fronting movie after movie, but before 2008, Stark was an afterthought well behind the likes of Spider-Man and the X-Men. In one fell swoop, with one extremely well executed film, Iron Man became a household name and set the stage for a whole new era of comic book and graphic novel cinema.
While the most important scene (in the grand scheme) from this first entrant in the Marvel Cinematic Universe came after the credits rolled, Iron Man was not just a set up film for the eight excellent films and ever increasing number of TV shows, it was a fantastic origin story in and of itself.
There is plenty of interpersonal drama to be had throughout the film as Stark struggles with his morality as a weapons dealer and manufacturer in an increasingly violent world. His playboy, partying lifestyle looks like a lot of fun at first but beneath the surface boils a man torn apart by alcoholism, self-doubt, and fear over his legacy, especially with how it relates to his father.
When events beyond his control mean putting his considerable scientific knowledge to the test in order to save his own life, Stark is also confronted with the horrifying reality on the other end of the bombs he has dropped for years, and a hero is born.
This movie does three things that had arguably never been achieved in one movie. The first two are that it is fun and believable. Brimming with Marvel's signature humor and heart combination, the flick also opened itself up to wider audiences because its central character is the product of "science" instead of more alien concepts like mutation or even actual aliens.
The third thing the film accomplishes is staying true to the themes and characters from the source material all the way up to deciding that Iron Man is "part of a bigger universe" and letting fans know that for the first time ever, this story won't be limited to a one-off narrative or even just a trilogy, but just like in the comic books and graphic novels they come from, these characters were finally going to intermingle episodically and weave much larger and more complex stories.
So many plotlines and characters that were introduced in this very first foray into a new world still remain relevant, dominating both the big and small screens. Nick Fury (Samuel L. Jackson) continues to push and play events from behind the scenes, Phil Coulson (Clark Gregg) got his own TV show which is still going strong, and Paul Bettany's J.A.R.V.I.S. has evolved from hilarious disambiguous sidekick into the Avenger called Vision.

All of that and even more was only possible because Iron Man was made with delicate care and forethought. And even though we didn't know exactly what was coming at the time, we knew we had seen something unique in the film world. It stands on its own merits while still getting better and better with each subsequent entrant in the MCU. Quite simply, Iron Man changed the way we watch and think about comic book movies, and did so while being a joyful experience from beginning to end.
Complete 35-part list for best comic book adaptations ever!
Part 1 – Daredevil / Part 2 – The Dark Knight / Part 3 – V for Vendetta
Part 4 – The Flash / Part 5 – Sin City / Part 6 – The Crow
Part 7 – Agent Carter / Part 8 – X-Men: Days of Future Past / Part 9 – Captain America: The Winter Soldier
Part 10 – Guardians of the Galaxy / Part 11 – X2: X-Men United / Part 12 – Iron Man
Part 13 – The Avengers / Part 14 – Teenage Mutant Ninja Turtles (1990) / Part 15 – Superman (Richard Donner)
Part 16 – Hellboy / Part 17 – The Incredible Hulk / Part 18 – X-Men: First Class
Part 19 – Spider-Man 2 (Sam Raimi) / Part 20 – Thor / Part 21 – Ant-Man
Part 22 – The Dark Knight Rises / Part 23 – Spawn / Part 24 – Agents of S.H.I.E.L.D. – Season Two
Part 25 – Avengers: Age of Ultron / Part 26 – Batman Begins (Christopher Nolan) / Part 27 – Captain America: The First Avengers
Part 28 – Batman (Tim Burton) / Part 29 – X-Men (Bryan Singer) / Part 30 – Spider-Man (Sam Raimi)
Part 31 – Smallville: Season One / Part 32 – Hellboy II: The Golden Army / Part 33 – Teenage Mutant Ninja Turtles 2, 3
Part 34 – 300 / Part 35 – Man of Steel / Extra Part – Final Thoughts