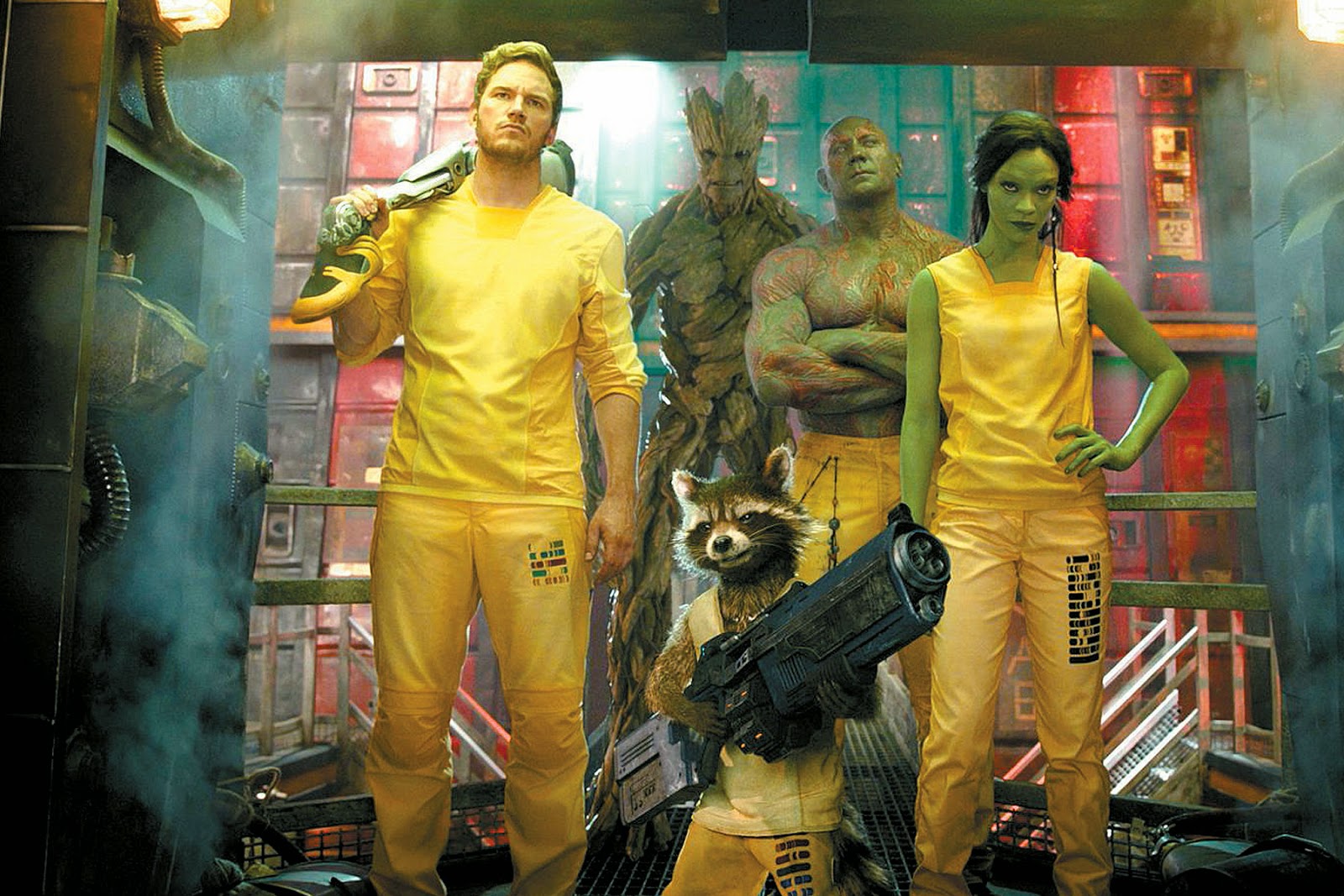 The comic book movie that took non-comic-book fans by storm, Guardians of the Galaxy caught almost everyone – including this mega-nerd – off guard with its stupendously successful 2014 release.
Raking in over $770 million at the box office and posting a nearly unheard of (for genre film) 91 percent on Rotten Tomatoes, the Guardians went from being a super-team almost no one had ever heard of to a cultural phenomenon that rivals the Avengers, the Justice League, and the X-Men.
The film feels at times like some of the best work brought to the big screen in Pixar films. The consensus review on the aforementioned Rotten Tomatoes reads: "Guardians of the Galaxy is just as irreverent as fans of the frequently zany Marvel comic would expect—as well as funny, thrilling, full of heart, and packed with visual splendor."
It is not uncommon in the comic books, graphic novels, and television shows to see Spider-Man or the X-Men traveling to other planets, dimensions, or timelines. The adaptations of those characters have remained decidedly grounded and so Guardians of the Galaxy became our first look at the extended Marvel universe that hardcore fans know if overbrimming with fascinating characters.
The setting gives Guardians of the Galaxy a unique feel because it brings the Marvel combination of spectacle and heart that we have come to love so much into the stars. It's a combination of Star Wars, X-Men, and Wall-E, with just a pinch of Avatar.
Perfectly enjoyable for audiences of all ages, and not just because there is a talking racoon, Guardians of the Galaxy as a flick employs simple themes and lessons while never appealing to the lowest common denominator, which is why we all get a little teary eyed at the realization that we are all Groot, regardless of age.
Guardians of the Galaxy was nominated for two Academy Awards in the categories of Best Visual Effects and Best Makeup and Hairstyling and I have no idea how it didn't win the latter. The film cleaned up at the Saturn awards (specific to Science Fiction and Fantasy works) winning Best Picture, Best Director (James Gunn), Best Actor (Chris Pratt), and best makeup. Gunn and crew took home the Hugo Award for Best Dramatic Presentation.
What was perhaps most amazing to me as a long-time fan of this universe was how much they stuck in for us nerds without turning off – or even really alerting in any way – the casual viewer. I imagine there is a significant portion of the population who adored this movie and has seen most of the Avengers flicks and has no idea that they exist in tandem. And soon they will meet.
The most obvious tie-in comes in the form of the big bad guy, Thanos and that will play out in a big way over the course of more films in the MCU. But Guardians is overflowing with little nuggets for fans ranging from the easier to catch cameo from Howard the Duck to voice performances given by Nathan Fillion (Castle, The Justice League) and Seth Green (Family Guy, Robot Chicken) who have long been staples in the geek community.
I tend to have a bias toward "serious" or "deep" literature and so fun films that are also good for kids tend to fall a little bit on my personal priorities. But make no mistake: Guardians of the Galaxy is an absolute gem of American cinema and an amazing achievement when you consider that its success wasn't built on an already established mass following a la Batman or Spider-Man.

It came out of nowhere and proved that no matter how common these adaptations are becoming there are still plenty of ways to do them with a unique touch and – even though they have existed for a long time – bring audiences new stories and new characters to fall in love with. Guardians of the Galaxy proves that, if you do it right, there is no such thing as too many comic book movies.
Complete 35-part list for best comic book adaptations ever!
Part 1 – Daredevil / Part 2 – The Dark Knight / Part 3 – V for Vendetta
Part 4 – The Flash / Part 5 – Sin City / Part 6 – The Crow
Part 7 – Agent Carter / Part 8 – X-Men: Days of Future Past / Part 9 – Captain America: The Winter Soldier
Part 10 – Guardians of the Galaxy / Part 11 – X2: X-Men United / Part 12 – Iron Man
Part 13 – The Avengers / Part 14 – Teenage Mutant Ninja Turtles (1990) / Part 15 – Superman (Richard Donner)
Part 16 – Hellboy / Part 17 – The Incredible Hulk / Part 18 – X-Men: First Class
Part 19 – Spider-Man 2 (Sam Raimi) / Part 20 – Thor / Part 21 – Ant-Man
Part 22 – The Dark Knight Rises / Part 23 – Spawn / Part 24 – Agents of S.H.I.E.L.D. – Season Two
Part 25 – Avengers: Age of Ultron / Part 26 – Batman Begins (Christopher Nolan) / Part 27 – Captain America: The First Avengers
Part 28 – Batman (Tim Burton) / Part 29 – X-Men (Bryan Singer) / Part 30 – Spider-Man (Sam Raimi)
Part 31 – Smallville: Season One / Part 32 – Hellboy II: The Golden Army / Part 33 – Teenage Mutant Ninja Turtles 2, 3
Part 34 – 300 / Part 35 – Man of Steel / Extra Part – Final Thoughts