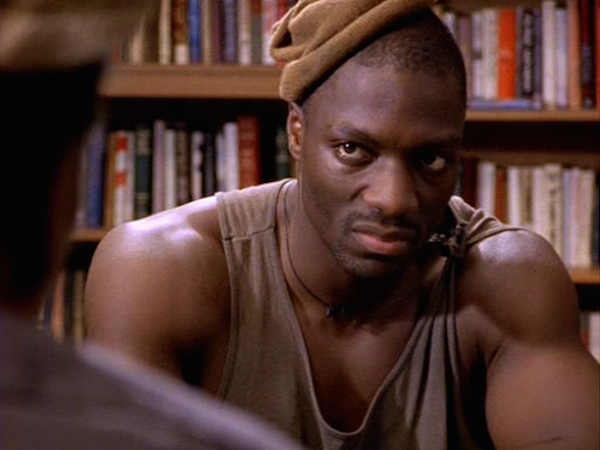 Beginning today and ongoing for 25 total entries, I will be examining the best and most memorable figures from Oz. The prison show was HBO's first venture into dramatic television, making the series a critical point of progress for the network. Many cast members went on to have bigger careers that partially spawned due to excellence on Oz. The majority of TV shows, past and current, don't provide enough characters to justify a list of this length. 25 feels like an ideal total that should please fans of the show in addition to detailing a reasonable number of top notch personalities.
Subjective lists are inherently debatable as personal tastes and individual responses determine how a given character is viewed. In other words, disagreements/omissions will be a reality. The majority of days (weekends included) will feature either one or two articles from this list being published. Exceptions will be if I have an interview or otherwise important project to publish, in which case the Oz series may take a brief break. All prior entries will be linked at the bottom of every fresh article. If you're a fan of the show and appreciate this project, please promote it widely and spread the word. Pop Culture Spin appreciates your efforts. Kicking off the list, we have Simon Adebisi, played by Adewale Akinnuoye-Agbaje.
We begin in a place of unmistakable importance. If I had to choose one character most fans remembered from Oz, Adebisi would easily be in the top three of this mix. He embodied fear among the prison population, a mixture of physical muscle, an intimidating aura, and an accent that was spoken in a way that gave across an unsettling vibe on others. Akinnuoye-Abgaje is a remarkable actor – while he has accepted his share of silly roles, his dramatic chops of intensity can't be overlooked.
One of the most riveting scenes Oz gave us was Abebisi's death. In a struggle with Kareem Said, Abesisi storms his cell with the goal of murdering him with a knife. This was a crazy moment to witness since both characters were on the elite list of my favorites, meaning one was sure to die and leave us forever. I preferred Adebisi, but I felt that Said's character was more deserving to live. The scene was filmed with creativity and power – after the initial struggle, the camera flashes to other inmates, then returns to the cell. We see blood splatter on a white sheet covering the cell, and when Abebisi comes out, it's assumed he won the fight and killed Said.
Until bloods flies from his mouth and he collapses in death, marking one of HBO's most pivotal character killings, and setting the template for the network's emphasis on having zero issues with eliminating strong personalities. Knowing Adebisi wouldn't appear in following episodes was difficult to process. No more beanies perched on the side of his head, somehow hanging atop without falling. His actual presence and ubiquitous persona as a looming threat helped capture the strength of Oz's prison environment. However, the show had established such a stride by the time of his death that when he left, while it was unfortunate, it didn't derail any gained progress.
If there's a TV character heaven, Adebisi probably isn't there. He was a killer, rapist, drug dealer, and overall terrible man who was feared by guards just as much as by inmates. I feared him, too, but that was accompanied by respect. Akinnuoye-Agbaje created something profoundly special in Adebisi, and it's with immense satisfaction that I begin this list with one of HBO's best all time figures.
Published Entries of my Examining Oz Characters List
Part 1 – Simon Adebisi / Part 2 – Father Ray Mukada / Part 3 – Chris Keller
Part 4 – Diane Whittlesbey / Part 5 – Bob Rebadow / Part 6 – Augustus Hill
Part 7 – Jaz Hoyt / Part 8 – Ryan O'Reily / Part 9 – Arnold "Poet" Jackson
Part 10 – Sister Peter Marie Reimondo / Part 11 – Shirley Bellinger / Part 12 – Miguel Alvarez
Part 13 – Warden Leo Glynn / Part 14 – Chucky Pancamo / Part 15 – Gloria Nathan
Part 16 – Cyril O'Reily / Part 17 – Governor James Devlin / Part 18 – Kareem Said
Part 19 – Kenny Wangler / Part 20 – Vernon Schillinger / Part 21 – Agamemnon Busmalis
Part 22 – Tim McManus / Part 23 – Enrique Morales / Part 24 – Burr Redding / Part 25 – Tobias Beecher